10 biggest CES 2019 announcements for Windows users
Here are some of our top picks from the flurry of announcements coming out of CES 2019.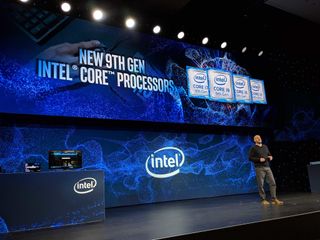 Look, the annual Consumer Electronics Show (CES) is never an easy thing to keep up with. With virtually every big tech brand under the sun arriving in Las Vegas with an onslaught of announcements (heck, even Apple made an appearance this year, albeit by proxy), it can prove to be a mind-melting experience just trying to take it all in.
Luckily, we've been keeping track of every big announcement for Windows fans. And all told, CES 2019 has proven to be a blockbuster year for PC brands, particularly if you're into gaming.
From VR innovations to huge gaming displays and a virtual torrent of new gaming laptops, here are our top 10 announcements for PC users from CES 2019, in no particular order.
NVIDIA brings GeForce RTX graphics to laptops
NVIDIA had one of the biggest keynotes to kick off the week, revealing what gamers had been anticipating for some time: GeForce RTX 20-series graphics chips are coming to laptops.
Like their desktop counterparts, the RTX chips for laptops are based on NVIDIA's new Turing architecture. They also add support for real-time ray tracing, which heavily improves the realism of lighting in games that support it. That's in addition to cores dedicated to assisting with real-time rendering and image processing, along with an added dose of AI magic.
Gamers should be able to pick up laptops sporting RTX graphics starting January 29, when machines packing RTX 2060 (which just made its desktop debut as well), RTX 2070, and RTX 2080 graphics are expected to launch. All three should boast significant performance increases over even their desktop-class GTX predecessors, giving gamers on the go an extra chunk of horsepower.
Gaming laptops galore
With the reveal of NVIDIA's GeForce RTX 20-series graphics for notebooks, manufacturers came out of the woodwork to announce laptops sporting the new chips.
Some of the most impressive laptops on display were the Razer Blade 15 Advanced, MSI's GS75 Stealth, and the new ASUS ROG Zephyrus S GX701. Dell even got in on the game with an overhaul of its relatively affordable G5 and G7 laptops
And if you were looking for this year's oddball standout, look no further than the ASUS Mothership, a gaming behemoth that somehow combines a ton of power with a detachable form factor reminiscent of Microsoft's Surface Pro.
AMD throws down the gaming gauntlet
Not content to sit back while NVIDIA soaked up all of the gaming fun, AMD had a big announcement of its own: the Radeon VII.
While it doesn't support the same ray-tracing tech that has been a hot item with NVIDIA's RTX series, the Radeon VII represents the first 7nm gaming GPU to hit the market. Packed with 60 compute units running at up to 1.8GHz and 16GB of high-performance VRAM, the Radeon VII manages to achieve similar framerates as the GeForce RTX 2080 in popular games, while beating it out in some cases.
In addition, the 7nm process that the Radeon VII chip is built on allows AMD to achieve up to 25 percent more performance than its predecessors without increasing its power draw, according to the company.
Efficiency and power are the key terms here, and you'll be able to check it out for yourself soon. The Radeon VII is expected to go on sale on February 7, 2019, for $700.
Laptop stunners
While gaming laptops received the lion's share of attention this CES, there were plenty of stunning regular laptops to get excited about, as well.
LG unveiled a couple of innovative updates to its gram lineup, including the incredibly light 17-inch gram and the new 2-in-1 gram 14 – a first for the range. Huawei was dressed to impress with the new MateBook 13, which could give the MacBook Air a run for its money in the style department.
Meanwhile, Lenovo adopted some sleek styling of its own with the new Yoga S940, a traditional laptop that features tiny bezels around a stunning 4K display and Dolby Atmos support. Equally impressive was the ASUS StudioBook S, which manages to jam a 17-inch display into a 15-inch chassis.
Oh, and for fans of Dell's XPS range, you finally won: the latest XPS 13 has moved the webcam above the screen.
Intel teases 'Ice Lake' innovation
If you were hoping to get a glimpse of what the future will hold for Intel's lineup of chips, the company didn't disappoint at CES 2019.
During its keynote this week, Intel offered a peek at its upcoming "Ice Lake" processors, detailing new features coming with the move to the 10nm chips. Perhaps the biggest change is that Ice Lake chips will include native support for Thunderbolt 3 on the system on a chip (SoC) for the first time. Also included is support for Wi-Fi 6, the next-generation 802.11ax Wi-Fi standard that is only now starting to populate the market. Additionally, Ice Lake will include Gen 11 integrated graphics and special tweaks for machine learning tasks.
Intel didn't stop there, though. The company revealed its new Project Athena initiative, which is ill-defined at the moment. According to Intel, the project is similar to its push to make "Ultrabook" a household name a few years ago, and it's using Project Athena as a rallying point to push its PC partners to develop the "future of mobile computing."
The company also teased a new hybrid CPU it is working on, which combines high-powered cores with several low-powered cores to more efficiently handle computing tasks. The end result is a set of smaller chips living on the smallest motherboard Intel has created, which the company hopes will eventually find its way into innovative dual-screen devices and more.
Oh, and if you're looking for more near-term initiatives, Intel is set to bring its 9th Gen Core processors to laptops during the second quarter of 2019. Ice Lake, meanwhile, is expected to arrive toward the end of 2019, as long as delays don't get in the way.
Alienware stuffs desktop parts in a monster laptop
We've already covered the cavalcade of gaming laptops that marched through CES 2019, but Dell's latest Alienware monster deserves its own spot. The new Alienware Area-51m is what you'd get if you stuffed a desktop PC into a laptop chassis.
The goal with the Area-51m was to make absolutely everything user-upgradable, and Dell set out designing the laptop with that in mind. Inside, you'll find desktop-class processors and NVIDIA's latest RTX graphics for laptops, both of which can be upgraded. And that's not all; the RAM and storage drives can be swapped out, and Dell constructed the PC in a way that makes it easy to do just that, with smart labeling and easily accessible parts.
Aside from its impressive components, the Area-51m just looks plain cool. Dell says that it was designed using a new "Industrial" design language, and it sports clean lines and neat lighting effects. So long as you're OK with what is bound to be terrible battery life, a chunky exterior, and the Area-51m's decidedly beefy 8.51-pound weight, it's quite intriguing.
The Alienware Area-51m is expected to launch on January 29 for $2,550.
Massive gaming displays
When is a monitor just a TV by another name? That's a question that was sure to pop into many a mind when looking at HP's new Omen X Emperium display, a 65-inch gaming monitor with a matching soundbar.
The massive display checks all of the boxes gamers will care about: 144Hz, G-Sync, 4K, and HDR. Whether you're gaming or checking out the latest episodes of your favorite shows on Netflix, the Omen X Emperium X can, at least on paper, fit the bill.
Oh, and there's one more thing: HP designed a matching soundbar for the Omen X Emperium. Locking in just below the display, the soundbar packs three stereo amps at 120 watts, along with Low-Frequency Array tech that HP says should eliminate the need for a separate subwoofer.
Just don't expect this thing to come cheap. HP is expected to launch the Omen X Emperium in February for a whopping $5,000.
Dell brings your phone into VR
While it had a lot of hardware to show off at CES, Dell has also been busy tweaking its software. The highlight from the show is Dell Mobile Connect, which will soon let you interact with your phone in VR. And we're not talking just responding to notifications.
Dell Mobile Connect in VR will let you interact with your whole phone UI. That means, if you're grinding away with a particularly tough game in VR but need to take a break to check Twitter or send a text, there's no need to pull your headset off. Rather, Dell Mobile Connect will let you bring up your full phone UI on screen and interact with any apps just as you would holding your phone.
Dell isn't giving any indication as to when the next version of Dell Mobile Connect with this VR wizardry will be available, but it should be coming "soon."
Lenovo makes a cheaper Surface Studio
One of the biggest barriers to entry for Microsoft's impressively sleek Surface Studio is its price. But as long as you're not a Microsoft hardware diehard, Lenovo may now have an alternative: the Yoga A940.
There are two main things that make the Yoga A940 an incredibly intriguing alternative to the Surface Studio. First, its price: the PC starts at $2,350, which undercuts the Surface Studio by $1,150. Second, the Yoga A940 comes sporting a full desktop-class Intel Core i7-8700 processor, which is a big step up from the laptop-class processor in the Surface Studio.
Available with a 27-inch Dolby Vision-capable display in either QHD or 4K options, the Yoga A940 packs a similar rotating arm mechanism as the Surface Studio. That allows artists to lower the display into position for drafting or sketching with an included pen. And while the AMD Radeon RX 560 graphics won't blow the pants off of any games, it is perfectly viable for creative applications.
One of the other little tidbits that make the A940 interesting is the Lenovo Precision Dial, a Surface Dial-like device that can be plugged into either the right or left side of the display and can be used to toggle settings in apps, scroll, and much more. As a little bonus, the side of the A940 has a dedicated Qi charging pad for your phone and a holder for the pen.
The Lenovo Yoga A940 is expected to hit stores in March.
HTC debuts exciting innovations for Vive
Lastly, HTC had a couple of new and interesting products to show off that should get VR fans salivating.
The first is the HTC Vive Cosmos, a new VR headset that features inside-out tracking. That means, at least with the Vive Cosmos, you'll no longer have to set up base stations around your room. Instead, the Vive Cosmos can track your position and movement using cameras mounted on the headset itself.
The goal with the Vive Cosmos, HTC said, was to create a headset that could be used almost anywhere. And while the company didn't explicitly say so, that statement left speculation open that the headset could eventually work with a phone instead of requiring a gaming PC.
The other big announcement HTC had ready was the Vive Pro Eye, which takes a Vive Pro headset and adds "foveated rendering." Essentially, this is a revamped Vive Pro that sports a number of sensors inside to track your eyes.
Foveated rendering is a graphics trick that allows your PC to draw what you're looking at in high quality, freeing up more resources by ramping down the quality on what you're not looking at. That technique could allow lower-powered graphics cards to run intense experiences, while more capable graphics cards could make what you're seeing look even better. With the eye-tracking sensors, developers can also create experiences that track exactly what you're looking at and respond accordingly.
There's no release date set for either the Vive Pro Eye or Vive Cosmos just yet, but the Cosmos is expected to get a price and release date later in 2019.
Get the Windows Central Newsletter
All the latest news, reviews, and guides for Windows and Xbox diehards.
Dan Thorp-Lancaster is the former Editor-in-Chief of Windows Central. He began working with Windows Central, Android Central, and iMore as a news writer in 2014 and is obsessed with tech of all sorts. You can follow Dan on Twitter @DthorpL and Instagram @heyitsdtl.