The 10 Windows 10 apps I use every day
App expert Sean Endicott gets to play with all sorts of applications — here are the ten he uses every day.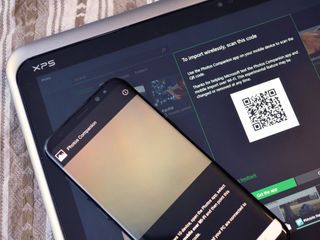 Reviewing apps for Windows Central has opened my eyes to a vast number of apps, and I'm happy to say that many of them have made their way into my everyday workflow. I've delved into dozens and dozens of apps here on Windows Central and there are a few that have stood out. From getting work done to kicking back and relaxing, there are apps that I've ended up using every single day.
Lounging around
My laptop is primarily a work machine, but that doesn't mean I don't enjoy browsing the web and getting my fix of social media. When I'm relaxing around the house or travelling, these are the apps that I use to veg out.
Microsoft Edge
I've seen a lot of hate over the years towards Microsoft Edge, but I've used it as my daily browser for a long time and am more than happy with it. It's lightweight and performs well on my relatively old Dell XPS 12. I like the layout and using it with a dark theme on my PC and am excited about its future integration with Sets.
Edge is also available on my Android phone as well as the iPad, so I can browse content on the go and then push any articles over to my PC when I get home.
Tweeten
I use Twitter more than any other social media platform. I have separate usernames for tech and sports and also manage the Twitter account for the American football team I used to play for. I get a deluge of information through Twitter and Tweeten makes it easy to let that information flow.
It's based off Tweetdeck so new tweets flow in real time and I can organize my content in columns. Tweeten makes it easy to sort and filter tweets and information, and I can also add columns for any trending topics as well as having customized lists of users.
See in Microsoft Store (opens in new tab)
Pocket Casts
I'm cheating a bit by including this app since I don't listen to a podcast every single day but I do listen to them quite often. Pocket Casts recently rolled out in beta form on Windows 10 and I've been using it ever since. It syncs my listening progress between my laptop and my Android phone and has all of the other podcast features I need such as listening to podcasts at varying speeds.
See in Microsoft Store (opens in new tab)
Getting work done
Most of the time when I open my laptop it's to work. These aren't the flashiest apps but theyre essential for communicating with my colleagues and getting work done.
Photos with Photos Companion for Android
The Photos app gained beta feature recently that allows you to instandly send photos from your Android phone using the Photos Companion app. I use this all the time to quickly forward pictures that I need for articles. It works faster than OneDrive syncing and also puts all the photos I import into a single folder.
The Photos app is built into Windows 10 but you need an app on Android to send pictures over.
See in Google Play Store (opens in new tab)
Slack
Slack is the main tool that we use to chat at Mobile Nations. It's great for group chats for different websites as well as individual chats to sort things out with coworkers. I also use Slack for another website that I write for, so it's a great hub for all of my website-centered communications.
One of my favorite features on Slack is the ability to set notifications for specific words or phrases. I get notified any time someone uses the word "app" or "Gear VR" to make sure that I don't miss a beat.
See in Microsoft Store (opens in new tab)
Trello
While we use Slack to chat at Mobile Nations, Trello is the organization beast that handles all of our article scheduling. I use it to schedule content that I'm creating and to keep my editors up to date on the progress of any articles. Trello makes it easy to keep things organized with categories, assigning users to cards, and @ notification support.
See in Microsoft Store (opens in new tab)
ShareX
ShareX is my go-to app for capturing content on my screen. Whenever I review apps, I use my custom keyboard shortcuts to snag screenshots and pictures of parts of my screen. I also use ShareX to grab short videos to make gifs for other sites and social media.
See in Microsoft Store (opens in new tab)
Appy Text
Appy Text is my text editor of choice for writing articles while offline. It has an attractive design and doesn't get in the way with features that I don't need. I save all of my templates for articles in Appy Text and use it to save offline versions of articles when I'm away from WiFi or just want to be extra safe.
See in Microsoft Store (opens in new tab)
Making my home smart
Since buying a house last year, I've progressively added more and more smart devices. I have grand plans for my home of the future but at the moment only use two types of smart home devices.
Ring
Ring's connected doorbell lets me know who is at the door and to respond to any guests or delivery people. I'm also considering adding some other Ring cameras to keep an eye on our dog when my wife and I are at work.
See in Microsoft Store (opens in new tab)
hueDynamic
Phillips Hue smart lights are some of my favorite pieces of technology. I schedule the lights to turn on so my dog isn't in the dark while we're at work, and to turn off at night around bedtime. I've also used a Hue Dimmer switch to relocate a light switch in our kitchen without having to rewire the house.
hueDynamic allows me to control my smart lights from my PC and also enhances the smart lighting setup with extra features for my Hue Dimmer switch. I recently reviewed hueDynamic and was thoroughly impressed with it.
See in Microsoft Store (opens in new tab)
How about you?
My laptop is mostly a productivity machine but I'm curious what apps you use on a regular basis. Let me know in the comments below and get in contact through social media to share your top everyday apps.
News Writer and apps editor
Sean Endicott brings nearly a decade of experience covering Microsoft and Windows news to Windows Central. He joined our team in 2017 as an app reviewer and now heads up our day-to-day news coverage. If you have a news tip or an app to review, hit him up at sean.endicott@futurenet.com (opens in new tab).
1. microsoft Edge
2. Windows 10 Microsoft Store Mail and Calendar app
3. Windows 10 Microsoft Store Onenote app
4. Windows 10 Microsoft (web)Store Office mobile apps
5. Wordfeud app
6. Windows 10 Microsoft Store Photo's app
7. Nextgen reader app
8. Grover Pro (podcast) app
9. Feedback-hub app
10. Windows Microsoft Store Maps app

edge
mail
msn news
press reader
store
WhatsApp web
saavn
mytube(my favourite)
mixer go(for windows central podcasts)
Flipkart and ofcourse Windows Central

My laptop is primarily used for work.... so the top apps are:
1. Microsoft Outlook 2016 (company email/calendar)
2/3. Microsoft Mail & Calendar UWP (personal email/calendar)
4. Slack
5. Edge
6. OneNote 2016 (my laptop is an HP Spectre x360, and I actually use the pen)
7. Skype for business
8. Skype UWP (which syncs sms messages with my windows phone)
9. Word 2016 (and of course Excel on occasion)
10. News The list is actually very similar for my Lumia 950 phone.

I have checked your list and only one (from ten listed) app is available for Windows 10 mobile. Dear author, you should write proper headline. "Why win32/64 apps will be live forever." is the best. :)

I have 3 of them currently on my Lumia 950XL: Edge, Slack, & Ring. However Edge and Ring don't appear in the MS Store, as Edge is hardwired into the mobile OS, and Ring was dropped by the manufacturer, but it still functions on mobile (I just hope I don't need to reset my phone, as Ring won't reinstall). As soon as we get Windows on ARM, we will just use the desktop versions of the Win10 apps on our new Windows phones, I can't wait (and am even considering loading the early copy of on a spare Lumia 950, to test it out, once the UEFI process has been published by hackers, and while it doesn't currently include the phone stack for calling, hopefully it will be included in the production version).

What's up with the store reviews on "Ring"? I haven't yet jumped into the connected home scene as of yet but certainly have plans to. The reviews on "Ring" don't make me want to rush. Any insight from those on here using it?

cach tai android cho lumia630

I use my PC mainly for work (Civil Engineering). For all other stuff I'll just use my iPhone or iPad. 1. Outlook
2. AutoCAD Civil 3D
3. Revit
4. Excel
5. Bluebeam
6. eTakeoff
7. Word
8. Chrome
9. Sniping Tool
10. Adobe Acrobat Pro

Calculator :) Odd but true.
Snipping tool.

Hi @sean Have you used Huetro yet for your Philips Hue lights? 😊

Edge
Twitter (PWA)
Money Tracker Pro
Excel
WhatsApp Web
Mail & Calendar (UWP)
MSN Weather
Recipe Keeper Pro
OneNote
Cortana (voice commands if I'm being lazy; adding reminders).

#1 Microsoft Edge
#2 Microsoft Outlook
#3 Word
#4 Internet Explorer
#5 Microsoft Store
#6 Power point and Excel
#7 Other Office Apps
#8 One Drive
#9 Xbox
#10 Paint these are my most used apps and these apps are some of the reasons why I ditched my Mac for a Windows 10 PC and Edge and IE are a good reason to stop using Chrome too

nothing because I have windows 7 yet :P

MAIL/Calendar
Grover Pro
MyTube
Edge
OneNote UWP
Cortana
Twitter PWA
Amazon Music
Flipboard
To-Do

Of course you can add Office but that isn't a "win 10" app... Though on S mode you can load through the store. My one real non Store holdout, other than games, is a Java based chemical structure editor.

Most used on my 3 laptops (one old 32bit Dell XPS Gen II workstation, one MS SP4 and one Dell Precision 7720 workstation): 1) MS Office 365 (most used Excel, OneNote, Outlook Word and Access) + MS Visio +MS Project
2) MS Edge
3) MS FrontPage 2003
4) Bryce 7 pro
5) Dataease 4.53 (for legacy application support through Dosbox as Dataease is 32 bit)
6) Corel Painter 2018
7) Adobe CC (mostly Photoshop, Lightroom, Dreamweaver, Audition, After Effects and Illustrator)
8) Autodesk (AutoCAD, Maya and Mudbox)
9) Acoustica Mixcraft 8 Pro Studio and Steinberg Cubase Pro 9.5
10) For Fun: entire Myst suite (on XPS Gen II)

Microsoft Edge
Outlook Mail and Calendar
Groove Music
Windows Central and MSPoweruser
Microsoft store
For news msn.com

1. Microsoft Edge
2. LINE Messenger
3. Twitter UWP (i'm still on FCU so no PWA for me)
4. Instagram
5. Facebook
6. Groove Music
7. Mail Apps
8. Photos App
Windows Central Newsletter
Get the best of Windows Central in in your inbox, every day!
Thank you for signing up to Windows Central. You will receive a verification email shortly.
There was a problem. Please refresh the page and try again.