Pocket Casts Desktop for Windows 10 is a fantastic podcast app
One of the best mobile podcast apps has made its way to Windows 10 in beta form.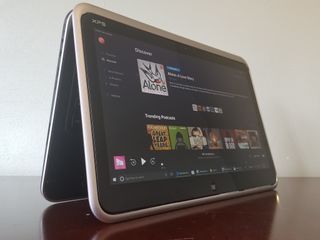 Pockets Casts has earned a name as one of the best podcast apps available. It allows you to sync your podcasts across devices regardless of the platform you use. Now, that same convenience is available on Windows 10 through Pocket Casts Desktop.
The app is available for free on Windows 10, Windows Mixed Reality, and the Surface Hub. However, Pocket Casts is currently in beta testing, which is limited to paid Pocket Cast web subscribers ($9 one-time fee). There is a 14-day free trial available, but I couldn't test the beta version of Pocket Casts Desktop until I paid for a subscription.
Since the app is in beta, this is a hands-on impressions post rather than a review. That means I ignored the occasional hiccups and issues, and Pocket Casts Desktop won't receive a final ranking like our full reviews.
See in Microsoft Store (opens in new tab)
Impressive syncing
Podcast players are a dime a dozen on every platform. Quality ones are less common, but there's certainly no shortage. Pocket Casts has earned its place on the top of the mountain for a reason. The standard features that you expect are there, including a large library of podcasts, playing back episodes at variable speeds, and creating playlists, but what sets it apart is the seamless cross-device sync.
I use a Samsung Galaxy S8+ to listen to podcasts on the go, and during my testing, I started an episode on my phone and jumped over to my PC to continue listening to it. Within seconds of pausing the episode on my phone, the progress was already updated on the desktop version of Pocket Casts. To me, this is one of the best features a podcast platform can have and Pocket Casts implements it incredibly well.
Showing off web apps
While Pocket Casts Desktop is in the Microsoft Store, it is a web wrapper, but that isn't the insult that it used to be. The app is attractive and has a nice feature list. Some people push back against web wrappers appearing in the Microsoft Store, asking for "true Universal Windows Platform (UWP) apps," but Pocket Casts Desktop could change their minds.
I understand the sentiment of fighting for natively-built UWP apps, but to me, the most important thing is that an app is available and that it works. Pocket Casts Desktop lets users continue the experience of one of the most popular podcast apps on Android (opens in new tab) an iOS (opens in new tab) on Windows 10. While it doesn't have things like Cortana integration or a native-UWP design, it's a great addition to the Microsoft Store.
The developer also seems keen to add UWP features. The latest updated switched out the old icon for a UWP-styled icon. The app also has dark and light themes already, which isn't exclusive to UWP apps but is a favorite of many users.
Overall thoughts
Pocket Casts Desktop is a great addition to the Microsoft Store and testing its beta app impressed me. I listen to a lot of podcasts and use devices from different platforms to do so, making the cross-device syncing is a huge deal.
The design of Pocket Casts Desktop is also nice; it is simple yet functional. It has the standard features you'd want from a podcast app and also includes some nice touches like a dark theme and tweaking the background of play bar slightly based on which podcast you're playing.
Pros
Syncs podcasts across devices.
Attractive interface.
Large library of podcasts.
Cons
Lacks native-UWP features.
See in Microsoft Store (opens in new tab)
Windows Central Newsletter
Get the best of Windows Central in your inbox, every day!
News Writer and apps editor
Sean Endicott brings nearly a decade of experience covering Microsoft and Windows news to Windows Central. He joined our team in 2017 as an app reviewer and now heads up our day-to-day news coverage. If you have a news tip or an app to review, hit him up at sean.endicott@futurenet.com (opens in new tab).
Grover Pro is my favorite for Windows 10.But I use Castbox on Android mobile.

I loved Grover Pro. It's great on Windows, but it doesn't have a counterpart on mobile platforms. For my usage, I need both a desktop and mobile option. Pocketcasts works that way, and is similar to how Grover worked when I was able to use Windows Mobile with my desktop

It really does. I use Grover Pro on mobile daily. Just search for it in the Windows Store.

Windows Store doesn't exist on Android or iOS ;)

Exactly. I was loving syncing between a Windows Phone and multiple Windows PCs and occasionally Xbox. But now I've accepted reality and gotten an Android phone, so I need something like Pocket Casts that can continue cross-device sync for me. I already bought it on Android and it is pretty comparable high level to Grover Pro in terms of features/design.

They do. Really, the only issue with this is the lack of ability to download/offline cache the podcasts.

What about custom playlists? I only see the starred and in progress playlists are there.

The Webversion has downloads available

Can you point to that option? I do not see any options or controls (how many episodes to keep, etc.) regarding downloads.

Hmm I might switch to this because of the app on PC. I use player fm on android and actually really like it, which they also have a browser version because they're cloud based. It is a subscription model for advanced features though which might turn off some people. I'm hoping player fm will make a PWA or something.

So what native features are missing? Live tiles? Notifications?

Playing podcasts offline will clearly not be possible, which is crazy. No chance of using this during a flight, and it'll be awful whilst travelling in other modes of transport as whenever the signal dies, so will your app. Weird to do it this way. Why not just write a proper app? How is this going to compete with Grover Pro etc.? Weird stuff. Also, not available on phone so I'd need to tablet/laptop the thing whilst on the move. Not a practical solution, especially when Grover Pro is right there. Pointless app.

Well it is in beta still, so they're clearly still working on features? Unless you're saying it won't be possible period, but I didn't try read that anywhere.

How is a web wrapper going to work offline? I'll be impressed if it can, but it seems a pretty wacky concept to me. I highly doubt it is possible. Are you suggesting they kind of cache the web site or something? I do think it simply won't be possible.

Seems like PWA's do have offline capability, look it up ;)