Watch us play three exciting Windows games from 10tons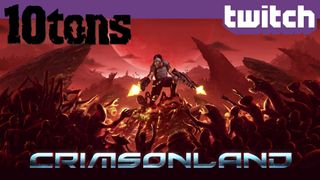 You probably already know that Windows Central streams Xbox games every Tuesday, Wednesday, Thursday, and Saturday night via Twitch. We even give out free copies of the games we stream on the weekends. We've built up a loyal community who tune in to see us play games, enjoy the commentary of the hosts, and chat with their fellow readers and viewers.
What you might not know is that I also stream non-Xbox games every Monday, just for fun. But tonight's stream will be special because we're streaming three games from popular Windows developer 10tons! We'll be playing Sparkle 2 and King Oddball (both for Windows Phone and Windows 8) and Crimsonland, a twin-stick shooter for Steam that will be coming to mobile Windows platforms soon.
Update: The stream has ended. Continue reading to see the full video replay, my impressions of each game, and a list of tonight's winners!
Watch live video from EastXTwitch on Twitch
Crimsonland
Sometimes you just want to shoot things, and that's what Crimsonland is all about. A deceptively simple twin-stick shooter, this game puts players in the role of soldiers who must fight off huge hordes of alien monstrosities. The more enemies you kill, the more blood stains build up on the ground, hence the title.
Crimsonland offers two primary modes: Quest and Survival. In quests, our hero takes on 60 bite-sized levels. Once you clear all the monsters in a quest, it's on to the next one. And the more quests you clear, the more weapons, items, and Survival game types you'll unlock.
Survival is where the game really gets fun. This mode actually consists of five shorter modes that you'll unlock as you soldier through Quest mode.
The main Survival game type pits a lone player against endless and ever-stronger hordes of alien aggressors. As you kill monsters you'll earn XP, eventually leveling up. Each new level unlocks a perk of your choice, allowing you to customize your soldier's growth. It's a lot of fun seeing how far you can make it, especially with online leaderboards.
10tons plans to release Crimsonland on Windows Phone and Windows 8 later this year. Windows 8 players can grab the Steam version right now, though. It plays great with a controller. The Steam, Playstation 4, and Vita versions all support 4-player local co-op. Let's hope multiplayer makes it into the Windows 8 version as well.
Crimsonland – Windows, Mac, and Linux – ~82 MB – $13.99 – Steam Link
King Oddball
The world is full of Angry Birds clones like Fragger and Monster Island. But few of those games are as strange as King Oddball. Instead of birds or soldiers, this one stars a giant ball with a face. He is odd, after all!
King Oddball has a bone to pick with the tanks that have invaded his land. To deal with them, he stretches his incredibly long tongue and hurls boulders. You have a limited number of boulders with which to clear each level. You'll often have to knock out environmental hazards, destroy explosive, and more in order to stop those hapless tanks.
With 120 different levels, this odd game will keep physics puzzle fans busy for hours. Check out George's review for more details, and give the demo a try if you need more convincing!
Sparkle 2
Let's face it, there aren't enough Zuma games out there. PopCap hasn't made one lately, so other developers must pick up the slack. Sparkle 2 is the latest in 10tons' Zuma-style action-puzzle games, and it's a blast.
In each level of the game, hundreds of marbles will roll along a path towards your base. You'll have to get rid of them all by firing marbles of your own. Whenever you match three or more of the same color, they disappear! Make several matches quickly and a power-up will appear. That's one little difference between this and Zuma. Another: the marbles come in waves instead of all at once.
With over 90 levels of marbles to blast, Sparkle 2 is one puzzle game that won't put you to sleep. Read George's review to learn more, and be sure to give the free trial a try.
The Contest
We'll be streaming King Oddball, Sparkle 2, and Crimsonland (in that order) for 90 minutes tonight, starting at 8pm Central (9pm Eastern, 6pm Pacific). During that time, we'll be giving out a total of 15 game codes:
9 Crimsonland for Steam
3 Crimsonland for Playstation Vita (US accounts only)
3 Sparkle 2 for Playstation 4 and Vita (US accounts only)
To enter, just follow me at Twitch.tv/Eastxtwitch (making sure to enable email notifications!) and tune in during the stream. You can watch the stream right here in this post, but you need to actually participate in the stream chat to have a chance at winning. We'll deliver codes to the winners via Twitch message (PM) during the stream. No code begging!
I'll be available for a few minutes before and after the stream if you have any questions or just want to say hi. If you enjoy the stream, be sure to check our schedule and come back for more!
How to watch Twitch livestreams
What's the best way to experience Twitch? The Twitch website on your PC or Mac web browser. If you don't have or prefer not to use a computer, you can get the Xbox One, Playstation 4, or Xbox 360 Twitch apps and watch from the comfort of your couch. Android and iOS both have official and unofficial Twitch apps to choose from as well.
On Windows Phone, you'll have to grab an unofficial app. Check out our unofficial Twitch app roundup for an in-depth look at five popular apps and their features.
My recommendation is Unstream. It has far more features than competing apps, such as the ability to see a list of users participating in the stream chat. You can even add our channel directly from within the app! Just search for Eastxtwitch, select the channel to view our profile, and then select Follow from the pop-up menu at the bottom.
Streaming schedule
Want to know what's next for Windows Central's weekly Twitch streaming contests? Here's our upcoming schedule:
Thursday, February 26: ScreamRide from Frontier and Microsoft
Saturday, February 28: Asphalt 8 (Windows 8) from Gameloft. Guest cohost: "Gameloft" Ryan!
Saturday, March 7: Order & Chaos Online (Windows 8) from Gameloft. Guest cohost: "Gameloft" Ryan!
In addition to our Saturday contest streams, we also livestream a variety of different games throughout the week. These streams don't have contests, but they still offer a great chance to see more exciting games while enjoying our live commentary and stream chat.
Mondays: Playstation Vita games! See what the other side gets to play.
Tuesdays: The Witcher 2 for Xbox 360. Catch up on The Witcher saga before The Witcher 3 launches in May!
Wednesdays: Xbox One games. This Wednesday is Strider history night, featuring Strider 1 and 2 plus Strider for Xbox One!
Thursdays: Dragon Age: Inquisition for Xbox One. Chosen by our loyal viewers! (This Thursday we're streaming ScreamRide instead though.)
We hope you'll tune in as often as you can! Set a recurring alarm on your phone so you'll always know when it's time for the stream to start.
Winners
The following viewers are 10tons-ing it!
Crimsonland Steam
Makman333
Socalledgamer
Simmias42
Jazhawk
Jayremedy
Drswoboda
Friendlygaminganon
Silkk2117
Swizzlerzs
Crimsonland Playstation Vita
Pancakesarelove
Leodonuts
Bobjones1980
Sparkle 2 Playstation 4 and Vita
Derektheextreme
Iccyasd
Bria5544
Thanks to 10tons for providing tonight's prizes. Thanks also to our Twitch stream moderators for keeping the peace and giving away the prizes!
Get the Windows Central Newsletter
All the latest news, reviews, and guides for Windows and Xbox diehards.
Paul Acevedo is the Games Editor at Windows Central. A lifelong gamer, he has written about videogames for over 15 years and reviewed over 350 games for our site. Follow him on Twitter @PaulRAcevedo. Don't hate. Appreciate!