The new Windows 8.1 notebook from Asus is now on sale at Amazon [Update: now $179]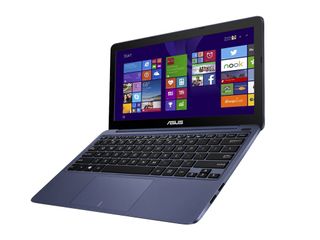 Consumers who are looking for really cheap Windows 8.1 notebooks this holiday season can now buy the previously announced Asus EeeBook X205 for just $199 on Amazon. This follows the launch of HP's new Stream 11 laptop, which went on sale recently for the same price.
Inside the 11.6-inch screen (1366 x 768 pixels), the EeeBook X205 has an Intel Atom Z3735 Bay Trail processor running at 1.33 GHz, along with 2 GB of RAM and a 32 GB SSD. The 2.2 pound notebook is supposed to have a battery life of up to 12 hours.
Asus helped to launch the short lived netbook series of Windows 7 laptops that were small and cheap, and this new notebook would seem to be a return to that kind of product. Does a Windows 8.1 laptop have to be cheap in order for it to gain interest among buyers?
Source: Amazon (opens in new tab) via Liliputing
Update The Microsoft Store site is selling the same notebook for a mere $179, a $20 difference (opens in new tab)
Windows Central Newsletter
Get the best of Windows Central in your inbox, every day!
Good Christmas present for my 15 yo...

He/she will probably desperately try to swipe and tap the screen.. :P Speaking of - what's the cheapest TS laptop now? The 13 in HP one?

Walmart has some refurbeds for like 200.

Microsoft has it for $179 http://www.microsoftstore.com/store/msusa/en_US/pdp/ASUS-X205TA-UH01-BK-Signature-Edition-Laptop/productID.308794000

that's cheaper than Microsoft Band.

Is it getting even more strange? A notebook is cheaper than a smart watch

Thin margins in PCs due to commoditization.. But very healthy profits to be made in the smartwatch industry..

Well, with the rumored gold Apple Watch costing around $4k, it is.

I wonder if I can fit this on my wrist.

Buying it for my baby brother!

Bring it to india. I will buy 2 of these. One for my mom and another for my grandparents.

If I had a nickel for every time someone brings up India in the comments, I could buy one for your entire extended family.

Nothing wrong demanding in a foreign market

If they say it in the Windows Central article comments, it's sure to happen.

I always assume that they would actually be cheaper in Asia considering they're made over there..!

This is even worse than my $500 lenovo miix2 10 which apart from It's screen is a complete disaster.
Must be falling apart in your hands for that price. These products are a complete no go for me.

How on earth can you make such assumptions?
I have an Asus T100 - it's been cycle touring with me over the summer (including offroading). Still works perfectly.
Your assumptions are wrong.

He probably uses it as a sled since he lives in the mountains with zero knowledge of tech. Lol.

I agree with spinzeroWL. I have an Asus Q200 that I got for $200 two years and it is a great laptop. Still running perfectly fine to this day and I use it every day.

I wish these things were around back when I was a sophomore and found myself swayed by a Chromebook...never again!

does it have a touchscreen?

Tired of repetitive releases of the same shit. Bring some phones damnit. We already own laptops fuckers.

Why not buy a dictionary before worrying about getting a new phone?
It won't cost you much, and may just give you some other vocabulary to fall back on.

You Nightcrawler!
I just love your kind of person who every time comes up with a long gone speech.
Go and get a job for speaker for election.
Hahahaha...

Wow that was really violent. While you're at it, why not ask the PC manufacturer for a new refrigerator? If we are already complaining about Asus addressing their core business and not something that they have almost no market share in, we might as well go all out.

Lmfao. I wasn't asking Asus for a phone. Or refrigerator. Im actually pointing to MS. We haven't had any significant phone released in quite some time. And while Samsung pukes out a new version of the same phone every three months... Im sitting here. Longing. Hahahaha

Repetitive? Who else has a sub $200 laptop?

Not available in Thailand

Https://www.fuckoffAssuNotebook.com

https://www.OddPerson.com/Yes-I-am-one.html

They should make this Touchscreen capable too!

That would add to the price, bit I do agree. This is great though, since my kid's school is going ahead with stupid Chromebooks, I can dig these to run in Chrome quasi-OS.

That is an awesome price. Financial times are hard, so price does make a difference. Many don't need a heavy duty device for light work.

ppl still don't know if it was born too.

Can't wait for the WindowsCentral comparison video....

If it were touch enabled, sure.... but without touch I'm not "touching" this notebook!

Yeah. At $180, I'm not touching it unless I can get a 24 hour battery, 1080p touch screen, and the latest core M CPU.

Anyone know how this would compare to the 'cheapie' from HP? Storage doesn't matter as much as everything we do is now on OneDrive.

What the fuck ASUS, why did you promise it for Europe and then launch it in the US first, despite it being announced as an eventual release following the Europe release...

Old news. It's been available at Microsoft Retail since this weekend.

www.pakistanISaTHREATtoTheWorld.com/ISIS.html

http://notTheBestPlaceToWriteThis.com/BestPlaceIsYourMind/EvenThatIsntGo...

I have a Surface Pro but I need to buy a keyboard. The Surface type cover is not much cheaper than this thing haha!

A pretty good review of this: http://www.tlbhd.com/asus-eeebook-x205ta-19242/

I assume this does not cone with Office.

This is a great step in the right direction, made a 64Gb version with a Touch screen and I am in!

Once again passing. Can someone put up a cheap one with AMD apu?! Sick of seeing these gpu weak atoms everywhere.

I can't believe that the Microsoft band costs more than this.

No touchsreen is a killer for Windows 8. Also, 2 gig of ram....why not 4? it's just not enough!

Thumbs up for this Asus..

Couldn't resist it, so grabbed one and stuck it on the Discover. Shouldn't take long to pay off $194 ($179+TAX) also, I got free 2-day Air shipping because I (apparently) signed up for Bing Rewards (whatever they are) ages ago, so that was a nice touch. And if I get it and it turns out to be what I would have imagined a $179 laptop to be and is a load of rubbish, the Microsoft store does really easy returns within 30 days. I'm just so tired of my enormous 2007 MacBook Pro on my lap while sitting on the couch. This thing should be way more of a usable device for couch surfing - not expecting to do anything heavy with it, that's what the MacBook Pro is for, right? Also... seems faster. :^)