A closer look at the new 3D Viewer app for Windows 10
Mixed Reality Viewer is dead. Long live 3D Viewer.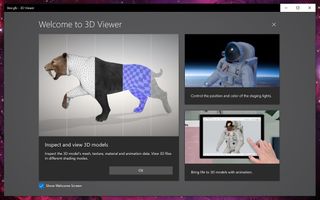 Alongside the Windows 10 October 2018 Update, Microsoft has overhauled its Mixed Reality Viewer app with a brand new user interface and feature set, along with a rebrand that drops the Mixed Reality branding in favor of a much more candid name: 3D Viewer.
The new 3D Viewer should be rolling out for everyone via the Microsoft Store, which will replace the already preinstalled Mixed Reality Viewer app. The app itself has been redesigned from the ground up, featuring an interface that makes much more sense when in use with a mouse and keyboard.
Along the top is a new menu bar which features common drop down options such as File, View, Help, and more. The app is one of the first that I've seen which uses the UWP version of the menu bar, introduced in the SDK released earlier this year for app makers to take advantage. This is part of a more significant effort in pushing universal apps towards being a more viable platform for desktop/tablet apps.
A benefit of the new universal menu bar is that it's also designed from the ground up for touch input too. So regardless of if you're using the menu bar with a finger, mouse, or pen, usage will be familiar and comfortable no matter which input method you're using.
Along the right is a sidebar UI that features new options for viewing 3D objects. You can now adjust the virtual lighting being shined upon the 3D model itself and can change lighting angles, intensity, coloring, and more. You can also see and adjust stats and shading, including mesh, textures, and animation data.
The app still supports Mixed Reality, of course, with a toggle which will turn on the apps Mixed Reality functionality. This will turn on device cameras, and allow you to place the virtual objects in the real world, just like the old Mixed Reality Viewer app did. There's also direct access to the Paint 3D app via the menu bar which will automatically pull the 3D model into the Paint 3D app for editing.
Along the bottom of the 3D Viewer app is the animation slider, and different options for animation if the 3D model supports it. You can play and pause the animation, and scrub through specific frames. There are also several options for different animation types, including quick animations which are very basic movement-based animations and should apply to any model regardless of if it's animated or not.
The Remix 3D website is alive and kicking and is still fully supported in the 3D Viewer app. It's easily accessible and is very simple to use. Just hit the 3D library button, select the 3D model you want to view, and it'll load into the 3D Viewer app.
Is it any good?
Overall, the 3D Viewer app is a simple yet good example of what a desktop-class UWP app can be. It looks like Microsoft is slowly trying to position this app as a viable, built-in solution to viewing 3D objects, as it supports several 3D object file formats including:
Polygon File Format (.ply).
GL Transmission Format (.gift).
Paint 3D objects (.glb).
3d Manufacturing Format (.3mf).
Stereolithography format (.stl).
OBJ format (.obj).
Filmbox format (.fbx).
The continued inclusion of the Mixed Reality feature implies that Microsoft also isn't done in this area either. I suspect we'll hear more about Microsoft's plans for Mixed Reality when it announces the HoloLens 2 next year. For now, the new 3D Viewer app is an excellent app, which is much easier to use and is something I can see creators, and even professionals finding useful.
It's not an extensive app by any means, especially compared to more professional programs such as AutoCAD. But, as a simple 3D object viewer, it does more than enough.
Get the Windows Central Newsletter
All the latest news, reviews, and guides for Windows and Xbox diehards.