4castr Windows Phone weather app updated with multiple location support and more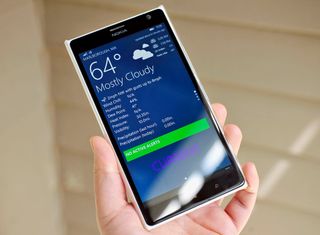 One of our favorite weather apps made for Windows Phone, 4castr, has just issued a new and big update that adds quite a few new features, along with general improvements and bug fixes.
You can check out the change log for the new 1.8 version below:
Added multiple location support
Added new interactive tutorial
Added option to hide alert counter on live tile
Added update notifications
Added automatic weather data updates when app is resumed
Added new pinwheel loading animation
Added knowledge base to Uservoice portal
Removed voice command support (due to issues with Cortana)
Alert TTS Improvements
Radar Accuracy Improvements
4castr Pro Trial Improvements
Data Processing Speed Improvements
Glance Forecast UI Improvements
General Improvements
General Bug Fixes
While the app is free to download and use, you can also upgrade to a Pro version of 4castr for $1.99 inside the app that adds a number of additional features. What do you think of this latest update to the app?
Windows Central Newsletter
Get the best of Windows Central in your inbox, every day!
How many weather apps do we have again?

A ton, yet the good are few and far between. This app is not very good, not worth the space on my phone.

I'm sorry to hear that. If there's anything I can do to help, please let me know.

I would completely change over from Amazing Weather if you'd have a lock screen option and if one of your large live tiles had an hourly forecast :-) Do that and I will love you foreverrrrrrrrrr

So it isn't available for my region?

What is your region? I can look into this for you.

It appears that Indonesia wasn't available when I first launched the app, added now though. Please wait about two hours and then try to download it.

change the region in your phone to English UK and you will get all apps you haven't seen them in your store. Thats how i did and i get everything :D, I don't mind use my phone on english, since i use all my phones on english. Or just open this page from your IE on your phone and click the Store link, it will lead you directly to the app and then click install. That another trick i use some times :)

Nice update, but I hate that only half of the wide tile is utilized...how about humidity, wind speed, feels like...something to occupy that empty space.

Okay, I'll keep that in mind. Main issue now is the memory limitations enforced by the Windows Phone OS.

Memory limitations for live tiles? BTW I use your app exclusively. Love it. Tried at least 7 different weather apps and, even when I venture to try something new due to updates, I always come back. Keep up the good work

Thanks for sticking with the app, it really means a lot. And to elaborate on these limitations a bit, basically your background agent (which is what you develop and the app manages/schedules) can only use about 11 MB on low-end devices. Well, the problem is that when the background agent first starts, it is already using 7-8 MB because of the loaded resources. This leaves 3-4 MB left to render live tiles, download weather data, and process weather data. When testing the application, it quickly became clear that it was impossible to do all three of those tasks in one run. Rendering a single live tile can take anywhere from 1-3 MB, which can't be easily recovered. So you can imagine that it would quickly run out of memory, crash, and be blocked. Microsoft has partially addressed this issue with new 8.1 APIs, which use a specialized type of Xaml Rendering, and memory use is pretty much excused. It's something that I want to offer, but to do that would require the app to be updated to 8.1. About 80% of my user base is on 8.1, and my current plan is to wait until that number reaches over 90%.

Understood...well, how about spacing out the current info on the wide tile to utilize the entire tile then? Temperature on the left, icon on the right, or vice versa.

Oh...and instead of a number counter to indicate a weather advisory, how about an exclamation point instead? I think it looks cleaner, and makes more sense, no? Other then that, btw, I love the app, keep up the great work.

Uninstalled they made the tile transparent with no option to use the old one.

No man its cool transparent!

Give us a choice at least. I don't like it transparent.

Msn weather is just fine.

Except when it's supposedly clear but it's storming outside very inaccurate app 4castr has always been quick and concise

Yaa but these weather apps don't run live tiles well on 2g. Better interne is a problem in India.

I just wanna want a Wunderground based app

Amazing Weather HD uses Weather Underground

4castr does too. You even get animated radar with the pro edition

I do not need another application , msn weather has been beautiful on my glance screen. :D

Did that glance update rolled out yet? I haven't got it on my Lumia720. Or was it only for high end phones?

Got it on my 1520. Awesome

Nope. Go to settings, click on glance screen and it might prompt you to restart your phone. Your phone may have updated the glance app but can't take advantage of it before a restart. If it prompts you for a restart, do it and then go back into glance screen and turn on 'background app' and select your lock screen background app to be msn weather.
That's how I did it, only got it on my 920 a couple of days ago, didn't even know that glance had been updated

Too bad it's boring on the actual lock screen. Gave it a few days, can't stand it. Reverting back. If they make it glance screen only (seperate option in phone settings) I will put it back (unless the API opens up and 4Castr does one better that is)

Heck, why not. Guess I will try this one too.
I currently have Amazing Weather, MSN Weather, Blue Skies, and Atmosphere Weather installed. Amazing Weather has been the best so far. Blue Skies has had the best alerts, and I only reinstalled MSN because Atmosphere Weather has been having issues. It appears the issues are resolved as of this morning.

Guys please help Me how to send feedback to Microsoft about new ideas on Phone OS

U can go setting > rate us (currently now it was give us feedback ) and Here!

Amazing Weather HD does the job for me.

I use the 620 with the latest glance

Another weather app. How excited. Lol. Bring me denim. That's all

yes I agree . why not once wp.10 ? LOL

About weather APPS in Windows Phone, I think the best is the MSN WEATHER. Other potential areAccuweather and Weather Channel, but should have a PREMIUM version, without ads. In IOS is so.

i still use Weather Flow, its good for me!

Hai friends Check out my application "Status now" for Windows Phone http://www.windowsphone.com/s?appid=e0d0ac1c-781b-4c84-9b2a-b17243c8b0b4

I felt hungry when I read your name?

I can't install any appointments

I have yet to try this app, I will give it a go...usually use weather channel, but can always try another! Wish weather apps would follow my location and update on the front like Android can

4castr does follow your location and downloads weather data in the background, The live tile is updated hourly and when you launch the app, data just needs to be processed rather than downloaded.

Sweet, so if I change which city I am in will it change too or just only show my default city?

It will change based on your location. So whenever data is downloaded, it first checks your location. You should really give it a try, make sure to select GPS as the primary location.

Great! I will, installed it!

I'm hooked on atmospheric weather app

Okay...gotta say, I like this app. I still have to keep Amazing Weather, but I may remove Atmosphere, MSN, and Blue Skies. I do wish the wide tile had more on it though. I like having the current temp, outside status (fog, rain, etc), feels like, and the high/low, and rain percentage. A picture would be cool too. I currently have the temp, outside status and feels like, but only half the tile is used, thus it feels incomplete and empty. On the flip, I selected three days and radar. I don't think there is room, but I wish it had the rain percentage on the three days too. In addition, a lock screen would be nice, not just the temp on the bottom. If Bing images were used and it shows the current, high/low and outside status, I would switch from Amazing. Also, i would prefer for the tile to have a 30 minute option. Yes, long list, but I am pleasantly surprised so far.

I understand that the live tile may be a bit too simple for some folks. Live tiles take lots of time to design and test, so I usually allocate resources to new features and bug fixes. I'll keep this in mind when developing in the future. You can vote on lock screen backgrounds here: http://weather.uservoice.com/forums/238792-general/suggestions/5452418-l... Also, the thirty minute option was removed because of memory limitations in the background. There were just too much going on for the operating system to handle, so I had to split up the work (into an ABAB pattern, A being download, B being update tile).

Thanks. Maybe the live tile(wide) would not look so empty if it was center justified instead of left. Just a thought. I wonder how that would look...

Ahh..one more thing. I wish I could pick the main start screen in the app. I think the 10 screen is the best as from there I can easily tap on any day. Any chance a pro user would have that ability at some point? :-)

This is actually something that I have considered, although haven't started. It would require a lot of changes and add more complexity to the app. You can add this as an idea here: http://weather.uservoice.com/forums/238792-general

Great. Thanks.
I guess I am missing it somewhere, but how can I make the live tile transparent? I activated pro, but the live tile only lets me select from colored themes.

You just select your accent color and notice how it says "accent/start background," which just means transparent.

It takes up quite a bit of space.

I love 4Castr. I just wish that on the main screen Flickr images could be used in the background that shows the city that is reporting. Then have the images change to another image based on time and an image that reflects the current weather for that location at that time. Another feature that would be helpful is to have the ability to turn off weather alerts at certain times. Because when an alert goes off every hour in the middle of the night becomes annoying when you live in an area that has many weather alerts.

Thanks for your feedback! You can vote on the image background idea here: http://weather.uservoice.com/forums/238792-general/suggestions/6161112-u... Also, I have considered offering "Do Not Disturb," but it isn't at the top of my list because WP8.1 includes it by default.

Being an Australian, I use Weather and Surf Australia as it's pretty much the ONLY Windows Phone Weather App that uses Australian Bureau of Meteorology (www.bom.gov.au) to get accurate forcasts. All other forcasters are often up to 10 degrees out one way or the other. It's a shame, it's not the best looking App but on of a few accurate ones for Australia

I Европейские Игры, которые пройдут в этом году в Баку, являются одним из главных спортивных ориентиров Азербайджана. Сам факт того, что столица примет соревнование, которое до того ни разу не проводилось, мобилизует само по себе, ведь именно здесь будет вершиться история. Поэтому самое время оценить ход текущих подготовительных работ. Как передает azerisport.com, вовсю кипит возведение арен, где будут проходить Игры. Некоторые, как Спортивно-Концертный комплекс им.Г.Алиева, реконструируются, другие, как Центр водных видов и Олимпийский стадион строятся с чистого листа. На стадионе, который вместит 68 тысяч зрителей, пройдет церемония открытия и закрытия Евроигр, именно он станет визитной карточкой состязания. А уникальность проекта заключается в том, что подобных крупных арен за столь короткое время еще не возводилось. Все эти объекты должны быть сданы в эксплуатацию не позже февраля, после чего в ряде видов пройдут тестовые соревнования на предмет готовности к Играм. Например, в марте на Национальной арене гимнастики состоится подобный старт, ну а боевое крещение комплекса пришлось на июнь, когда Баку принимал чемпионат Европы по художественной гимнастике, получивший восторженные отклики специалистов. Учитывая сжатые сроки подготовки к турниру, времени практически не остается. Это прекрасно понимают и в Европейском Олимпийском Комитете (EOK), глава которого Патрик Хикки заявил, что обычно на организацию подобных стартов требуется порядка семи лет. «В сложившейся ситуации времени у устроителей Игр просто нет и хочу отметить, что они проводят просто фантастическую работу. А масштаб и значимость состязаний такова, что в них заинтересована не только Европа, но и весь мир», - подчеркнул Хикки в ходе Генеральной ассамблеи EOK в Баку. Примечательно, что изначально турнир задумывался, как тестовый с относительно небольшим количеством дисциплин. Однако масштаб Евроигр вырос настолько, что в его программу входят 20 видов. Поэтому предстоящий форум станет показательным для Европы, которая до сих пор не имела подобного старта. Более того, Баку-2015 поможет укрепить позиции атлетов Старого Света в борьбе за медали Олимпиады. Ведь в ряде видов в Баку будут разыграны путевки в Рио, в других - спортсмены получат рейтинговые очки в борьбе за попадание на Игры-2016. Если же говорить о спортивной составляющей, то практически все ведущих азербайджанские спортсмены выступят на Евроиграх. О задачах говорить пока рано, но очевидно, что у нас есть ряд ведущих дисциплин, на которые и будет сделана основная ставка.