5 intriguing apps for Windows 10: December 11, 2015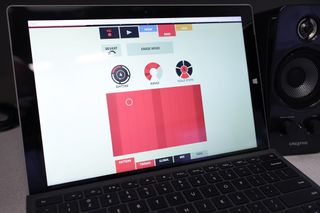 With the ever-growing number of apps and games in the Windows Store, it is becoming increasingly difficult to keep up with what's out there.
For that reason, every Friday we showcase some apps that have piqued our interest. They may have been in the news recently, they may be new to the Windows Store, or they could simply be old apps that we just stumbled upon.
They are the 5 Intriguing Apps of the Week.
3D Scan
Microsoft's 3D Scan turns your PC into a design studio. With the help of a Kinect sensor for Xbox One, the app will scan any object (or person for that matter) and render it into a three-dimensional model.
The controls are incredibly intuitive. Choose the height, width, and depth of the area you want to scan and whether or not you want to scan for a certain period of time. Then just use your Kinect like you would use a camera.
The images that you create can then be edited using Microsoft's companion app, 3D Builder (opens in new tab). You can also print to a local 3D printer or order a print online.
Microsoft is helping to bring once complicated and expensive technology to the average home user. It seems that they could have combined 3D Scan and 3D Build into a single app, but either way, both are free.
Download for Windows (Free) (opens in new tab)
Film Closet
Film Closet is third-party client for The Movie DB (TMDB), a popular online resource for all things film and television.
With access to information for over 120,000 movies, Film Closet gives you everything you could ever want to know about them, including synopsis, cast, crew and more. Plus it shows you stills and posters from the movie.
You can also use Film Closet to discover movies by seeing what's playing, what's popular, and what's coming soon.
One of the app's primary features is that it integrates with your own personal movie collection. By scanning your computer or pointing the app to your movies, Film Closet will match them to the data in TMDB. Film Closet even has its own built-in video player, so you can watch your flicks right there.
The premium version, which is available for $1.99, will remove ads and unlock the ability to download and assign subtitles.
Film Closet is perfect for movie buffs. Check it out for free.
Download for Windows (Free; $1.99 for Premium) (opens in new tab)
wkcd
If you've spent any significant time on Reddit, or the internet in general, you've doubtless come across one of Randall Munroe's xkcd comics. The stick figure driven cartoon tackles every aspect of human life with humor and insight.
Wkcd is an app devoted to the webcomic, delivering it to you wherever you may be.
The layout is very basic, with a scroll of past cartoons running down the left side and a larger viewing area for whichever one you select making up the rest of it. Xkcd comics are show in chronological order with the newest at the top.
You can filter by unread, all, or comics that you mark as favorites. Unread and favorite ones are synced between your devices, so you never lose track.
The app uses a Live tile to display the latest installment of xkcd. You can also set Wkcd to send a silent notification when a new strip is published.
Wkcd is free on Windows 10 for PC and Mobile.
Download for Windows (opens in new tab)
Figure
Propellerhead Software's Figure is a wildly popular music-making app that comes over from iOS.
It gives you all the tools you need to create and share music on your PC or phone. Using the built-in instrument kits for drums, bass, and lead synth, you can lay down your beats, record them, and set them to loop.
No musical experience is necessary. Playing the instruments is as easy as touching the screen of your device. Figure also lets you edit your songs right from the app.
And when you've created your hit tune, share it with the Propellerhead community, so they can give you tips, or even remix it themselves.
Figure's arrival on Windows 10 for PC and Mobile is good sign for the platform, especially since it isn't even available for Android yet.
Whatever your level of experience, Figure is fantastic tool to spark your creativity.
Download for Windows (Free) (opens in new tab)
Toon Clash CHESS
Toon Clash CHESS takes the age-old board game to a new level with animated cartoon graphics.
With cheerful characters and kid-friendly battles, it's an ideal way to introduce youngsters to chess. There are other great instructional tools as well, like hints (full version only), an undo button, and highlights for possible moves.
But don't let the toons fool you. If you move the difficulty level to medium, you will get a run for your money. And the hard level with challenge even the best of players.
Toon Clash CHESS offers three different boards, along with different camera angles and views. The in-game achievements reward you for your play.
With the free version, you are limited to playing against the computer and have limited "undos."
Avid adult players may find the graphics a bit too juvenile to play regularly, but Toon Clash CHESS is a great fit for family interaction.
Download for Windows (Free; $5.99 for full version) (opens in new tab)
Be sure to check out our other selections from previous weeks. Have a great weekend!
Do you have an app you want us to highlight? Drop us an email at tips@windowscentral.com with "5 Intriguing Apps" in the subject line.
My goodness, that chess app is annoying! It's definitely made for children. I find the pieces waaay too hard to identify, and the animations are so distracting.

They need to make the 3D scan usable with a Lumia 950/XL

These apps are designed for children under 6. What about doing something about the SCAM ALERT apps? There are soooo many now, and there multiplying!!!! Make it so it's easy to permanently DELETE them. Who does this???Hackers? Can these apps keep my phone info? How much longer before these crap apps start infecting the hardware/software/firmware? There's lights and flickers and boxes and bugs.

There's this awesome app called GrabPoints. In a nutshell they pay you for trying out new apps and answering a couple of surveys. I love using it because they are always active on social media giving out points and the rewards are always fair. Like just for signing up you already get $1 then if you use a friend's invite code you get 500 PTS and easy AND your friend gets points in return too! See even simply inviting people earns you money. If you ever happen to try GRABPOINTS please use my invite code: S6FMAC Hope this helps!

I've tried Figure on my Lumia 950 here https://youtu.be/_KMqYHeza9Y Good stuff!

I realy like Figure.
I hope Propellerhead bring across some of their other mobile apps. I'd pay for Thor and/or ReBirth on my phone and/or tablet.
And actually something a bit more full featured to take hte stub from Figure and flesh it out into a fuller song would be great.
Windows Central Newsletter
Thank you for signing up to Windows Central. You will receive a verification email shortly.
There was a problem. Please refresh the page and try again.