5 intriguing apps for Windows 10: Tanks, Tunes, and Flowers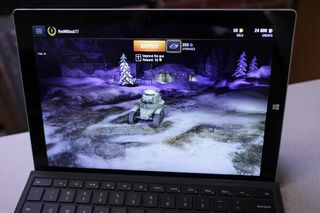 With the ever-growing number of apps and games in the Windows Store, it is becoming increasingly difficult to keep up with what's out there.
For that reason, every Friday we showcase some apps that have piqued our interest. They may have been in the news recently, they may be new to the Windows Store, or they could simply be old apps that we just stumbled upon.
They are the 5 Intriguing Apps of the Week.
Action Note
On its face, Action Note is a decent app for making to-do lists.
The interface is clean and straightforward, with the ability to create a title and detailed description of each task. Tasks can be color-coded or re-ordered, and users also have the capacity to attach pictures to each entry.
What really makes Action Note cool is the Pro version, which costs $2.99. That three bucks unlocks integration with the Windows 10 Action Center. One click gives you a quick view of your open tasks, complete with the embedded picture.
You also get a Quick Note button in the Action Center so you can add and right from there, without opening it.
Action Note is a great example of an app designed for Windows 10 and taking advantage of the new operating system's features.
1-800-Flowers
For decades, 1-800-Flowers has been one of the biggest names in the gift-giving business. The one-time phone-based floral giant has rolled with the changing times and released a universal app for Windows 10 PC and Mobile.
Whether it's for the holidays or some other special occasion, 1-800-Flowers can hook you up with the perfect arrangement. But don't let the name fool you. You can also choose from a variety of fine foods and gifts.
The app is as vibrant as the flowers in it, letting you browse countless bouquets and goodies. The search function, complete with Cortana integration, will help you find what you are looking for. 1-800-Flowers offers app users special deals and secure checkout. You can sign in with Facebook, Google and social media accounts as well.
Sync your contacts with the app, and between devices, so you can send them gifts with a click.
It's encouraging to see a well-established company like 1-800-Flowers jumping on the Windows 10 bandwagon. You can download the app for free.
Pandora
Another popular app that has made its way onto Windows 10 is Pandora. Although the personal radio station app has long been available on smartphones, it was recently released for desktops as well.
Pandora lets you create your own music and comedy channels based on performers of your choosing. The app then plays similar artists from their massive catalog of music. You can create up to 100 channels and shuffle them as you like.
It's easy to discover new music, serving up a variety of bands, along with bios and histories. Pandora also tailors itself to your tastes, based on your "thumbs up" or "thumbs down" to different tracks.
If you have a Pandora account, your channels will automatically load in the app as soon as you log in. The app also supports different levels of audio quality and filtering of explicit content.
It's true that the phone version of Pandora has a few additional features, but the new desktop app is a really promising start.
PicsArt - Photo Studio
There are photo editing apps, collage making apps, drawing apps, and then there's PicsArt. PicsArt brings all three functions, and more, all under one roof.
The photo editor lets you do everything from crop and rotate to adjusting settings and overlaying preset effects. You can also add text and clipart, create frames and borders, and add masks. There are plenty of tools that are all intuitive to use.
The collage maker comes with a ton of different templates and backgrounds that you can choose from. There are also many themed collage frames for special occasions like birthdays and holidays. The interface is all basic point-and-click, so there's no need to be a good artist or computer whiz.
The drawing feature is simple as well. Just choose either a photo or a blank canvas and draw away. You can select from different paint brushes and mix your own colors.
But there's so much more to PicsArt than just creating and editing images. It has a rich community and social component where users can share their creations, collaborate on projects, enter contests, and exchange ideas.
PicsArt is as much or as little as you want it to be. You can participate in the community or just use it to make your own artwork.
The fully-functional app is free to download, with optional add-ons available to purchase.
World of Tanks Blitz
World of Tanks Blitz is now available for Windows 10 for PCs and tablets. If you aren't familiar, this is an online multiplayer game where you wage war with others using different tanks from around the world.
Choose what country you want to fight for: USA, USSR, Germany, Great Britain, and now Japan. You will then be connected to six other pilots to do battle against another team of seven players. There are eighteen different maps to fight on.
The more kills you get, the more experience you earn, which opens the door to improving your tank. There are also in-game achievements to earned.
World of Tanks Blitz is one of the few games to host multiplayer gameplay across different platforms, creating a diverse community. Use the in-game chat to talk strategy or just be social. And if you find a crew that you like to work with, you can form a clan.
World of Tanks Blitz is free to play.
Be sure to check out our other selections from previous weeks. Have a great weekend!
Do you have an app you want us to highlight? Drop us an email at tips@windowscentral.com with "5 Intriguing Apps" in the subject line.
Will be WoT blitz for Windows phones?

It already is on windows 10 phones

But it's not available for Windows 8.1 :/

When will the new Windows Central app be on one of these lists? Currently wrecking other players in WoT Blitz. Does anyone know how to switch control method in the game? Mine has Mouse & keyboard default, and I can't change it to touch screen(on my Surface 3...)

And italian tanks? Where?

Notiny can also create notes from action center and it is free. Notiny https://www.windowscentral.com/e?link=https2F%2Fclick.linksynergy.co...

Does it support Xbox Controllers?
Windows Central Newsletter
Thank you for signing up to Windows Central. You will receive a verification email shortly.
There was a problem. Please refresh the page and try again.