5 intriguing apps for Windows 10: Videos, news, yoga, and robot overlords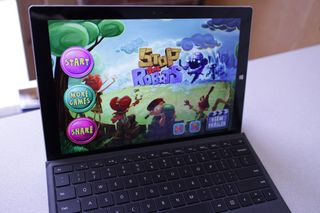 With the ever-growing number of apps and games in the Windows Store, it is becoming increasingly difficult to keep up with what's out there.
For that reason, every Friday we showcase some apps that have piqued our interest. They may have been in the news recently, they may be new to the Windows Store, or they could simply be old apps that we just stumbled upon.
They are the 5 Intriguing Apps of the Week.
Dailymotion
DailyMotion, the popular video-sharing has released a Windows 10 universal app for PC and smartphone, complete with a sharp new modern interface.
You can search for your favorite topics with Cortana or get the latest top picks from DailyMotion staff members.
Watch videos in the app's main player, in full screen, or in the mini player, in case you want to browse and view at the same time. The mini player can be dragged to any position on the screen with the click of a mouse. You can even cast videos to other display devices on your network.
If you have a DailyMotion account, you can log in to manage your channel, follow other users, and get personalized suggestions. You can upload videos, up to 4K quality, just by dragging and dropping into the app.
Not a DailyMotion member? That's OK; you can still use the app. You can also sign up for an account right from the app. Both a login and the app are free.
YOGA STUDIO
Yoga Studio is an acclaimed exercise app that was made popular on iOS, but is now available on Windows 10 PC and Mobile.
Choose from 65 different ready-made yoga and meditation classes, all in HD quality, and ranging from beginner, to intermediate, to advanced. If you are looking for specific routines, you can craft your own by joining together shorter video clips. And you can download your videos, so you can watch them while offline.
Using the built-in calendar, you can schedule your classes to best fit your lifestyle. Yoga Studio also helps you track your progress with a complete historical listing of your classes, including your most recent and most played.
Yoga Studio includes more than 280 poses, with accompanying pictures and detailed descriptions of how and why to do them.
Whether you are someone just looking to get into yoga, or a seasoned practitioner, Yoga Studio is a great tool for home and on the road.
PressReader
PressReader is an online service that gives members digital access to thousands of newspapers and magazines from around the world. Their Windows 10 app brings those publications to the screen of your PC or tablet.
Search by country, category, or publication and create a home feed of news and stories about the topics that matter to you. You can also have the latest issues of your favorite magazines delivered right to your device.
Publications are available as soon as the print versions. You can bookmark articles, save them to Evernote or Instapaper, and share them with friends over email or on Facebook and Twitter. PressReader will even read them out loud or translate them into sixteen different languages.
One distinguishing characteristic of PressReader is the community aspect. Much like social media sites, the app lets readers "Bump it" or "Dump it" depending on your approval rating, or comment on them directly.
However, participation is optional, so if you just want a comprehensive tool for keeping up with your publications of choice, PressReader is worth a look. You can sign up for PressReader and download the app free of charge.
SuchReddit
SuchReddit, as you may guess from the name, is a Reddit client for Windows 10 PC and Mobile. While there are other Reddit apps out there that provide more options, the primary focus of SuchReddit is performance. And it certainly excels at that.
Popular subreddits are listed in the left-side menu list and load nearly instantly when you click on them. All of the posts within the topic appear down the center and can be sorted by "Hot," "New," "Rising," and all of the other ways that you can sort on Reddit.
When clicked, an individual submission will be displayed in the large window on the right. From there you can choose to show or hide comments. The large right-side pane also acts like a web browser for viewing content from posts.
There are certainly some features lacking from SuchReddit, like seeing your personalized list of subreddits when you are logged in and the ability to comment, but the app is a decent option for a casual Reddit user looking for a quick way to browse.
SuchReddit is a great jumping off point for a Reddit app and could be truly great with just a little tweaking.
Stop The Robots
It seems that the world is always getting attacked by zombies, aliens, or something. In this case, it's robots. In Stop the Robots, you control a team of kids just trying to defend their turf.
Start out as a single whippersnapper and build up resources until you can hire some friends, each with a different weapon and skillset. Each round that you play gets you bottle caps and stars that will get you special abilities and a better team.
There are spells to boost your teammates or to cast over the battlefield for mass effects.
Level by level, the enemy gets tougher, adding strength in numbers and bringing new robots into the mix. There are also bosses to fight to get you to new locations, etc.
Stop the Robots is a fun defense game for Windows 10 PC and Mobile. It is free to play, but there are optional in-app purchases that can get you boosters, etc.
Be sure to check out our other selections from previous weeks. Have a great weekend!
Do you have an app you want us to highlight? Drop us an email at tips@windowscentral.com with "5 Intriguing Apps" in the subject line.
Get the Windows Central Newsletter
All the latest news, reviews, and guides for Windows and Xbox diehards.