5 intriguing apps for Windows 10: Microsoft rethinks notebooks, Tidal unofficially rises to the Surface, and Windows 10 sinks into the Abyss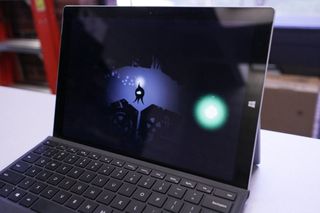 With the ever-growing number of apps and games in the Windows Store, it is becoming increasingly difficult to keep up with what's out there.
For that reason, every Friday we showcase some apps that have piqued our interest. They may have been in the news recently, they may be new to the Windows Store, or they could simply be old apps that we just stumbled upon.
They are the 5 Intriguing Apps of the Week.
Plumbago
The oddly-named Plumbago is a new digital writing and sketching app by Microsoft Research that is available on PC and tablet.
Part of their Microsoft Garage series, Plumbago lets you create different notebooks, right down to the paper type. Choose from white or yellow legal pads, graph paper, black background, and many more. There's no limit to how many you can have in your library.
Writing is best done with your stylus, although it does work with your finger as well. You can select either pencil, pen, or highlighter, each of which has a host of settings for color and brushstroke. There's also an eraser and a lasso tool for selecting areas to cut or move.
Need to borrow from an existing image? Pictures can be imported for tracing, annotating, and editing. Similarly, selected areas can be copied to your Windows clipboard and full pages can be exported as image files.
Plumbago falls somewhere between the Paint tool in Windows and Microsoft OneNote, possessing certain characteristics of both, yet still somehow remaining its own thing.
Whether you need to take notes for class, want to keep a handwritten journal, or just like to sketch, Plumbago would certainly fit the bill.
Tidal Unofficial
Tidal unofficial is a third-party client for the Tidal music service purchased and relaunched by Jay Z.
The app gives subscribers the ability to log into their account and access their music and settings. Users can search and browse artists and songs, manage their favorites, and of course, listen to music.
Playlists and albums can be imported into Tidal unofficial, so you can listen while offline.
Music playback is the same quality as lossless files. However, if you have a digital-to-analog converter (DAC), you can hear your tunes in HIFI.
Tidal unofficial is available for Windows 10 PC and Mobile free of charge, allowing you to bring your Tidal account with you wherever you go.
Readia
Readia for Windows 10 is a comic book and manga reader for your computer, tablet, or smartphone. It offers a clean, modern interface with straight-forward controls. Just add the folder or folders where your comics live and Readia will pull up a colorful index of each book, using the covers as thumbnails.
Choose the one you want and start reading. Use your device in portrait or landscape mode and simply swipe with your finger to get from page to page.
There are plenty of options to choose from, like reading direction, number of pages to display, and image formatting. Readia can use any picture as an in-app background, or randomly create one from your library of comics.
Readia supports a pretty wide variety of files, making it a pretty versatile comic app. You can view JPEGs, PNGs, BMPs, ZIP files, RARs, CBZ and CBR archives, and PDFs.
Between the design, options, and simplicity of use, Readia is a solid choice for consuming your manga and super hero tales.
Artage
Artage is a third-party app for the online artist community DeviantArt.
With Artage, users can browse the latest, hottest, and most popular deviations that the site has to offer. You can also browse by category and search using keywords.
If you find a picture of interest, you can save it to your device or share it with friends right from the app. Deviations can be clicked to see comments and view the artist's profile.
DeviantArt account holders can log into Artage to access their own profiles as well. They can also post and review their own artwork and journals, watch artists, favorite others' works, and make comments.
The ad-supported Artage is free to download on PC and phone, but ads can removed for an in-app purchase of $1.29.
Abyss
Game Troopers is perhaps the most well-known names in Windows gaming. The game studio has recently brought their super-challenging underwater adventure and Xbox Live title Abyss from Windows phones to Windows 10 for PC.
Abyss is the story of a deep sea robot named Nep2no who is tasked with exploring the dark underwater world for a newly discovered energy called "Gaia." As you navigate the caves and trenches you'll have to discover secret passages and avoid the dangers of the deep.
Compatible with gamepad, keyboard, or mouse, Abyss' controls are simple in the sense that the only things you can do are rotate and accelerate. However, they are immensely challenging to master, so you will reach peaks and valleys of frustration and exhilaration.
If you stick with it, though, not only will you find yourself at the top of the leaderboards, but you will earn up to 20 Xbox Live achievements and the satisfaction that you just may have saved the human race.
Abyss will run you $2.99, which will make it available for you to play on your computer and phone.
Be sure to check out our other selections from previous weeks. Have a great weekend!
Do you have an app you want us to highlight? Drop us an email at tips@windowscentral.com with "5 Intriguing Apps" in the subject line.
Get the Windows Central Newsletter
All the latest news, reviews, and guides for Windows and Xbox diehards.