5 intriguing apps for Windows 10: Stop-motion, fashion deals, and all the socials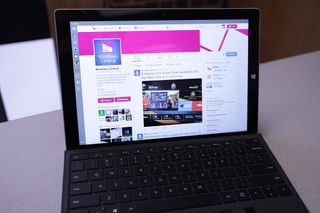 With the ever-growing number of apps and games in the Windows Store, it is becoming increasingly difficult to keep up with what's out there.
For that reason, every Friday we showcase some apps that have piqued our interest. They may have been in the news recently, they may be new to the Windows Store, or they could simply be old apps that we just stumbled upon.
They are the 5 Intriguing Apps of the Week.
FlipPad
FlipPad is app that lets you create homemade stop-motion cartoons on your Windows 10 computer or phone.
The built-in drawing tool gives you sixteen colors and 30 different pen sizes to choose. Just create a new project, along with a new slide, then draw the first picture.
Add as many additional slides to the sketchbook as you want. You can either copy previous slides to preserve continuity or start from a blank page.
At any time in the process, you can animate your slides to watch them in succession.
FlipPad is still fairly new, with some options and features on the way, including the ability to save a project to your device. If you have ideas on how to improve the app, be sure to let the developer know.
zulily
Zulily is a popular site that offers bargains on men's and women's fashion, home décor, kids' stuff, and other goodies. Every 72 hours you'll find a new bunch of discounted wares to choose from.
The new official Zulily Windows 10 universal app brings all the shopping fun to your computer, tablet, or smartphone. The modern interface is jam-packed with plenty of pictures and descriptions of the sale items.
You will need a Zulily account even just to browse, but don't worry — it's a free membership you can sign up for right from the app. If you're already a Zulily user, or just looking for a new place to find some fashion deals, give the app a try.
Ouga
Ouga is a third-party Tumblr app for Windows 10 PC and Mobile with a beautiful layout and well-designed UI.
Blogs you follow appear as large tiles with the author's description, banner picture, and a couple snippets from it. Click the tile and you are transported to a full-screen view of it that you can scroll down through. If you log in into your Tumblr account, you can post, comment, and share.
Ouga also makes it easy to find new people to follow. And you can even get a look at what's trending in the floating ribbon across the top of the app.
There is a great search function where you can enter keywords, and then filter by format (photos, text, quotes, videos, etc). You can also just peruse the recommended blogs section to see if anything tickles your fancy.
Ouga is a fast, free, and fantastic way to enjoy all that Tumblr has to offer.
harvester
Harvester is a Windows 10 app that brings all of your social media accounts together in one place. Serving as a web wrapper for Twitter, Tweetdeck, Facebook (and Messenger), Google+, Reddit, Instagram, WhatsApp, and more, the app provides a single interface that lets you switch between accounts quickly.
Users can choose which sites they want to display icons for on the side pane, simply by toggling the switch for each one on or off in the settings menu.
Although still in its early stages, harvester does have some cool advanced features. The app supports both audio and webcam, as well as drag-and-drop attachments. WhatsApp, Google Hangouts, and TweetDeck all can be used in Continuum, too.
Harvester also provides you with a way to have it automatically start up, so your feeds are ready to read when you log in.
If you are looking for a way to streamline your social media experience, harvester's sharp design and speedy performance make it a viable option. Again, the app is relatively new, and the mobile version is even newer, so don't expect perfection.
There's a free trial, which means you can decide if harvester is right for you without any risk. Even if you decide not to buy it yet, harvester is an app to keep your eye on.
Brainteasers
Brainteasers is a game of logic that set in a murder-riddled mansion. Each level gives you six rooms, one of which was the scene of a murder. There is a group of possible suspects and a list of facts about the case.
Your job is use the clues to deduce who was in what room at the time of the murder, ultimately solving the crime. You do this by moving each character to their respective rooms. When you have the right players in the right places, you move on the next level.
The mysteries get more complex as you progress, though you can view the solution if you get stuck.
Brainteasers isn't the most exciting game — it's more akin to playing Sudoku or doing a crossword puzzle. If you're a fan of either of those, Brainteasers may be a good option for exercising your mind muscle.
Available only on PC, Brainteasers is free, with ad support. You can remove the ads for $1.49.
Be sure to check out our other selections from previous weeks. Have a great weekend!
Do you have an app you want us to highlight? Drop us an email at tips@windowscentral.com with "5 Intriguing Apps" in the subject line.
"5 intriguing apps" The title of this series always makes me chuckle. :D

Great apps... Especially ouga... Still waiting for the universal WINDOWS CENTRAL app :p.. Please tell me its coming soon

Dan tweeted it that it was coming within a few days.

That's very Microsoftish of him :)

That Windowscentral picture, I thought this is about the Windows Central app for Windows 10 app open beta has begun.

Anyone know if flippad allows loading photos in to it, or it just for drawing? I was working on animating my sons dinosaurs a little while back by taking pictures and put them into one of the movie makers, but it was a little time consuming.

Dev here. It's drawing only at this point. Right now I'm working on things like a full color range and some memory usage issues, but importing images is on the radar, albeit near the horizon.

That would be great! Thanks very much for the response, will check back every once in a while.

Waiting for wc universal app.

Brainteasers, yet another app that won't allow an install on a lumia 950xl. "This app will not work on your device" The app gap is even bigger when you have a 950xl.

Thats strange i dont find some of the apps i read here on my windows 10 store, like i could find Zulily app.

I love Ouga. But somehow sad because it doesn't support gif properly.. :'(
Windows Central Newsletter
Get the best of Windows Central in in your inbox, every day!
Thank you for signing up to Windows Central. You will receive a verification email shortly.
There was a problem. Please refresh the page and try again.