5 intriguing apps for Windows 10: Track, relax, and rack your brain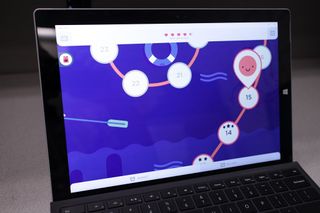 With the ever-growing number of apps and games in the Windows Store, it is becoming increasingly difficult to keep up with what's out there.
For that reason, every Friday we showcase some apps that have piqued our interest. They may have been in the news recently, they may be new to the Windows Store, or they could simply be old apps that we just stumbled upon.
They are the 5 Intriguing Apps of the Week.
Mediscape
Mediscape is a third-party client for WebMD's Medscape service, an online resource for medical professionals, educators, and students.
With Mediscape, you can log in with your WebMD credentials and access all the site has to offer in a streamlined, easy-to-use interface. Read the latest news, check out the educational resources, or get help with the calculation tools.
Mediscape also lets you browse and search the Drugs, Conditions, and Procedures reference guides. All three are available offline in the app.
WebMD's Medscape is one of the best online medical resources out there, and Medscape puts the power of it at the tip of your fingers on your Windows 10 PC or smartphone.
You can try it for free, or get the full version for less than a buck.
Series Tracker
Between network, cable, and streaming services like Hulu and Netflix, it can be tricky to keep track of your favorite TV shows. Series Tracker for Windows 10 PC and Mobile helps you stay current on every episode.
Pulling Trakt.tv's database of over 30,000 shows into a beautifully-designed interface, Series Tracker lets you search and choose the ones you want to follow. Get a listing of every past and upcoming episode, along with their air date. As you watch, you can mark them so you know you've seen them.
The full version of Series Tracker also gives you Live Tiles and Push Notifications based on your time zone, so you'll never miss your show.
This app is great for discovering new shows as well. Filter by what's popular or trending to see what others are watching. You'll get detailed info on the story and cast, and even watch trailers when they are available. Got a suggestion for your friends and family? Share with them right from the app.
There are plenty of TV tracking apps out there, and Series Tracker, even in its early form, ranks up near the top of the list. And it will only get better. Future versions will include OneDrive backups and syncing with your Trakt.tv account.
The free version of Series Tracker is pretty darn good, but the full one is even better. It will run you $1.99 to get it on up to 10 computers and phones.
Bibliovore
Bibliovore is a free eBook reader for Windows that works with ePub and PDF files. Open files individually or add entire folders. The app also has built-in access to two online resources, Ebooks Gratuits and Project Gutenberg, that offer a wealth of free public domain eBooks to download.
You can edit the metadata for all the books in your library, so you can organize your collection how you like. Both your library and data sync, along with all of your bookmarks.
The reader itself is customizable as well. You can choose day or night mode, font size, one or two page view, portrait/landscape, and themes.
Basically, Bibliovore does just about anything you would want an eBook reader to do. And it's free to download for PC.
Notiny
Notiny is an extensive note-taking app, available for computers and smartphones. You can create stickies or lists, either by typing, importing a text file, or speaking to Cortana. Notes can contain text, images and audio clips.
Notes are synced between devices and can be shared with others. If your task has a deadline, you can set a reminder for it or pin it to your Start menu. Private entries can be password protected as well.
Notiny's interface is clean, customizable, and intuitive. The My Notes section can be set to either text or tile view. You can set your own background for the app, choose tile colors, and more.
Notiny is a great way to simplify your busy life. It's free to use, with option to remove ad support for 99 cents.
TWO DOTS
Two Dots takes the basic premise of connecting dots by drawing lines between them and turns it into an entertaining and challenging addiction. The object of the game is to meet certain goals by eliminating groups of different colored dots. But you only have a limited number of moves in order to do it.
You can remove dots by drawing straight lines between two or more of them. Certain combos, like drawing a square, have special effects. There are also multiple boosters that you can earn or buy to help you through your struggles.
Two Dots uses colorful, minimalist art and soothing music to create a joyful playing experience. But despite its simple appearance, this game will put you to the test. And if you are looking for more of a mental workout, try competing in the weekly challenges with other players around the world.
A word of warning, playing this game is like falling down a rabbit hole. I downloaded it to see what it was like and ended up playing for about an hour. Two Dots is free to play, with optional purchases available.
Be sure to check out our other selections from previous weeks. Have a great weekend!
Do you have an app you want us to highlight? Drop us an email at tips@windowscentral.com with "5 Intriguing Apps" in the subject line.
Get the Windows Central Newsletter
All the latest news, reviews, and guides for Windows and Xbox diehards.