5 intriguing apps for Windows 10: Daily news, DIY devs, smart bulbs, and jelly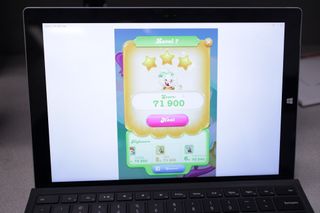 With the ever-growing number of apps and games in the Windows Store, it is becoming increasingly difficult to keep up with what's out there.
For that reason, every Friday we showcase some apps that have piqued our interest. They may have been in the news recently, they may be new to the Windows Store, or they could simply be old apps that we just stumbled upon.
They are the 5 Intriguing Apps of the Week.
LIFX
Smart bulb maker LIFX has released an official app for Windows 10. LIFX offers many of the features you would expect from a smart bulb app, like creating groups of lights, changing bulb color, and on/off and brightness controls. It also features candle flicker effects, color randomization, and preset themes that you can use to match your mood.
LIFX is designed to work with other popular products and platforms as well. For instance, you can use your Logitech Harmony remote to control the brightness or connect LIFX to your Nest Thermostat to save money on energy costs. LIFX also plays nice with Samsung Smartthings devices, AllJoyn-certified smart lights, and IFTTT.
The company included some Windows-specific goodies in the app as well. Single or groups of lights can be pinned as Live Tiles for quick access to controls and color settings. Even cooler is the Cortana integration that lets you control your lights with the sound of your voice.
LIFX has designed a great-looking, feature-rich app to match their versatile smart lighting system. And given its wide range of interoperability, you could even potentially use just it to control lights by other companies who don't make official Windows 10 apps.
DailyMail Online
Daily Mail has released a beautiful universal app for Windows 10 PC and Mobile, bringing you the latest news, gossip, and weirdness from around the world. The Daily Mail app lets you choose from US, UK, and more to hone in on your area of interest.
There are fifteen channels to choose from world news, to science, to showbiz. If you find an article you are interested in, but don't have time to read it, you can mark it for later. Or download all of your articles so you can read them offline.
If you log in with your Daily Mail account to post comments and rate others' remarks. Daily Mail has various other settings to customize your experience, manage your reading material, and control your data usage.
If you're a fan of Daily Mail, you really need to get this app on your phone and computer.
Microsoft "Project Siena"
Microsoft's "Project Siena" (opens in new tab) is an initiative geared toward helping businesses easily develop their own Windows 10 apps. Combined with online tutorials and other resources, the app gives them the tools to create their own apps without having to know how to code.
Project Siena provides a point-and-click interface so you can add your own pictures, buttons, etc. Once you have the look you want, you can add functionality using "Excel-like expressions," rather than computer code.
The app also lets you pull data from your business servers, web services like SharePoint, and even social media.
Project Siena may not make you an pro developer, but it could just help you or your business get a leg up, and is free to download for Windows 10.
Sort My Stuff!
Sort My Stuff! Is an interesting app that helps you inventory just about anything anywhere. You can create locations in the app and then assign items to them. For instance, if you want to track spare toner cartridges for your office printers, you can list each type and quantity and put them into a location called "Supply Closet."
You can create item categories, keep track of how many you have, give them a dollar value, and add miscellaneous information. Objects can be easily moved from one location to another within the app to match any real life location moves.
Sort My Stuff! is a handy way to keep track of work supplies, inventory belongings for insurance purposes, or even track boxes during a move. The app will run you $1.99, but there is a free trial, so you can test it out first.
Candy Crush Jelly Saga
The folks over at King have created a new episode of Candy Crush — Jelly Saga — and it has you gearing up to take on the Jelly Queen.
The overall gist of the game is the same, though as you create groupings of candies, you spread jelly across the board. There are also new types of candy, new combinations to create groups, and new types of gameplay, but it's still Candy Crush at its core.
Not only will you find yourself clearing (more like smearing) levels, but you will also engage in boss battles to see who can own more of the board with their jelly. Candy Crush Jelly Saga is as enjoyable as the other episodes, so if you are fan of those, you'll likely be sweet on this one as well.
Jelly Saga is available for phone and PC for free, though there are plenty of ways to spend real money within the app.
Be sure to check out our other selections from previous weeks. Have a great weekend!
Do you have an app you want us to highlight? Drop us an email at tips@windowscentral.com with "5 Intriguing Apps" in the subject line.
Windows Central Newsletter
Get the best of Windows Central in your inbox, every day!
Just to let you know... "Sort My Stuff !" free trial does not expire, it is unlimited. Paid version unlocks some additional functionalities and remove banners (as per store description). And it is universal.

I want to try "Sort MyStuff, but one thing that's really unclear to me is how the information is stored and used by different devices. If the app is universal, shouldn't I be able to use the app on one device, and later pick up a different device to continue with the same data? I don't see any mention of automatic data synchronization to OneDrive? Export and Import are manual processes.

hello, since the whole data is kept locally (I.e. I do not send your data to my servers) the configuration becomes very big as soon as you start taking photos of Storage areas and items. What can be shared in universal apps automatically is just a few MBs of data. This is why the configuration must be imported/exported manually to onedrive. In other words I'm creating a proprietary database on the device, even if it was possible to sync automatically it would be an overkill. And with import/export you have the flexibility of working on different configurations from different devices: E.g. You handle office storage on the phone, house storage on tablet, then you want to see your office config from the tablet you can do so and later restore the house configuration on it.

Why onedrive cant be automatic: https://msdn.microsoft.com/en-us/library/hh826521.aspx

100kb automatic roaming data limit: https://msdn.microsoft.com/en-us/library/windows/apps/hh465094.aspx

I play jelly saga for first few levels, got bored already.

You haven't reached the bosses then. That makes it a bit of a different game.

Jelly saga is continuum supported. I tipped about it couple days ago.

Am I the only one who uses the back button when I've read a topic, only to find myself dumped back on the home page. I've never got used to this type of page structure.

Why do most of these apps look like webpages?

Project Siena is old. PowerApps is the succesor!