5 intriguing apps for Windows 10: music sharing, streamlined socials, and Lamphead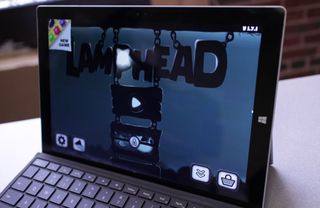 With the ever-growing number of apps and games in the Windows Store, it is becoming increasingly difficult to keep up with what's out there.
For that reason, every Friday we showcase some apps that have piqued our interest. They may have been in the news recently, they may be new to the Windows Store, or they could simply be old apps that we just stumbled upon.
They are the 5 Intriguing Apps of the Week.
Socialize Up
Socialize Up is a universal app for Windows 10 PC and Mobile that brings your social media accounts together in a single interface.
Log into Twitter, Facebook, Instagram, Google+/Hangouts, and even Reddit and WhatsApp. For an additional $0.99, you can also unlock Telegram.
Each service has an icon on the left side of the app, so you can just click on it and see your feed in the main window. Socialize Up will also let you display two of your social media sites side-by-side in a single window.
Socialize Up does a lot of things well. For one, it makes keeping up with your accounts pretty convenient. It also opens up all of the links you click in your default web browser. And rather than using a straight-up Twitter interface, the app uses TweetDeck.
Socialize Up is a handy tool for anyone with multiple social media accounts. Despite some negative comments in the reviews that allude to performance issues, I didn't run into any trouble. In fact, I found the app to be really responsive.
My only qualm is that you cannot use the Share function in Windows 10 to post directly to Socialize Up though I could see how making that work could be problematic.
At any rate, you can download the app for free, so there's no risk. And if you decide you like it, you can pay a buck to remove the ads.
PBS Video
PBS Video is a relatively new app for Windows 10 computers that gives you access to your favorite public television shows.
PBS Video contains thousands of clips and full-length shows. Enjoy the likes of Downton Abbey, NOVA, Nature, and Frontline, all from the screen of your PC or tablet. You'll also be able to watch performances from Austin City Limits and online-only programs Secret Lives of Scientists and FutureStates.
Add shows as favorites and create watchlists, so you can easily keep up with the series. PBS Video will keep you updated on the latest episodes via the Live Tile as well.
The PBS Video app can use your location to find your local PBS station for programming information, or even to make a donation. And if you're a real public television junkie, you can use the app to populate your lock screen with PBS themed backgrounds.
At the moment, PBS video is only available for PCs, and it is free to download.
Bing Wikipedia Browser
Microsoft has combined the vast store of information from Wikipedia with the smart search functionality of Bing to create the Bing Wikipedia Browser. Available only on PC, Bing Wikipedia Browser creates a clean interface for searching and browsing the internet's largest knowledge base.
Articles appear as they would online, with the app providing certain enhancements. For instance, you can view all of the images from an article, in high-definition, in slideshow form. You can also search for key words, jump to different sections on the page, or instantly translate an article to another language.
Much like a web browser, Bing Wikipedia Browser gives you the ability to marks entries as Favorites for quick access. Articles can also be shared directly from the app to social media or other apps. Bing Wikipedia Browser harnesses the power of Wikipedia and organizes it into a convenient tool that is free to use.
MyMusicCloud
MyMusicCloud is a popular online service that lets you upload your music collection and then sync it across devices. The Windows 10 app brings their service to your PC or tablet.
With a free MyMusicCloud account, you can import your music from iTunes, Windows Media Player, Google Drive, DropBox, or manually. There is no limit to how many songs you can upload.
Then, you can choose up to 250 of those songs to sync across up to five different devices on various platforms, including Windows 10, Windows Phone, iOS, Android, and more. You can also create playlists, get lyrics and bios, and play your songs offline.
A paid subscription, which costs $39.99/year, will buy you the same unlimited storage, but with no ads, nor a cap on how many tracks you can sync. Not to mention, you get to sync on up to ten devices. Whether using the free or paid version, music lovers could very well love MyMusicCloud, too.
Lamphead: Out the Darkness
Lamphead: Out the Darkness is side-scrolling game in which you must guide your light-headed protagonist through the dark terrain. To make it through, you must flip from one side of the ground to another to dodge obstacles like spikes and saw blades. But there are also necessary supplies that you can collect, like batteries for your lamp and coins for upgrades.
You do this by tapping the screen or clicking your mouse button, which sounds a lot easier than it actually is. The better you do, the more levels and characters you unlock.
Lamphead employs shadowy, cartoon-like graphics that are reminiscent of games like Limbo, albeit with a bit more color. The characters are cutesy and the sound effects amusing. The game lets you log in with your Facebook account to challenge friends and try to land a spot on the leaderboard.
While the game is free to download on PC and phone, there are plenty of in-app purchases available.
Be sure to check out our other selections from previous weeks. Have a great weekend!
Do you have an app you want us to highlight? Drop us an email at tips@windowscentral.com with "5 Intriguing Apps" in the subject line.
Get the Windows Central Newsletter
All the latest news, reviews, and guides for Windows and Xbox diehards.