5 intriguing apps for Windows 10: Moving Media, Moody Music, and Mini Golf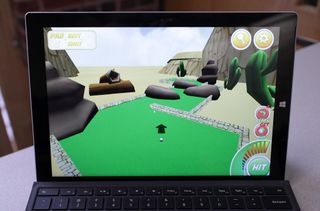 With the ever-growing number of apps and games in the Windows Store, it is becoming increasingly difficult to keep up with what's out there.
For that reason, every Friday we showcase some apps that have piqued our interest. They may have been in the news recently, they may be new to the Windows Store, or they could simply be old apps that we just stumbled upon.
They are the 5 Intriguing Apps of the Week.
Universal Battery Tile
Universal Battery Tile has one job: to show you how much battery charge you have left by creating a Live tile that you can pin to the Start menu of your computer or screen of your smartphone. You can choose not to create a Live tile, but that sort of defeats the purpose.
Inside the app, you will find just one other option, which is how often you want the Live tile to update. You can choose from 15 minutes, 30 minutes, 1 hour, or real time. One item of note is that choosing real time updates requires an internet connection because of "platform limitations."
The real-time option is only available in the Premium version of Universal Battery Tile, which costs $0.99. That dollar will also remove ads.
Playcast
Webrox, the makers of the fantastic YouTube app Tubecast Pro, have taken their media slinging to a new level with Playcast. While Tubecast lets you cast your favorite videos to devices like Xbox One and DLNA Smart TVs, Playcast lets you do the same with your own media content.
With Playcast, your pictures, videos, and music can be streamed from your phone or computer to your TV, Xbox One, Xbox 360, Apple TV, Chromecast, Smart TV, and more. With the touch of a button, you can share your media to a bigger screen or better sound system.
Playcast also interfaces with your cloud storage accounts, so you can also directly access your files on OneDrive, DropBox, and Google Drive.
The casting function is great, but the fact is that even without it, Playcast is a beautiful and highly-functional standalone media player. So even if you rarely use it to display on other devices, it is still a topnotch way to watch movies, listen to music, and make picture slideshows on your own PC or smartphone.
Playcast costs $3.99, but there is a free trial, so check it out.
Moodflow
Sometimes you just don't know what you feel like listening to, you just know how you're feeling. Enter Moodflow, an app that uses SoundCLoud to match music to your mood.
Choose from one of the preset categories, like Angry, Loneliness, Romantic, or Euphoria, and Moodflow does the rest. Much like Pandora, the app creates a personalized radio station.
Like a song that you hear? Go ahead and favorite it so you can listen to it later. If you don't particularly care for a track, you can skip it. However, you only get five free skips per day. You can purchase unlimited skips for a six-month chunk, or forever.
Moodflow is about as straight-forward of an app to use as there is. It's also a great way to discover new artists.
You can download it free of charge for PC or phone.
Dukto
Dukto is a free multi-platform file transfer application that works over local area networks (LAN). The Windows 10 app allows you to use the service on your computer or phone.
Just install the app on your device, along with any other Windows, OSX, Linux, or Windows Mobile device you want to access.
Dukto automatically configures and auto-detects every endpoint, with nothing for you to learn or fuss with.
Any such device on the same network will then appear in the app and you will be able to move files back and forth.
Not only is Dukto free, but it is open source, so other developers can work with it Therefore, you can find clients for other platforms, like iOS.
Mini Golf Stars 2: Putt Putt Golfing
Game Masons, the makers of the original Mini Golf Stars, has released a follow-up, Mini Golf Stars 2: Putt Putt Golfing.
This mini golf game brings you 150 new holes with a host of different backdrops from the beach to outer space. The difficulty increases as you progress. Mini Golf Stars 2 sports the same beautiful three-dimensional graphics you may have seen in the first game.
The controls are simple, but that certainly doesn't mean the game is easy. Use your keyboard, mouse, touchscreen, or a combination to aim and putt your way through the courses.
The better you do on each hole, the more stars you earn. Stars can be used to buy boosters and unlock new worlds. Boosters and unlocks can also be purchased if you don't have the patience to play your way through.
Mini Golf Stars 2 is fun and addictive for players of all ages. You can download it for free on your Windows 10 computer.
Be sure to check out our other selections from previous weeks. Have a great weekend!
Do you have an app you want us to highlight? Drop us an email at tips@windowscentral.com with "5 Intriguing Apps" in the subject line.
Windows Central Newsletter
Get the best of Windows Central in your inbox, every day!
Anyone who needs over local network fast file transfers for cross platforms, seriously, check the Dukto out. I'm one of the few people who owns a BB10, Mac, Android and Windows machine. Instead of setting up a FTP, use Dukto.
I'll vouch for it.

Is It any better than Shareit?

does anyone have the problem that playcast doesnt cast via dlna to smart tv... like to my 4K Sony Android TV lumia play to works fine and tubecast works fine but this playcast doesnt work at all

I just tired out Dokto because of this article, and its amazing. FINALLY a nice and quick file transfering app to send to my windows phone without having to connect it via micro usb cable, I HATE that crappy port, prone to break off so easy.