5 intriguing apps for Windows 10: October 30, 2015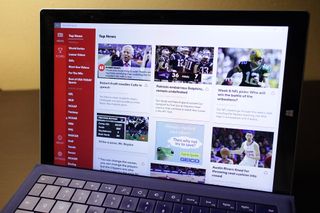 With the ever-growing number of apps and games in the Windows Store, it is becoming increasingly difficult to keep up with what's out there.
For that reason, every Friday we showcase some apps that have piqued our interest. They may have been in the news recently, they may be new to the Windows Store, or they could simply be old apps that we just stumbled upon.
They are the 5 Intriguing Apps of the Week.
WiFi Commander
WiFi Commander is a handy tool for configuring and troubleshooting wireless networks. Using your device's wireless radio, the app will scan your location for any and all networks, providing valuable information about them.
With WiFi Commander, you will get a listing of each access point in your area, complete with brand name, SSID, MAC address, and security and authentication type. You can see which access point has the strongest signal, as well as determine what channels are in use so that you can avoid conflicts.
The user interface offers up various options, from dark and light theme to what variables you would like displayed. You can also leave it open for continuous scanning. WiFi Commander is available for Windows 10 PC and Mobile.
USA TODAY Sports
USA Today released a new sports app designed for Windows 10 and Windows 10 Mobile. The beautifully-designed app puts the latest scores and current events in the palm of your hand.
USA Today Sports tracks the top news stories and trending topics and sets them at the top of the news column so you can see what's hot. Know exactly what you're looking for? Then just view the news by which sport you want to read about.
Their "Best. Scoreboard. Ever." Lists the whatever games are in progress or scheduled for the day in all major sports. You can quickly jump to individual sports for current scores, or even browse past days and weeks.
If you are serious about your sports, you can set up notifications for game alerts and trending news notifications. You can even have the latest images pop up on your lock screen.
USA Today Sports is free to download for PC or Mobile.
MapFactor GPS Navigation
MapFactor GPS Navigation has made the jump from Windows Phone 8.1 to Windows 10 for PC and Mobile.
MapFactor GPS uses OpenStreetMap data, so it is completely free to use. In addition, MapFactor GPS serves up an impressive selection of features, like completely customizable route options, truck restriction listings, and advanced get-in-lane warnings.
You will also see posted speed limits for the roads you travel on, as well as street signs.
With many GPS apps costing quite a bit of money, it is nice to see a free one with that offers much of the same functionality.
The downside is that OpenStreetMap data is created solely by volunteers, so you may run into the occasional inaccuracies. MapFactor GPS does offer Tom Tom maps for purchase in-app, if you choose. Buying a map will also unlock the pro version of MapFactor, which has some additional features.
Notepad Next
Notepad Next is an improved version of Windows' Notepad desktop application. It uses a streamlined, hi-resolution interface with touch-friendly and mouse/keyboard controls. With Notepad Next, you can open multiple text files at once in a tabbed view, so you can easily switch between them.
Your progress is instantly captured when the app closes, whether or not you have saved your document to your computer. This ensures that whatever you were working on pops up when you reopen the it.
Notepad Next is free to use. It's still fairly new, so be patient. The developer says that fixes and improvements are on the way and that feedback is always welcome.
Inchy Ultimate
Sometimes the least complex games are the most challenging. Such is the case with Inchy Ultimate, the tale of an inchworm just trying to make is way up in the word.
There is but a single control, touching the screen to make Inchy grab the next branch. But the branches race toward you at varying intervals, toying with your sense of timing.
Inchy Ultimate has no end, and each game is very quick, so you will be determined to play over and over again, just to beat your highest score. It will entertain you for a while, if you don't give up out of frustration.
Be sure to check out our other selections from previous weeks. Have a great weekend!
Do you have an app you want us to highlight? Drop us an email at tips@windowscentral.com with "5 Intriguing Apps" in the subject line.
Windows Central Newsletter
Get the best of Windows Central in your inbox, every day!
Oops, The picture for Inchy Ultimate is the same for the gps nav app in the article

Someone should share Notepad Next with Mary Jo Foley.

That app looks like tubecast.

I used to use Navigon which was excellent. But they're not helping fix a Live ID error for me so I'm looking for an alternative. I haven't liked any others that I've tried yet including this one sadly

I use Sygic from the store.....recommend a look if you have not seen it.

So does notepad next has splash screen or does it open quickly like notepad

It opens lightning fast with no splash screen.

How come does splash screen show on mine.I agree that it loads faster than any msft core apps(calculator,camera,groove etc).All i can say is the developer really worked hard to optimize it even with crappy performance of all store apps in windows 10

Windows Store apps from MS open immediately on my computer. stop blaming Microsoft for your crappy computer. the only app that show a long splash screen on my side it's sports, but I don't cry over a splash screen. I have to see it on many programs on my desktop, they are havier but if I cried over splash screens I wouldn't have used desktop software either. "Splash screen show on mine​".... So get a new computer and stop complaining, because apparently it's your crappy computer. I haven't installed notepad next on my computer, and I won't, I don't need it, I have notepad++. but MS apps here open immediately and they work fine with no lag, so I will say it's just your crappy computer, not Microsoft or windows.

So my computers with 5th gen i5 8gb ram and work station with 4th gen i7 12gb ram are crap.Sorry then would you please define a good one.So is calculator heavier program than maya 2016,Camera is intense program than vs 2015 community.I did mention windows store apps not win 32 or 64 bit programs.

Maybe you need to run a malware program to clean it up then.

Been looking for something like WiFi Commander for a while. Hopefully it runs on RT.

The upside of open street map is that it is created by volunteers. Is your opinion of Wikipedia the same? At least if you do find something wrong, you can change it I have found tom tom to be occasionally inaccurate.

I used it once and it gave me a right-turn on a no right-turn junction. I turned right anyway as I would have had to drive all round Luton again. This was on WPhone, but I guess same maps. The destination entry procedure is awful. Can't search for airports - gave in eventually. Need to enter Country, City, then Street. It says can search for Post Codes - had to contact them how to do this. You have to type it in City. Is this logic ? Anyway, app could certainly be improved. Sorry if W10 version is different - I don't have GPS on tablet, so will not be trying it.

I no longer have a windows phone, but in the Android app osmand+ I can search for "Luton airport" in POIs... Iknow how you feel about one way streets, I have been caught by that in tom tom beforeiI abandoned it,