5 intriguing apps for Windows 8.1: January 23, 2015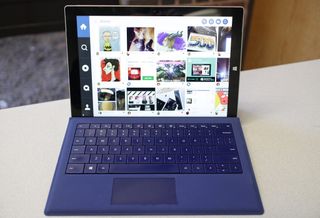 After an exciting week of Windows 10 news, we briefly divert your attention to Windows 8.1 and some apps that may interest you.
We have another potpourri of apps for you this week. There aren't any games, but rather, five intriguing apps that you may find pretty useful.
Network Speed Test
First up this week is a simple, yet useful, app called Network Speed Test. In case the name didn't give it away, this is a quick way to check the status of your network connection.
Get the current upload and download speeds in graph form, along with a historical list, based on past speed tests. It also gives you your connection type, internet connectivity status, and internet service provider.
There isn't anything revolutionary about Network Speed Test, not even the name itself. However, it is a reliable app that does exactly what it is supposed to do and delivering the results in a crisp, clean interface.
Outcoldplayer
Windows Central's very own Richard Devine gave us a look at Outcoldplayer earlier this week. His was such a ringing endorsement that it was worth reiterating.
Outcoldplayer is a client for Google Play Music. You can listen to your music library, search for recommended music from Google, and use the Radio feature. Just about any feature you can do from the web app is available in Outcoldplayer's slick Windows 8 modern design.
Outcoldplayer also gives you the ability to manage playlists, surf Last.fm, and stream from Xbox. In addition to everything else, you can also cache music from your online library or All Access Subscription on your PC to listen to offline.
If you are a Google Play Music user in Windows 8.1 world, you need to look at Outcoldplayer.
Download Outcoldplayer for Windows 8.1 (opens in new tab) ($5.99)
PhotoWeaver
PhotoWeaver is an app that brings photos on your computer, online storage, and social networks together into a single interface. Connect with your Flickr, Picasa (Google+), Facebook, and OneDrive accounts to see them all in one place.
Photos can be edited within PhotoWeaver and then share via the Share function in Windows 8. They can also be uploaded in groups, imported from devices, and moved from one social network to another.
PhotoWeaver is an excellent way to manage your photos, wherever they may be.
InstaPic
Speaking of photos, the next intriguing app is InstaPic, an Instagram client for Windows 8. Instapic gives you all the features you love with Instagram, including viewing photos and videos, liking and commenting on other people's posts, and checking recent account activity. We covered this app back when it was called InPic and it is still a solid choice for Instagram lovers.
Photos and videos can be downloaded from the app right to your local hard drive.
You can also tap into your other social networks to post directly to them through the app. Additionally, InstaPic gives you the option to search your Facebook and address book contacts so you can follow them on Instagram. And if you have a particular contact you especially love to follow, you can pin them to your Start Screen.
Being that Windows 8 lacks an official Instagram app of its own, InstaPic is a solid substitute.
Calendar Live Tile
Last, but not least, we have Calendar Live Tile. This ingenious creation allows you to create month-view calendar tiles and pin them to your Start Screen so you can quickly see what dates fall on which days. If you want to see the previous and upcoming month, those can be added as well.
Calendar Live Tile gives you a bunch of esthetic options, as well as the ability to choose what information you want displayed on the calendar tile. The resulting tile can be any size and various colors. You can even give it a background of your choosing.
You will still need to do your scheduling elsewhere, but Calendar Live Tile gives you a handsome snapshot of the month.
Alright, that's a wrap. Be sure to check out our other selections from previous weeks. Have a great weekend!
Do you have an app you want us to highlight? Drop us an email at tips@windowscentral.com with "5 Intriguing Apps" in the subject line.
Windows Central Newsletter
Get the best of Windows Central in your inbox, every day!
Hey! I like the Instapic app..it's awesome! But, do you guys know if this app dropped the "multi account" feature? #Thanks!

Hm. I'll probably download Network Speed Test.

The Calendar Live Tile looks interesting. Would be great if it flipped to (don't know what to call it on windows 8.1 where it technically doesn't flip, slide maybe?) show upcoming events.

I really like Network Speed Test which is also on phone. And Outcoldplayer is great... was just using it while working.

Ya, Network Speed Test is one of the first apps I install on new devices.

If you were hoping for a game in this list download Tetris Blitz really great game! Battle randoms, Xbox friends, facebook friends, solo and compete in tourneys

Yes, it can be spelled both ways, aesthetic or esthetic, you know, because silent a's are stupid ;)

Hi Daniel, its Freeman Technologies, This app deserves to be in the 5 intriguing apps of the week for next week. Try it out here: http://apps.microsoft.com/windows/en-gb/app/central-news-plus/ca72cf30-eabc-4f62-b2b5-34b32d6c9dc9

It's pretty good! I like it. :)

Thank you for the support!!! :) Try it out and support Freeman Technologies. Windows community is the best!! :) BTW Comment dislike is unfair, take a look at "Chelsea Bates" below me, who is trying to making money ad spamming. Hope Daniel is listening!!!

Haha, don't worry about Chelsea bates. People understood the moment that he commented that he is a spammer. And yes, I will support freeman apps. No worries. :) :) And thank you for replying me. Is a deep pleasure when a developer or someone from the team replies a customer. ;) :)
Have a good day.

Thank You Tejas for the support. You are very welcome and you have a good day too! :)

The only way for Windows 10 to win is by first repairing customer relationships from angry people like me first! Now they need to give me a refund for detoxyourpc.com to fix how slow mine was! If they want to make upgrades free, they should really make their apology mean something by giving refund.

That's one of the weirdest spam messages I've ever read.

I dont get it :S. The name of the website scares me, so although im curious i wont investigate. :P

Microsoft should give you an apology for providing free updates?
...
What?!

Thank you very much for the useful article, i downloaded the speed test. I want the Insta Pic too, but could never get it to work. I've tried it on all desktop windows devices.

I've been using Instapic for a while now, I really like it it's very well made. It keeps logging me out every once and a while unfortunately, but still recommend!

Hi Daniel! I am just interesting about new apps like 'call recorder', 'answering machine'. I love symbian because they have it. Is any colegue how care about those apps???

Love Instapic, the developer is so much responsive.

InstaPic is good but has a big lack: LIVE TILE. Moreover I'm not able to use any filters. Should I pay for them or my Surface Pro 3 has a problem?