5 intriguing apps for Windows 8.1: July 23, 2015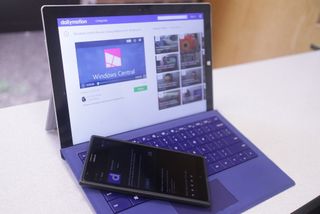 With the ever-growing number of apps and games in the Windows Store, it is becoming increasingly difficult to keep up with what's out there.
For that reason, every Friday we showcase some apps that have piqued our interest. They may have been in the news recently, they may be new to the Windows Store, or they could simply be old apps that we just stumbled upon.
They are the 5 Intriguing Apps of the Week.
Earth 3D
Earth 3D is an interactive globe that lets you search and navigate anywhere you want to in the world. But it's more than just a map. It contains over 1700 geographical objects and 500 wonders of the world, each with an informational write-ups and over 2000 photos to go along with them.
Furthermore, you can view different types of overlays, such as political, animal, vegetation, and star maps. You can even get real-time global weather.
Search for specific locations or let the app detect where you are, then move around using the simple point and click or touchscreen controls. There is up to 15x zoom functionality, and no internet connection is required, unless you want to view the weather.
The free trial of Earth 3D gives you the basics, but many additional maps are included in the full-price app.
Roku
If you have a Roku player at your house, you may or may not be aware that you can turn your Windows or Windows Phone device into a remote control for it.
Roku's official app will locate your player on your home network and let you use your favorite channels. Not only can you use it like a basic remote, but you can also search for movies, TV shows, actors, and directors and browse the channel store. You can also view photos and listen to music to your Roku.
If you have more than one, you can name each one and switch between them using the app.
The official Roku app is free, though it obviously requires that you own a Roku player. For the time being, it is compatible with certain models.
PBS KIDS Video
PBS KIDS Video is a phenomenal app if you have little ones scurrying around. The app gives you access to over 1000 clips and episodes of some of PBS' most popular titles, like Curious George, The Cat in the Hat Knows a Lot About That, Dinosaur Train, SUPER WHY!, Daniel Tiger's Neighborhood, Peg + Cat, Sesame Street and Wild Kratts.
And the list keeps growing, as new videos are added every week.
The interface is easy for kids to use, so they can watch what they want when they want.
The parent section of the app lets you mark favorite shows, learn more about different programs, gives you access to the PBS Store, as well as other related apps.
Best of all, PBS KIDS Video is a universal app, so you it's at your fingertips on any device.
ReadAloud
ReadAloud is a text-to-speech converter for Windows and Windows Phone. After selecting a file on your device or inputting a URL, ReadAloud will speak what it is you want to read. You can also start from scratch by typing in the blank page provided in the app.
The built-in controls let you pause/play, skip sentences, and set the pitch and rate of reading. You can also change the color scheme.
The current sentence is highlighted as it is read, with the article auto-scrolling as it goes. And anything you add to ReadAloud can be saved so you can listen to it later.
ReadAloud isn't perfect, for sure, but it is pretty handy and works well most of the time.
You can download it for free, though you can get more options by purchasing them within the app.
Dailymotion
Dailymotion's universal app has been updated with some design changes, performance improvements, and cool new features. Most notably, is the inclusion of a mini player within the app.
If you haven't used it before, Dailymotion is the official app of the popular video-watching website.
The app gives you the ability to search for and watch any number of their 50 million videos in HD, up to 4K resolution. Dailymotion lets you log in to manage your own channel and personalize your account.
You can follow channels, favorite videos, and share content with your friends. You can browse channels by category and pin them as tiles.
Dailymotion is free to install for Windows and Windows Phone.
Be sure to check out our other selections from previous weeks. Have a great weekend!
Do you have an app you want us to highlight? Drop us an email at tips@windowscentral.com with "5 Intriguing Apps" in the subject line.
Its amazing how good this Roku app looks on the phone.

The ReadAloud one looks interesting.

ReadAloud is actually pretty awesome. I spend a lot time driving and use it to read pdf documents through my 830 to my cars speakers and it pauses automatically when I get a voice text.

What's Windows 8.1? It's a Windows 10 world.
Windows Central Newsletter
Get the best of Windows Central in in your inbox, every day!
Thank you for signing up to Windows Central. You will receive a verification email shortly.
There was a problem. Please refresh the page and try again.