5 intriguing apps for Windows 8.1: March 6, 2015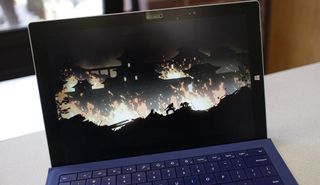 With the ever-growing number of apps and games in the Windows Store, it is becoming increasingly difficult to keep up with what's out there.
For that reason, every Friday we showcase some apps that have piqued our interest for one reason or another. They are the 5 Intriguing Apps of the Week.
Shadow Fight 2
Shadow Fight 2, the punch/kick fighting game that debuted Windows Phone in December, just made the leap over to Windows 8.1 on Wednesday. It's a Street Fighter-style side view fighting game with a storyline that plays like an RPG.
As you fight your way past the competition, you earn coins to buy better weapons and equipment. You also gain levels, which unlocks new fighting techniques. You can go the route of buying power-ups through in-app purchases.
The game graphics are solid, and the cinema sequences feature some great artwork.
Rummi
If battling ninjas isn't your thing, or even if it is, you may want to check out Rummi. Rummi is based on the classic table game Rummikub and plays exactly the same way. You cannot play with other humans, but you can set up to three computer opponents. And the difficulty level can be adjusted for easy, medium, or hard.
Though it would be better if you could play online with friends or strangers, Rummi is still challenging and a fun way to keep your brain active.
Rummi is a universal app, so you can play it on Windows or Windows Phone. It is free with ad support, which can be removed for $4.99.
Afterlight
Afterlight is a photo-editing app that joined the Windows Phone family back in September, but just became a universal app for Windows this week.
Afterlight offers many of the same retouching tools as some of the popular free photo-editing apps, but also provides a ton of filters and frames.
Another thing that sets Afterlight apart from its peers is that it is very much geared to work with Instagram. You can log into your Instagram account from within Afterlight to view your posts. And many of the available frames, effects, and cropping options are made to conform to Instagram specifications.
Since Afterlight is now a universal app, you can also now use it on your phone, tablet, and PC with just a single purchase. If you are shy about buying it right off the bat, there is a fully functional three-day trial for free.
TrimWord
TrimWord is MarkDown document editor for Windows, pure and simple. Using a split view, you can type your code and see, in real time, what that code will look like when displayed in a web browser. The view can be toggled to show a full view of either the MarkDown side or the rendered text version.
You can also choose between a variety of themes that are included in the free version of TrimWord. There are additional themes available for purchase from within the app.
Documents can be saved in several file formats, like MarkDown, text, HTML, etc. If you write in MarkDown, TrimWord is worth a look.
Reddit ReddHubV2
Reddit ReddHubV2 is the next iteration of ReddHub (opens in new tab), which is a darn good Reddit app in its own right. It is a full-feature Reddit client.
And when I say full-feature, I am not kidding. With ReddHubV2, you can surf the front page of the internet logged in or not, with posts in list form on the left and a large display of your selected post on the right. The app has full integration with common hosting sites used on Reddit, like Imgur and YouTube.
Posts can be shared via the Share Charm, pictures can be downloaded directly from the app, and links can be copied or launched directly in your browser.
By logging in, you have full access to your account, or accounts, as ReddHubV2 supports using multiple logins. The WYSIWYG editor makes commenting incredibly easy.
There are so many features that it would be impossible to describe them all here. All you need to know is that if you are a Redditor using Windows 8, you need to checkout Reddit ReddHubV2.
It's absolutely free, so what are you waiting for?
Be sure to check out our other selections from previous weeks. Have a great weekend!
Do you have an app you want us to highlight? Drop us an email at tips@windowscentral.com with "5 Intriguing Apps" in the subject line.
Windows Central Newsletter
Get the best of Windows Central in your inbox, every day!
You should do this type of list for windows phone too!!

When one of the apps featured here also exists for WP, they post the link to both versions. That's something.

Excellent posts - I look forward to every one of them. Thanks!

Great..need shadow fight for low end device..

Nice collection this week.

These are nice, You should do a article on my new Windows Store app "Mo better Karaoke"

How did you get the link to work? I tried to post a link to my app and my comment was automatically marked as spam.

ReddHub V2 is well done. This is a great app and an example of "why would people develop apps for PCs when most people just use browsers." This thing blows Reddit on the browser away.

Well one does need a browser extension to make reddit usable. Posted via Windows Phone Central App