5 intriguing apps for Windows 8.1: May 15, 2015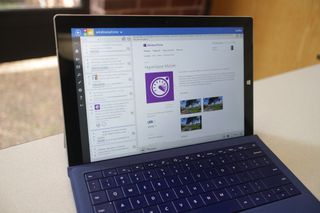 With the ever-growing number of apps and games in the Windows Store, it is becoming increasingly difficult to keep up with what's out there.
For that reason, every Friday we showcase some apps that have piqued our interest. They may have been in the news recently, they may be new to the Windows Store, or they could simply be old apps that we just stumbled upon.
They are the 5 Intriguing Apps of the Week.
Evite
If you have ever organized or been invited to any kind of party or get together, you are likely familiar with Evite. The popular website helps you to create great-looking invitations and email them out to folks.
The new official Evite app brings all of functionality of the website to your Windows PC, tablet, or phone.
Design and send invitations, RSVP to events you are invited to, and view guest lists. You can even discuss the event with other invitees and get directions to the venue.
Whether you are the go-to planner for your family events or just looking to organize a one-off party, Evite is a convenient way to invite and track your guest attendance.
Xodo PDF Reader & Editor
When it comes to PDFs, there are plenty of free apps out there. However, most of them limit you to viewing and printing alone. Xodo PDF Reader & Editor is a free and powerful tool that not only lets you look at PDFs, but change them as well.
The viewing options in Xodo are many. View in single-page, continuous or thumbnail modes and easily navigate between chapters, sections or annotations.
With Xodo, you can fill out PDF forms, add typed text and comments, and even annotate or add your signature using your stylus or finger. Additionally, you can create PDFs from scratch on your computer or phone.
The Xodo app will also let you collaborate with your peers in real-time over live chat. There is no account signup necessary. Simply enter your email address, as well as those of the people you wish to work with.
The built-in file manager gives you the ability to rename, move, delete, and copy. You can also share your documents or print them from the app.
Xodo is available for Windows and Windows Phone. It is free of charge and free of ads.
Memorylage
Memorylage is a creative way to view your favorite photos, transforming your Pictures Library into a collage. It makes sharing your pictures with family and friends a bit more dynamic than your ordinary slide show.
The app also allows you to create collages of your own. Choose as many photos as you wish and use the built-in picture editor to touch them up, crop them, or add filters. Memorylage will let you shuffle them around into different arrangements, then save or share the end final product.
You can also use the photo booth option to snap pictures with your device's camera and create a collage on the spot.
Memorylage is available for Windows and Windows Phone, but is not a universal app. The ad-supported Windows version is free, while the phone app is $1.99 with a free trial.
n7player Music Player
n7player, the well-known audio playback app, has made its Windows and Windows Phone debut in beta form. If you aren't familiar, n7player is a music player with a touch-friendly twist. It takes your music collection and arranges it into a "surface," a tiled layout of your collection.
n7player is capable of playing most major audio file formats and has an integrated album cover downloader. It also has Last.fm integration, so you can log into your account and start scrobbling. You can also create and edit playlists from within the app.
The stylized layout makes it easy to use multi-touch and gesture controls to navigate your tunes. But n7player also has a more compact set of controls for when you are multitasking using the side-by-side view in Windows.
n7player is a pretty cool way to interact with your music. Just remember, it's still in beta, so be patient, and be sure to give the developer your feedback.
Redditting for Reddit
Redditting, as the name suggests, is a full-feature Reddit app for Windows. With Redditting, you can log in with multiple accounts, or simply lurk by not logging in at all.
Using a sideways drill-down format, Redditting shows you a list of subreddits down the side. As you click on each, you then get a list of the posts contained in it, which can be filtered the similarly to the website using the Hot, New, Rising, Top, and Controversial categories.
Subreddits can be added, removed, filtered, and even pinned individually to your Start Screen as tiles.
Individual posts that you click display in a larger window, taking up about three quarters of the screen. They can also be super-sized to full-screen as well.
Redditting's well-designed, intuitive, layout is customizable and the sheer number of different options and controls is impressive. Everyone has their favorite Reddit client for whatever reason, but based on design and functionality, Redditting will surely be able to give them all a run for their money.
Be sure to check out our other selections from previous weeks. Have a great weekend!
Do you have an app you want us to highlight? Drop us an email at tips@windowscentral.com with "5 Intriguing Apps" in the subject line.
Windows Central Newsletter
Get the best of Windows Central in your inbox, every day!
Thanks for your posts! It's great to discover both new and old apps.

Second that some great apps here.

That reddit app is awesome.. I'm starting to use modern app more and more.. Don't get why people hate them..

They did kinda sick in 8, but in 8.1 they work great

I try and avoid them on my laptop because they don't fit so well in my workflow. Windows 10 will fix that by allowing them to be used in a window. That's all I ever wanted. Some great apps I'm not using enough.

I'm surprised N7Player made it in this list.

This list is the first one where I've downloaded more than one thing. Generally nothing of interest to me. These are great. Props to the devs.

The best series in Windows central. Keep on the good work .

The Redditting for Reddit app uses Split View which is available only for Windows 10 how to use it in Windows 8.1

How about disabling Slideshow as default? I think everybody clicks "Show all" anyway.

Slideshow is used for roundup type posts like this. And before you say anything, to my knowledge we get no extra page hits. The page doesn't refresh. Only the box the content is in.

Nice list. Will try some.

These are great apps! Thanks for sharing!