5 intriguing apps for Windows 8.1: November 21, 2014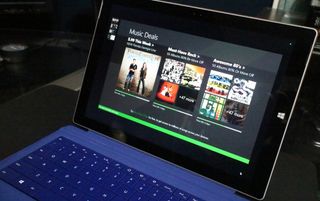 It's tough to keep up with all of the apps that hit the Windows Store every day, let alone every week. So we here at Windows Central are taking it upon us to highlight some apps that have piqued our interest for one reason or another this week. This article is the first of what we hope will be a weekly column, depending on your feedback.
This week, we have a companion app for a movie, a popular app that made its way to Windows and Windows Phone, and a few others that just seem pretty cool.
WolframAlpha
First up, is WolframAlpha. This app is the official one for the well-known website of the same name that uses its wealth of algorithms and databases to answer questions from almost any discipline you can imagine. Mathematics? Check. History? Yep. Statistics, Physics, Chemistry, Engineering, Astronomy…the list goes on and on.
This week marked the release of the official app on Windows and Windows Phone. Despite being previously available on iOS, Android, Kindle, and Nook, the Windows faithful had to rely on third-party apps or their web browsers.
It was worth the wait, though, as we got a universal app out of it, complete with a [unified price](/wolframalpha-windows-81-also-now-available-unified-price.
No matter what interests you or what you want to learn about, WolframAlpha is sure to be helpful.
Atari: Game Over
Next on the list is Atari: Game Over. Atari: Game Over is a companion app to the movie that was just released on Xbox Video and as an app on Xbox One.
The film follows the story of the E.T. game for Atari, largely considered the worst video game ever made, and its role in the fall of Atari as the king of video games in the 80's.
The Atari: Game Over app for Windows works alongside the Xbox One app. It lets you view comments from the director, chat with your friends, and save conversations by scene. It's a fascinating subject and an exciting viewing experience.
Both apps are free to download.
Music Deals
Moving on, we have Music Deals. Music Deals is a Microsoft-built app that showcases, you guessed it, weekly deals on music. Every week you'll find a new release for only $.99, as well as 100 other albums of various genres for just $1.99.
Music Deals also has a Live Tile that you can pin to your Start screen that will notify you of the latest discount tunes that Microsoft has to offer.
Student Planner
Microsoft Garage put together a gem for those of you who are students. Student Planner is a smart way to organize your course information and keep track of your assignments. You can store course documents, take notes and schedule assignments all from the app.
Designed to work with Outlook.com, Student Planner will pull due dates right out of PDFs and Word documents and put them on your calendar. You can also create and edit OneNote pages for your classes from Student Planner. And everything gets uploaded to OneDrive to keep it safe and accessible.
With Thanksgiving break just around the corner, now is a great time to get organized for the end of the year.
Looney Tunes Free
Last up this week is an app that is dear to my heart, Looney Tunes Free. Looney Tunes Free is a well-designed app that links you to video streams of just about every Looney Tunes episode created. Cartoons are grouped neatly by character with thumbnails that make it easy to identify the episode you are trying to find.
I know, it is just a simple wrapper around a compilation of YouTube searches, but it is a single stop for all of the cartoons that shaped my childhood. If you are more of a Tom & Jerry or Disney kind of person, the developer makes similar apps for those and other shows.
This app is ad-supported, though you can pay in-app to turn the ads off.
That's going to do it for this week. Have you come across any apps that are must-have's for you? Send us an email to tips@windowscentral.com with "Must-have apps" in the subject line!
Looney tunes is great but tom and Jerry and the 3 stooges are also very good.

I have and have used music deals... Not bad but puzzling why it isn't a part of the music app

How about all 3? * Mexican music*

Step 1, check your address, if you live outside the US, move immediately. Step 2, use bing, get points Step 3, cash in points for windows store dollars.

My son loves the looney tunes app and my daughter.

Looney Tunes is da truth.

I love this idea as a weekly article! This drums up excitement for new apps, and positive vibes for the Windows Store in general. Wasn't there something similar for a few weeks on the Windows Phone side? Can we start that up again too? Maybe there's a way to point to a list of these weekly articles on the top nav?

Thanks, We'll look to bring back the WP one and doing something with making them more permanent on the front page.

Cool list. Keep this up. Probably will use more windows apps once I purchase tablet

Fucking typical... The one app I was interested in, Atari: Game Over, of course its not available in the Swedish store.

I've been trying for the past 20 days to download Student Planner and every link throws me back to the main store page. Is it U.S. only? Anyone experiencing the same issue?

Try MyStudyLife, give a kick to Student Planner

Have MyStydyLife. Just wanted to check if Student Planner offered anything more since it supposedly syncs with calendar. Just found it weird that I can download every other app I tried except that one. Thought at first it wasn't available generally

Think it must be US only, as I can't get it either.

Yes I have the same issue looks like it is only US


Wolfram Alpha's $3 is more than justified simply because it's so damn useful, especially if you own both a Windows Phone and Windows PC. Can't be beat, so useful! I love this service, and I'm very glad to finally have an official app for the service I love so much. Especially since the app is a LOT for well designed than the website.

But what does "Buy once, buy everywhere" really mean? Shouldn't it be buy once, use everywhere? If not it sounds really expensive. $3 everywhere I use it? Maybe it means I can even buy it at WalMart? :D

Yes, I agree. It should be "use everywhere" not "buy everywhere".

This is probably an incredibly stupid question, but are Xbox Music files drm free? Or at the very least able to be transferred anywhere I want them?

Depends on how you get them. If you have a Music Pass, then no. Those files are protected and won't work. If you actually bought the music from the store, however, then that should work great.

Awesome, that's what I wanted to hear.

Can't use any of these if you are running Windows 10 preview. It says I need to get Windows 8.1.

What Loony Tunes app are you referring to in the article? There are different ones, and no article link. They one I tried was 4.99usd for ad removal, but says it's for WP7 & 8. .. No 8.1 (although I know it works, but not updated to reflect 8.1 at all). Makes me wonder why'd I pay a premium 5-bucks for ad removal, seeing their description doesn't even recognize wp8.1 as yet. Hmm. I'll have to wait.
Windows Central Newsletter
Get the best of Windows Central in in your inbox, every day!
Thank you for signing up to Windows Central. You will receive a verification email shortly.
There was a problem. Please refresh the page and try again.