5 tips to make awesome Color Pop photos with Lumia Creative Studio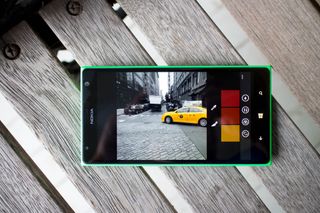 In case you missed it, Creative Studio has just been updated to bring back Color Pop. This feature lets you create black and white images with the exception of certain objects. If done correctly, you can come up with some awesome photos. I walked around New York City today and took some photos with the Lumia 1520. Check out some of the images I've created and my 5 tips with Color Pop.
1. Colors. Find subjects with colors that already stand out. Changing everything else to black and white makes the subjects pop even more. I like to look for objects with bright red, yellow, or orange.
2. Shapes. For best results, look for objects with distinctive shapes or lines. This helps Creative Studio separate the objects.
3. Brush. Creative Studio is usually good at separating objects, but there will be times when colors overlap. You can repair this with the paintbrush. You'll be able to add or subtract colors using the brush. In the photo below, the car windows were added manually with the brush.
4. Reframe. Take advantage of the other features on Creative Studio. I think framing is an important aspect to creating interesting photos. If I'm uploading to Facebook or blogs, I reframe the images to 3:2 or 4:3. If the photo is going to Instagram, I reframe them to square. When reframing, I also keep a close eye on the grids for the one-third rule or golden ratio.
5. Adjust. Don't forget that you can also tinker with the image's other settings. I like to increase vibrance, clarity, and shadows just a little bit.
Try it
Lumia Creative Studio is a free download at the Windows Phone Store. A lot of people are probably happy that Color Pop is back. If done right, it can create some amazing images. If you're new to Color Pop, try some of the tips mentioned above. If you have some cool images or more tips to share, include them in the comments below!
Very happy to see color pop return in Creative Studio :)

I still miss the original UI and the opal filter :/

Yeah the filters in the current app are nothing but a joke

Is the Lumia creative studio still a Lumia exclusive?

as the name says it... "Lumia" Creative Studio... so i guess its still exclusive

Well not really.... Cuz the UI is actually identical to another Android program which does all the same Things.

Great..... Pretty useful tips..... :)

#Sherlock
So Mark was usually returning dull from his office day thinking about his next article for WPCentral while hustling with his phone when his eyes pried on Nokia Creative Studio on his app list... He thought about its latest update of colour pop returning and their got the idea of an article... At first while walking along the road he caught sight of a sign board "Wrong Way" which he looked for the first time while he always saw that building behind during his walk... He clicked it and started during colour pops to it... It was fun.. So what was next... There comes the Starbuck... He goes their often... Thought to add it too to the collection... Pacing down the pavement He boards train everyday to go back to 14 Street Union Square Station ... Gotta click something here.. Sign board looks great than any other things around he thought to himself... Vegetables are great... He looked at them while a short walk from the station... Now its time to catch a taxi... Time to get back home... Catches a taxi... Steps out and he knew what he has got in his mind and just clicks the pic of taxi which was just passing through...

You, sir, made my day lol

lol nice story. almost accurate!

Actual death. Funeral on Monday.

Already tried the colour pop, as before works like charm. One question though, where were these photos taken?

New York City around Union Square. The Empire State Building photo was taken around Madison Square.

I must be blind, didn't see the empire state building, but then, that's the purpose of color pop ;)

Wonderful app. If they could add an option to resize the brush, it would be great.

Color pop is more power ful then before

Great that its back. It would be better if you can zoom in on the photo to manually brush better. Hope this comes in the next update.

i agree, that would be nice. i have used this with blur, can make some interesting images

So pleased to have it back.

Great and useful tips. Does the app also have edge detection?

Yay Color Pop is back! Now please fix that problem where Creative Studio stretches a pic after it's cropped.

damn, the yellowish output images of my L720... it won't work well for me...

nice, already love it. Belew (our 3 month young parrot). I see image in editor, but not on website? odd... http://i58.tinypic.com/2cwstbs.jpg

Got a great pic from London just edited using this, but not sure how I can post here? Can anyone help?

create a link with tinypic. you don't have to sign up with them if you rarely use it. you can then post the link. see image I posted above. it only shows a link though. not sure myself how to post an image within the message. it shows in the editor but not on the website. probably some site settings on user end...

Thanks - have attempted to embed below - not sure if it will show correctly there doesn't appear to be a preview function here..... [IMG]http://i60.tinypic.com/vemyvk.jpg[/IMG]

Use direct link. The forum is already taking care of html
looks cool btw. it seems to float half a meter above ground.

It's about time color pop is back

Still a piece of shit compared to 5.5. I uninstalled it!

I can't select color pop up , it shows blank on the boxes

Chapstick on a hotel desk http://1drv.ms/1synvQi Subaru WRX http://1drv.ms/1tkfErk

Nice app and also the color pop

Woo+Hoo First thing I checked when the update popped! Thanx for the tips Mark!

If windows phone got pen like Samsung Note the photo will be easier to edit since some part are hard to reach using finger.

Try projecting your screen on your Windows PC and use your mouse... :)

Thanks for the tips. I'll try it. :)

You realize the value of something only when it's lost and comes back :)

Anyone facing issues like getting the full photo blurred when using background blur in creative studio?

Love this feature glad it's up n running again

Unavailable on 1520. *bad

Weird.. these photos were taken with the 1520

This is also very tacky and more or less hated on by photographers. Just think before you pop people!

With band photos I like to focus on a single light and pop that colour, gives a nice effect in my opinion.

I hope everybody had complained about the lack of this feature remember to update the review on the Store. I particularly prefer the way it was in the first version, where you could open a picture and select he app. So it applied all styles and you could see them all at first.

Truly this App is a blessing for Non-Photoshop buddies like me.

But still colour pop not available in my 1520

Okaaaaaaaaay...... and when are they bringing red eye reduction back??? And photobomber removal? (I think that last one was in the previous version too, wasn't it?)
Windows Central Newsletter
Get the best of Windows Central in in your inbox, every day!
Thank you for signing up to Windows Central. You will receive a verification email shortly.
There was a problem. Please refresh the page and try again.