5 tips to make awesome Color Pop photos with Lumia Creative Studio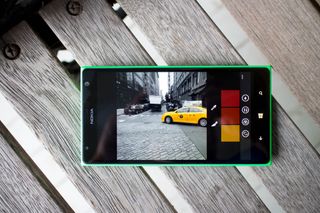 In case you missed it, Creative Studio has just been updated to bring back Color Pop. This feature lets you create black and white images with the exception of certain objects. If done correctly, you can come up with some awesome photos. I walked around New York City today and took some photos with the Lumia 1520. Check out some of the images I've created and my 5 tips with Color Pop.
1. Colors. Find subjects with colors that already stand out. Changing everything else to black and white makes the subjects pop even more. I like to look for objects with bright red, yellow, or orange.
2. Shapes. For best results, look for objects with distinctive shapes or lines. This helps Creative Studio separate the objects.
3. Brush. Creative Studio is usually good at separating objects, but there will be times when colors overlap. You can repair this with the paintbrush. You'll be able to add or subtract colors using the brush. In the photo below, the car windows were added manually with the brush.
4. Reframe. Take advantage of the other features on Creative Studio. I think framing is an important aspect to creating interesting photos. If I'm uploading to Facebook or blogs, I reframe the images to 3:2 or 4:3. If the photo is going to Instagram, I reframe them to square. When reframing, I also keep a close eye on the grids for the one-third rule or golden ratio.
5. Adjust. Don't forget that you can also tinker with the image's other settings. I like to increase vibrance, clarity, and shadows just a little bit.
Try it
Lumia Creative Studio is a free download at the Windows Phone Store. A lot of people are probably happy that Color Pop is back. If done right, it can create some amazing images. If you're new to Color Pop, try some of the tips mentioned above. If you have some cool images or more tips to share, include them in the comments below!
Get the Windows Central Newsletter
All the latest news, reviews, and guides for Windows and Xbox diehards.