5 Windows 10 apps you should try: Poll the internet, flap your wings, and get your Olympics on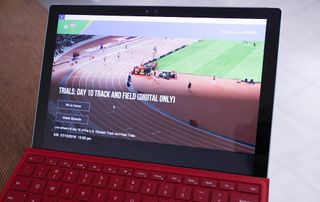 With the ever-growing number of apps and games in the Windows Store, it is becoming increasingly difficult to keep up with what's out there.
For that reason, every Friday we showcase some apps that have piqued our interest. They may have been in the news recently, they may be new to the Windows Store, or they could simply be old apps that we just stumbled upon.
They are the 5 Intriguing Apps of the Week.
WedChecker
WedChecker is a wedding planning tool for Windows 10 computers and smartphones.
Input your name and wedding date, then the countdown to your big day begins. The app lays out dozens of items that need to be covered, all categorized by general planning, bookings, and purchases that need to be made.
Choose members of your wedding party from your Contacts or add them manually. Add the venue for the ceremony and mark it on a map. Record bookings for hotels and hair appointments, food and photographers.
WedChecker lets you track everything from the documentation that you need, to the music, to details about what clothing people are going to where.
Getting married can be a huge production with a lot of moving parts. WedChecker has this down to a science to alleviate some of that pressure. And since it's available on both PC and Mobile, you can have that indispensable planning info wherever you are.
Available for Windows 10 PC and Mobile.
Download WedChecker from the Windows Store
Easyscope Beta
Easyscope Beta is a third-party client for the live video broadcasting service Periscope built for Windows 10 PC and Mobile. Search by typing in specific user or broadcast names, or browse a map of the world to see what's airing live. See how many feeds are available in your area and click to get a brief glimpse of each one.
See user profiles and view their broadcasts. You'll get a full-screen view of the video, along with user comments, which you can leave yourself if you feel so inclined.
There are plenty of features that the app lacks, like fully managing your profile, seeing who you follow and your own followers, and even broadcasting yourself, but remember, this is a beta.
The truth is, Easyscope has a decent design and intuitive interface, and it's currently one of the best, if not only, Periscope clients out there for Windows 10.
Available for Windows 10 PC and Mobile.
Download Easyscope Beta from the Windows Store
NBC Sports Live Extra
NBC has overhauled their NBC Sports Live Extra app and released it for Windows 10 computers and tablets.
Get the latest stories from the NFL, NHL, PGA, and more. Watch replays and highlights to relive every exciting moment.
Log into NBC Sports Live Extra using your television provider credentials and you will also be treated to live sports as well. Tune into NBC, NBCSN, and Golf Channel for sporting events as they happen or watch some of the network's original programming, like The Dan Patrick Show.
The app also has a section dedicated to the 2016 Summer Olympics in Rio de Janeiro, which will be broadcast on NBC and its sister networks.
If you're a sports fan, then NBC Sports Live Extra is definitely an app you'll want to check out, so you can catch every adrenaline-filled moment from any device.
Currently, the Windows 10 app is only available for Windows 10 for PC, but the Windows Phone 8.1 app is still in the Store, so you can use that on your phone for the time being.
Available for Windows 10 PC and Mobile.
Download NBC Sports Live Extra from the Windows Store
Zip - The Question Answer App
Zip is an app that lets you design and take part in anonymous polls and then get real-time results.
Zip presents you with a question from a fellow user that has two possible answers. You swipe in the direction of the answer that you agree and then you will see what percentage of Zip members chose each reply. There is also the option to swipe up to skip answering or down to go straight to the results.
Create an account or just log in using Facebook, then customize your experience. Zip offers up a fair amount of options for you to tailor the questions you receive, so you don't get bogged down with stuff you don't enjoy.
There are thirty different categories that you can opt in or out of that include everything from politics, to relationships, to "would you rather" questions. There's an age range option to filter out questions that may be uninteresting or unsuitable for certain users, along with the ability to opt in or out of mature content.
Push notifications can be set up, so the app will send you however many questions you designate each day. The notifications can be turned off completely or you can set up do-not-disturb hours for certain times of day.
Have a puzzling situation that you need some advice on? Pose it to the community for some opinions. You can set a deadline for answers and get results as people give you their answers.
Zip is far from scientific, but it is a fascinating insight into the things that people think about.
Available for Windows 10 PC and Mobile.
Download Zip - The Question Answer App from the Windows Store
A Bird's Journey
A Bird's Journey is an endless side-scroller for Windows 10 that is very much in the spirit of Flappy Bird.
The objective is to see how far you can get your bird go, all the while making sure he doesn't fly into objects or land in the water. The main difference between this game and others like it is that A Bird's Journey uses a stamina meter to determine when the game ends.
Each tap to flap your wings requires a certain amount of energy, so you must use it strategically and sparingly. Every second you are not flapping you will gain stamina, but any time you hit an obstacle or touch the water you will lose some. You can also collect hearts that randomly appear on the board to get more energy.
A Bird's Journey also has an experience point system. You can gain experience for certain moves and just for playing in general and these points earn you perks. For instance, you may reach a point where each flap uses less energy, enabling you to go even further.
There are two things that really make A Bird's Journey worth checking out. The first is the artistic design, a "paper theater" style in which every object looks like it is a cutout being moved by hand. That style, along with adorable birdie sound effects, really lends itself to making this an enjoyable game.
The second is that it is challenging, for sure, but not so much that it becomes overly frustrating. The game has hit a sweet spot where it is fun to play for different age groups.
Available for Windows 10 PC and Mobile.
Download A Bird's Journey from the Windows Store
Be sure to check out our other selections from previous weeks. Have a great weekend!
Do you have an app you want us to highlight? Drop us an email at tips@windowscentral.com with "5 Intriguing Apps" in the subject line.
Get the Windows Central Newsletter
All the latest news, reviews, and guides for Windows and Xbox diehards.