5 Windows 10 apps you should try: An endless run, a cleaner drive, and VUDU magic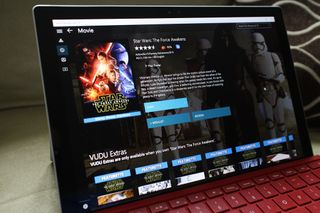 With the ever-growing number of apps and games in the Windows Store, it is becoming increasingly difficult to keep up with what's out there.
For that reason, every Friday we showcase some apps that have piqued our interest. They may have been in the news recently, they may be new to the Windows Store, or they could simply be old apps that we just stumbled upon.
They are the 5 Intriguing Apps of the Week.
Car Scanner Pro
Car Scanner Pro is an app that turns your Windows 10 computer, tablet, or smartphone into a personal automotive diagnostic tool. The app works in conjunction with Bluetooth-enabled OBD2 ELM327 adapters that plug into your car's diagnostic port.
With Car Scanner Pro, you can get real-time reporting of your vehicle's performance, like engine load, RPMs, sensor readings, temperature, and more. Customize your own dashboard to get the exact statistics that matter to you all in one place.
You'll also be able to see what error codes your car is throwing when the "check engine" light comes on, including ones that are typically hidden by the manufacturer, and reset them.
Even if you aren't much of a gear head, Car Scanner Pro is cool way to learn about the inner workings of your vehicle and gain some useful information before you take it in for service.
Although the app works with most Bluetooth adapters, the developer does list some specific recommendations, so be sure to read before you buy.
Available for Windows 10 PC and Mobile.
Download Car Scanner Pro from the Windows Store (opens in new tab)
VUDU Movies and TV
VUDU (opens in new tab) released an official Windows 10 app in mid-September, bringing everything they have to offer to computer screens everywhere.
VUDU is an online video streaming service that is free to join and lets you buy or rent movies and TV shows. You'll find a wide selection of classics and new releases, some still in theaters, the day after they air, or available before they are out on DVD.
This official VUDU Movies and TV app lets you log in to manage your account and watch your media, both as on-the-fly streaming videos or as downloaded files for offline viewing.
The built-in media player can play within the app window or in full-screen mode with various levels of video quality to choose from.
You can also connect to your UltraViolet and Disney Movies Anywhere accounts and watch anything in those libraries as well.
VUDU's new app is a must-have for any VUDU user on Windows 10. At the moment, you can only get it for PC, but that doesn't mean we won't see it on Windows Mobile or even Xbox One in the future.
Available for Windows 10 PC.
Download VUDU Movies and TV from the Windows Store (opens in new tab)
9Zen Store
The Windows Store makes it easy to find the latest apps and games and personally tailoring your experience based on your past installs, but it can be rather unwieldy at times when it comes to just exploring what's out there.
9Zen Store is an alternative way to browse the vast array of apps and games in the Windows Store based on your specifications.
Choose from over sixty countries and hone your view by choosing between apps and games and desktop and/or mobile platforms. You can also choose common Windows Store categories, like New and Rising, Top Free, Top Paid, Best Rated, and other categories.
The app developers have a section of "Apps We Like" as well that not only showcases some of the best the Windows Store has to offer, but also labels them with tags like Reddit, podcast, Sonos, etc., to note what sites, platforms, and products that they are built for.
Click on the app you are interested in and you will find the apps' description, a wide selection of reviews, information on the latest release and a ton of other info. You can also open the app profile in the Windows Store with a single click.
9Zen Store is highly customizable with different themes, default views, and other settings to tweak what you do and do not see. On top of that, the app notifies you of daily deals and lets you queue up apps to download at a later time.
If you are looking for a better way to browse the Store and discover new apps, you should give 9Zen Store a shot. It is free to download, with some in-app purchases.
Available for Windows 10 PC and Mobile.
Download 9Zen Store for Windows 10 (opens in new tab)
Disko
Many of us have been faced with a message from our computer that the hard drive is nearly full, only to find that we cannot figure out what exactly is taking up all of that space.
Disko is perfect for just such an occasion. Built for Windows 10 PC and Mobile, the app will scan your device's drives and show you just what is filling up your storage.
Upon startup, Disko will automatically begin scanning for pictures, music, and video files, but there is a much more useful way to use this app.
If you choose the Scan Folder option, you can just have Disko enumerate specific folders, or even your entire hard drive, regardless of file types. And that will give you a true picture of where your free space went.
You can drill down into subfolders to get a granular look at their contents and the drive space they use. Disko also lets you open folders in Windows' native File Explorer so you can see them as they appear on your computer.
It's a handy way to find those system folders that hold unnecessary temporary files and such. Just be sure you know what you are doing before you delete anything.
Chances are that Disko will not be an app that you use often, but it is name that you should keep in the back of your mind in case you need it. Available for Windows 10 PC and Mobile.
Download Disko from the Windows Store (opens in new tab)
100 Turns
100 Turns is an endless runner for Windows 10 computers, tablets, and phones.
The game features a big-eyed protagonist who must speed across an ever-changing pathway that builds in front of him as he runs. As he runs further and further, the backgrounds change color and the pace quickens.
The ultimate goal is to, you guessed it, make it through 100 turns on the course, ultimately winning the game. Of course, this is much easier said than done, as the increasing speed will see to it that you fail miserably.
Like any endless runner, 100 Turns can get frustrating and repetitive, but the game keeps you sated by unlocking new characters for you at certain milestones. The cartoonish characters, smooth animation, and entertaining audio don't hurt either.
As endless runners go, 100 Turns will keep you challenged and engaged. Be sure to check out our review.
Available for Windows 10 PC and Mobile.
Download 100 Turns from the Windows Store (opens in new tab)
Be sure to check out our other selections from previous weeks. Have a great weekend!
Do you have an app you want us to highlight? Drop us an email at tips@windowscentral.com with "5 Intriguing Apps" in the subject line
Windows Central Newsletter
Get the best of Windows Central in your inbox, every day!
I just bought Car Scanner Pro a few weeks ago to monitor the battery and charging my Kia Soul EV+. The app supports a subset of the Android based Torque apps. Since I have an unusual set of custom PIDs I wasn't overly surprised when Car Scanner Pro didn't work with all of them. A note to the author and I had a very quick reply and a beta to test. I'm very impressed with this response. For the PIDs it does read it is a solid performer. If you don't need custom PIDs, no problem. It just works!

Does this work with multiple types of scanners or just the one type in the article?

AFAIK, it works with multiple types of scanners. OBD2 ELM327 is a standard communication protocol from what I can find. I picked up the OBDLink MX Bluetooth. It is was about $80 so a bit more expensive than the $15-20 ones but it has a 3-year warranty and promised 3-4 times faster data read/transmit times. I can connect to it with my Lumia 950XL then disconnect and immediately connect to it with an Android tablet, disconnect from that and immediately connect to it with my Surface 3. I'm not sure how it can do that but it is really nice that it does as I don't have to keep pairing to it to change devices.

Thanks, sounds pretty useful.

It wouod be nice if windows central could do an investigative editorial to see if ODBII compatililty over time. I have seen these apps with ODBII support come and go since windows (phone) 8. Back then many comments mentioned the app simply didn't work with their car model/make, despite a mention of the supportlist mentioned in the app description. Also many stories on windows and app forums appeared of third party ODBII hardware causing software and hardware glitiches, to the point they even rendered the car inoperable, needing an expensive system fix from the car manufacturer. Haven't heard much change in the stories or sentiment since. I'm always a bit weary of these apps and their ODBII support.

Figures. After more than 6 years, the moment I switch to iOS, VUDU decides they are going to look at an Windows App (not win32). Too bad it's not UWP. I can't wait for a UWP version for my XB1. VUDU on XB1 is terrible. Good news for Windows, though!

More like a runner with an end if the game actually finishes once you reach 100. Endless runners are games where the running doesn't end until you fail.

Maybe it's impossible to make 100 turns...

5 new apps for windows....pong, word pad, calculator, solitaire, and calander. You know feature phone stuff. BRING BACK WINDOWS 8 and windows PHONE 8......at least there was growth, Stability, speed....and touch compatability...considering that was Microsofts whole thing...the world will be moving to touch. and they stripped that from windows 10.

Idiotic reply, even by your low standards.

I did enjoy the Pong reference though. =P

Installed 9zen store. I need weekly round up like this.

Avatar, glad someone has a sense of humour here!

If you can't laugh at your own misery, then what do you have left?