5 Windows 10 apps you should try: Clock your net, Instagram PC, and stick people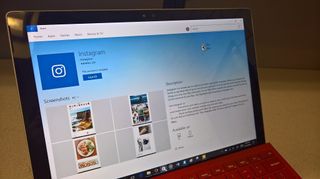 With the ever-growing number of apps and games in the Windows Store, it is becoming increasingly difficult to keep up with what's out there.
For that reason, every Friday we showcase some apps that have piqued our interest. They may have been in the news recently, they may be new to the Windows Store, or they could simply be old apps that we just stumbled upon.
They are the 5 Intriguing Apps of the Week.
Speedtest by Ookla
I work in IT, and whenever somebody tells me "the internet is down" or is "acting slow," the first thing I do is bring up Ookla's Speedtest.net in my browser. In seconds, I can see if the connection is working and just how fast it is.
The new Speedtest app for Windows 10 makes it even easier to test. The app automatically detects your location and picks the nearest hop to ping. It then runs a ping test, as well as measures your upload and download speeds.
The app shows you real-time speeds in graph form during testing and then displays your overall statistics.
You can share your test results right from the app or compare them to previous tests in the result history. Like the website itself, there isn't much to the Speedtest app, but it does exactly what you need it to do.
Currently, Speedtest by Ookla is only available for your computer and tablet, but given that there has been a Windows Phone 8.1 version (opens in new tab) for some time, it wouldn't be shocking to see a Mobile app in the near future.
Available for Windows 10 PC.
Download Speedtest from the Windows Store (opens in new tab)
9 Notes
9 Notes is writing and drawing app for Windows 10 computers, tablets, and phones.
Create any number of notebooks that you can name and organize. The app offers several different pre-formatted templates that you can use as canvases, including brochures, title and description, mobile lock screen, and more.
Once you select your blank slate, you can use various tools to create your page. There are pencil, pen, and highlighter tools, each with adjustable colors and thickness, that you can draw with using your mouse, stylus, or finger.
The shapes tool helps you make perfect ellipses, rectangles, and lines and the text tool creates boxes for you to type and manipulate text in. There are also tons of symbols and emoji that you can add.
9 Notes lets you import your own images as well. And when you are finished, you can turn your notes into TIFF, PNG, JPEG, or PDF files.
Despite its name and Store description, 9 Notes is useful for creating much more than just notes. You can get it for free, though there are some in-app purchases that unlock more features.
Available for Windows 10 PC and Mobile.
Download 9 Notes from the Windows Store (opens in new tab)
Instagram
Just a few months after rolling out their official Windows 10 smartphone app, Instagram has released a version for PCs and tablets.
The new Instagram PC app looks nearly identical to its mobile sibling, with your feed front and center. Simply scroll to down to run through all of your friends' posts. Like, comment, or share by clicking on the corresponding icon.
Search for people, places or by specific tags. You can follow or unfollow and direct message other users as well.
Instagram lets you post pictures from your computer as well. Images and videos must either live in your Pictures Library or be directly snapped with your device's camera.
The Instagram desktop app is exactly what you would expect based on what you've seen of the mobile one, only bigger. It remains to be seen whether or not people will really use Instagram on their computer, but it's great that we at least have the option now.
Available for Windows 10 PC and Mobile.
Download Instagram for Windows 10 (opens in new tab)
Musbox
Musbox is a third-party alternative to Microsoft's built-in Groove Music on Windows 10.
The layout is similar to Groove's, with a list of views lined down the left-hand side offering up artists, albums, genres, and songs. Musbox also gives you quick links to shuffle your library or a list of your recent plays.
Musbox's interface is cleanly designed, intuitive to use, and a little less busy than Groove, since it doesn't have the Store suggestions, etc. It does, however, have advertisements on the Now Playing screen, though these can be removed via in-app purchase.
Ad removal can be purchased as a one-year subscription or permanently for a larger one-time fee.
From a performance perspective, Musbox is both stable and fast. The app enumerated nearly 1400 albums in under a minute on my Surface and has yet to crash, whereas Groove usually crashes at least once per 8-hour workday for me.
That being said, I still really like Groove and will continue to use it as my primary music app. But if you are looking for a straight-forward alternative to Windows 10's native player, Musbox is worth a look.
Available for Windows 10 PC and Mobile.
Download Musbox from the Windows Store (opens in new tab)
Sticklings
Sticklings is a funny little puzzle game for Windows 10 computers and phones.
The goal is to get a minimum number of the cute, wide-eyed (but not so smart) stick figures from point A to point B. The challenge is that they only walk in one direction, unless they hit an object, then they change directions. Without your help, they either get stuck, fall off a ledge, or meet some other nasty fate.
Your job is to use the given tools on each level to help them get out unscathed. You may need to build a bridge, or perhaps blow something up. You can use a tool to make them stop walking, speed up, or what have you.
Each level has a different set of tools and a time limit and a better time earns you either a gold, silver, or bronze medal. If time runs out, you will lose. Of course, you can always choose to nuke the entire level rather than run out of time.
Sticklings is good mix of fun and challenging, offering 37 levels of varying difficulty. It's amusing to watch them perish, but in the end, you'll want to help get them where they want to go.
Available for Windows 10 PC and Mobile.
Download Sticklings from the Windows Store (opens in new tab)
Be sure to check out our other selections from previous weeks. Have a great weekend!
Do you have an app you want us to highlight? Drop us an email at tips@windowscentral.com with "5 Intriguing Apps" in the subject line.
Windows Central Newsletter
Get the best of Windows Central in your inbox, every day!
Instagram PC is useless until it allows me to post pictures and videos

And until it occupies my laptop's wide screen with photos, rather than just stick to the center with the three columns.

This is where a service like Google+ has a really great feature: when the screen size gets bigger, it rearranges the posts into many columns.
.
Unfortunately, Facebook, Instagram, etc don't do that for "some reason".

Which is why I'm still using the unofficial InstaPic app, which also allows downloading of pictures Posted via the Windows Central App for Android

I thought it does allow one to post pictures from the camera roll folder?

Nope not on my laptop at least

Only on tablets or PCs with touchscreen. InstaPic is still better imo, and its ads aren't annoying at all.

It does. On all W10 devices in our family.

You can post by sharing photos from everywhere to Instagram.

Yes for sure because everybody is using Instagram only for creating content and not for consuming content. I never post anything on Instagram. The Instagram app is near perfect for me on PC. Of cause everybody should be aloud to upload pics but "useless" is kinda hard words.
And the app UI is common to every Instagram user.

Well I create content, I have a youtube channel and I usually post bits of my uploads to Instagram. Gramblr is very unreliable in this regard which is why i can't upload as often as I need/want to. I needed this app to be able to upload and it doesn't do it

Yes of cause that sucks and I hope that they'll fix that. I already got an update but as a tablet user I don't know if anything has changed. But to say that the app is completely useless because one (important) feature is missing is strange. And at least you can manage your messages, your profile and so on.

appraisin, manga's universe, realarm, geosetr, fast ink!

Sticklings runs slow at max details on a Lumia 959XL. Not optimized? Same for laracroft fo

Does Musbox has built in equalizer?

how about download the app and see for yourself? :D

I don't know why, but I can't post photos on Instagram from PC... Does anybody know how to fix it?

Upload is only enabled if you have a touchscreens from what I've seen. Works on the Surface Pro/Dell Laptop I have but not my self-built PC.

Ugh... What a pity :/ anyway thanks for response

Did you try to choose photo in Photos app first and then use share menu with Instagram option? I have no post icon in the Instagram app, but got ability to share photos via share menu. Sorry if it won't work for you.

I've tried, but it gives me option to send it only in direct message, but thanks for advice

Save up and get an iPad Pro then...

Actually Windows has a Instagram app for tablets first.

Yep, looks like Sticklings is Lemmings. I hope its as good!

dslreports.com/speedtest is a way better speed test. It uses a better range of locations and it tests other aspects of your connection while it's at it.

There IS a Windows Mobile Speedtest.net app.

that is the one made for Windows Phone 8.1
however the current Windows 10 app is not yet available to Mobile and Xbox.

No it is available for W10M too. Download the app on your PC. Then on your mobile, go to store, library, amd there in all apps, you'll see a w10m version of the app, that'll be now shown as 'owned'. You can download the w10m app now.

Let's hope Speedtest makes it's way to Mobile soon!

It is on mobile. Open the My Library section in the store and download it there. You need to download it onto a pc/tab before.

But the app doesn't align properly on mobile.

Anyone. Watched this? You have received a YouTube video! http://www.youtube.com/watch?v=TdRc_eMfWso&sns=sms

No win10 for 512mb users.All app ,games just launching for windows 10 no one cares for 512mb users. Even those app are also been removed which was there before like amazon ,eBay. You don't know nothing. I know why you people decided not to launch windows 10 for 512mb bcoz many more apps. There is nothing for 512mb users bcoz all 512mb phone was made by Nokia than after Microsoft bought it. And Microsoft was wanting to let world know that we only made 1gb rams only.haha but not to worry.they say na
Haha ROFl, but but god of phones and god of companies is coming . Time to say goodbye to "microsoft" bye bye . "microsoft"awwww.... NOKIA is coming with its all new C1 and A1 android and was waiting for something like this. I even got frustrated when microsoft directly decided not to launch win10 for 512mb users. Haha I wish no one buyes Microsoft phones. Lol this phone will be a plaything for my dog now. Even he is a HERO

They couldn't make for 1 gb wp well yet, then nothing to say about 512..

Fingers down to microsoft

Musbox asks for too much money to remove the adds, though it is a great app. Almost 10 euro to remove the banner permanently, and almost 3 euro to remove it for a year. I would at least expect more features for that. More theme customization, as it has no dark and light theme, an option to edit song info, etc...