5 Windows 10 apps you should try: Handwriting, TV watching, game streaming, and tower defending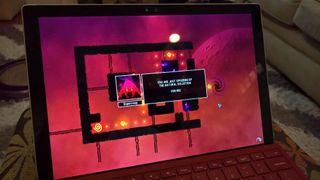 With the ever-growing number of apps and games in the Windows Store, it is becoming increasingly difficult to keep up with what's out there.
For that reason, every Friday we showcase some apps that have piqued our interest. They may have been in the news recently, they may be new to the Windows Store, or they could simply be old apps that we just stumbled upon.
They are the 5 Intriguing Apps of the Week.
Squid
Squid is the new moniker for the popular handwriting app formerly known as Papyrus for Windows and Windows Phone.
The latest version, now available for Windows 10 PCs and phones, uses the same great technology to allow you to write comfortably on your device's screen using a smart pen, basic stylus, or just your finger.
Start with a blank, lined, or graph paper writing surface in whatever sized sheet you want, or import an image or PDF to get started. Choose from different sizes of pen strokes in your choice of colors and get writing or drawing. There's also an eraser, selection too, and optional tool add-ons, like a highlighter and shape tools.
Though it works with any writing implement, Squid is specially designed to work with smart pens to sense pressure when you write. Its vector-based graphics allow you to enlarge and zoom in on your documents without losing picture quality.
Squid can export your files to either images or PDF and can be connected to both Dropbox and Box for instant uploads to the cloud.
It's a solid writing tool that is straight-forward to use. You will find Squid free to download, though it becomes an exponentially better with the add-ons that can be purchased from within the app.
Available for Windows 10 PC and Mobile.
Download Squid from the Windows Store
X Band for Microsoft Band
X Band for Microsoft Band is a fairly new app for Windows 10 PCs and phones that we reviewed recently.
As you may have guessed, the app allows you personalize your Microsoft Band or Band 2 in different ways.
In this early version, X Band has two primary functions that it can perform. The first is to change your Band's theme, which includes the base, highlight, secondary, low light, high contrast, and muted color schemes.
Simply click on each section, then choose a color from the color picker tool. There are also several pre-existing themes that are provided by the app.
X Band also lets you create custom wallpapers for your Microsoft Band. Just choose an image that you want to use, then crop it to fit the Band's aspect ratio using the built-in editor. It doesn't get much easier than that.
X Band is a handy tool for giving your Microsoft Band a little personalized flair, and more features are on the way.
Available for Windows 10 PC and Mobile.
Download X Band for Microsoft Band from the Windows Store
Sling TV
Sling TV, the television streaming service, has just released an app for Windows 10 for PC. Previously, the app was only available on Xbox One, but now you can enjoy your favorite channels on your computer or tablet wherever you have an internet connection.
Choose from a handful of channel packages that include cable favorites like Comedy Central, AMC, ESPN, news channels and more. There are also a la carte add-ons for sports, news, and Spanish programming, not to mention premium movie channels like HBO and EPIX.
There's no contract, so you can cancel any time, plus there is a one week free trial to see if you like the service.
The app itself let's you watch full screen, or can be snapped in Windows 10 so you can multitask. Search channels using your voice with Cortana and pin your favorites to the Start menu for quick access.
Sling TV will let you access your account anywhere, so you can take your shows on the road. The company also offers apps for Roku, game consoles, TVs, etc. so you aren't just limited to your computer screen.
If you have been considering ditching cable, this is a pretty great time to do it.
Available for Windows 10 PC.
Download Sling TV for Windows 10
Remotr
Home media servers have become fairly commonplace in many households, allowing people to stream their movies and music from a central location to any other device on their network. Remotr takes this idea to a new level by helping you create a video game server that lets you play your games remotely on any Windows 10 device.
Install Remotr streamer on the Windows 7, 8.1, or 10 PC that you want to become your game server. Then you can play any game on that computer from your Windows 10 PC, tablet, or phone using the Remotr app for Windows 10.
Not only does it work over your home network, but over an internet connection as well, so you can play anywhere you have a connection. Remotr is optimized to provide smooth streaming and responsive controls to make you feel like you are playing directly on your computer.
The app provides onscreen controls for your games, with built-in presets for popular titles and fully customizable options.
In addition to the Windows 10 app for PC and Mobile, Remotr also makes apps for Android and iOS, for a truly ubiquitous gaming environment. Available for Windows 10 PC and Mobile.
Download Remotr from the Windows Store
Radiant Defense
Tower defense games are a dime a dozen in the Windows Store, but when it comes to visuals, very few reach the heights of Radiant Defense.
With its cartoonish arcade graphics and brightly-colored lasers and explosions, this game will make you feel like you are watching an animated movie.
Radiant Defense has you controlling human armaments to defend against an alien invasion. There are nine different weapons that you can build and upgrade, including machine guns, laser turrets, and rocket launchers. But there are also a couple of defenses that you don't often see in other games in this genre.
Firstly, you can build detours in the aliens' pathway to change their course to your advantage. You can also save up to create three different super weapons.
However, the aliens have some tricks of their own. Not only do they rush in tougher troops and larger numbers each wave, but they occasionally send in some huge boss-like creatures that are incredibly tough to kill.
Radiant Defense offers up 300 waves over 14 different missions that are connected by a running storyline told with dialogue panels. The gameplay is engaging and the visuals are impressive, so you are sure to stay entertained.
The game is free to download and free of ads, with optional in-app purchases.
Available for Windows 10 PC and Mobile.
Download Radiant Defense from the Windows Store
Be sure to check out our other selections from previous weeks. Have a great weekend!
Do you have an app you want us to highlight? Drop us an email at tips@windowscentral.com with "5 Intriguing Apps" in the subject line.
Get the Windows Central Newsletter
All the latest news, reviews, and guides for Windows and Xbox diehards.