6snap adds big fonts to video caption in latest update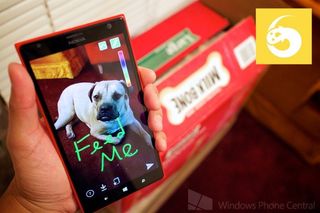 Unofficial Snapchat application, 6snap, has just been updated to version 2.1 for Windows Phone 8. It supports Snapchat's new video encoding, so your friends' snaps should be viewable again if it has stopped working in the past week. There's more to the update, so head past the break to see the full change log.
What's new in 6snap version 2.1 according to the Windows Phone Store listing:
support new Snapchat video encoding
create videos with big fonts
use display name in snap list instead of username
crop feature compatible with 720p and 1080p devices
add reset password button if sign in fails
hide application bar when playing a snap
save flash mode settings
The previous update added new text templates to photos. You were able to use normal, centered big font, and left-aligned big font. You can now use those templates for video. To use big fonts for video, click on the video after recording like how you've normally done it to type a caption. Click the letter T on the upper right corner to cycle between the three text templates.
Haven't heard of Snapchat yet? You should. It's a popular photo and video-messaging service that lets users set a time limit for how long recipients can view their Snaps. The company has not officially revealed the number of active users, but the CEO and co-founder Evan Spiegel has revealed Snapchat users are sending 400 million snaps a day. The core audience is the age group from 13 to 25 years old.
There is no official Snapchat application for Windows Phone but Rudy Huyn's 6snap does an amazing job bringing the experience to the platform. It's also updated frequently with new features. 6snap is a free download from the Windows Phone Store with in-app purchase to remove ads. Do you use 6snap? What kind of self-destructing photos or videos do you send to your friends?
Thanks for the tip, faalil!
Windows Central Newsletter
Get the best of Windows Central in in your inbox, every day!
Tits or gtfo is all I can think of after that question...

man i don't even use snapchat, but id be fucked if i didn't download the app because rudy huyn is the trillest

Ээээээхэээээээюээжэээээьэээхээббббэютээ ээхээюээюэьюбээ

How much can we keep raving about Rudy?

ill contiune it ....RUDY RUDY RUDY RUDY :P

He kind of gave us what we have been crying about. Lord Rudy 4 prez.

Rudy is a legend. Respect

Great now my D*ck can have Videos again!

Rudy deserves to be paid millions, he added huge value to WP and made it an even greater contendor by bringing a great snapchat and instagram experience to the platform

Does this fix the watching videos problem??

The large text was actually in the last update. So that's old news ;) EDIT: maybe i should read the article properly before commenting next time. Haha. :P

Please guys I cant find Beyonce's latest album in the music store. I'm talking about the one that contains Drunk in love, flawless, mine etc. Please what do I do ?

6snap is wonderful, even for everyday pics. The luxury of having pics that you're not concerned about being forwarded without permission, just depends on perspective

Lol that guy worked on xmas day too, better for us he doesn't like girls (I suppose, 6snap if full of ***** ;)

Nyc work rudy :P ... But it's unofficial snapchat .... Hope to see the best yet ro come on. ... Work hard developers...

Rudy should go work for WhatsApp Maybe then it will update at his rate

I just can't search friends from my contact list. 6snap only say that "an error ocurred" (see screenshot). http://img13.imageshack.us/img13/8519/n8wr.jpg Any clue?

I have the same problem :|
No matter how many times I put my phone number, it gives me that error.

To me the error ocurred with and without inform the phone number.

Perfect timing, I got sent a video last night and couldn't get it to work!

I don't see a button to take videos. Only options are front and back camera

Hold down the capture button.

Question: can we send videos from 6snap?

Yes, hold down the capture button.

If Rudy created a youtube app, It'll easily beat both metrotube and mytube. 6Tube will be the best youtube client ever.

This update just 1-up'd the official iOS app .. they cannot add text to their snap chats they use another app once they take a pic to alter it. Also they cannot upload pictures from their picture library like we can. :)
Windows Central Newsletter
Thank you for signing up to Windows Central. You will receive a verification email shortly.
There was a problem. Please refresh the page and try again.