Numerous Xbox Windows Phone games from Electronic Arts on sale, making December very merry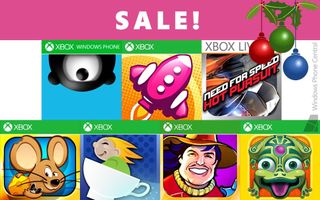 A few weeks ago, a bunch of Xbox Windows Phone games (mostly Nokia collection titles) went on sale at once. Nokia, who seems to have organized the sale, also announced that several more games would be discounted in early December.
Those titles (and a few more) are now on sale. We've got Contre Jour, Flight Control Rocket, Spy Mouse, Storm in a Teacup, Vampire Rush, and Zuma's Revenge are all on sale for 99 cents. Need for Speed: Hot Pursuit, which regularly sells for $4.99, has been marked down to $2.99. All seven games come from Electronic Arts and/or its subsidiaries Chillingo and PopCap.
Head past the break for descriptions and Store links!
Contre Jour (Windows Phone 7 or 8)
Regular price: $2.99 Sale price: $.99 Download size: 33 MB Store Link
We're still waiting on the Windows 8 version of Contre Jour, but at least we can get the Windows Phone version for cheap in the meantime.
Contre Jour is one of the loveliest Windows Phone games thanks to its effective use of light and silhouette, not to mention the haunting musical score. The goal is to get the tentacled protagonist Petit to each level's exit while collecting all the lights along the way. Instead of directly controlling Petit, players manipulate the environment by stretching the ground and activating various gadgets.
Technically this is a physics puzzler, but the bold art direction and unique gameplay puts it in a separate league from other genre entries. The difficulty is pretty steep… But if you get stuck, there are guides available online.
Flight Control Rocket (Windows Phone 7 and 8)
Regular price: $2.99 Sale price: $.99 Download size: 41 MB Store Link
You've probably played the original Flight Control, but perhaps you missed its mostly superior sequel. This one switches things to a retro sci-fi setting in which players must help incoming rockets land on a space-faring mothership safely. You do this by drawing paths from each ship to the appropriate runway, all while trying to avoid collisions.
Not only is FC Rocket way prettier than its forbear, it also offers a lot more gameplay. The three modes each mix the gameplay up in interesting ways, changing up the combo scoring system, bonus rounds, and even mixing in stranded astronauts to rescue. Players can also purchase and equip a variety of robot helpers to customize the gameplay a bit.
The only catch is that FC Rocket's Achievements are horrendously grindy. The original iOS game allowed users to make IN-App Purchases that would speed them up, but there is no such option on Windows Phone. Still, as I say in our review, if you ignore Achievements this is the best line-drawing game in town.
Spy Mouse (Windows Phone 7 and 8)
Regular price: $2.99 Sale price: $.99 Download size: 111 MB Store Link
Spy Mouse's developer Firemint is best known for popularizing the line-drawing genre with Flight Control. In this one, they've utilized that line drawing tech to make a stealth game. Players control the titular mouse by drawing a path around each level. He'll need to grab cheese and reach the level exit without being nabbed by patrolling cats.
Each level has three optional goals such as not being spotted, drawing only one continuous path, and finishing within a certain time limit. Completing every level with those goals completed will net some tasty Achievements.
Storm in a Teacup (Windows Phone 7 or 8)
Regular price: $2.99 Sale price: $.99 Download size: 32 MB Store Link
The game stars a little boy named Storm who hops around in a teacup through fanciful levels dreamed up by his brother Cloud in this touch screen platformer.
Storm in a Teacup is extremely simplistic in the graphics department – the backgrounds don't even use parallax scrolling, which they sorely need. And yet the frame rate is somewhere in the 10-15 FPS range. It's like Gameloft's 3D Windows Phone 8 games, only nothing complex is even going on under the hood. Blame Cobra, whose port of iBomber Defense also runs quite poorly.
Still, if you can tolerate crap graphics and love platformers, you might be able to put up with this one. I'd definitely play Sonic CD and Little Acorns first though.
Vampire Rush (Windows Phone 7 or 8)
Regular price: $2.99 Sale price: $.99 Download size: 99 MB Store Link
In Vampire Rush, players take on the role of Captain Greg, a British swashbuckler. Only Greg can stand between the gates of the city and armies of the undead in this mix of tower defense with hack-and-slash action.
You'll run around each map, hunting down vampires and their kin on the map and swording them into oblivion. Sometimes they drop gold, which can then be used to build and upgrade turrets or purchase character upgrades. Just don't let the enemies reach the gate or Greg and the village will meet an untimely demise. Check out our full review for more details.
Vampire Rush features both a campaign mode and survival mode, the latter of which was added in an update. That same update fixed a broken Achievement, but failed to fix another broken one. A-Steroids has told us they would like to get the final Achievement working, but it seems unlikely to happen at this point.
Zuma's Revenge (Windows Phone 7 or 8)
Regular price: $2.99 Sale price: $.99 Download size: 197 MB Store Link
Zuma's Revenge put players in control of a stationary frog who can rotate in any direction and shoot colored balls from his mouth. In each level, more balls roll on-screen along one or more paths. The frog's job is to stop them from reaching the goal at the path's end by quickly making as many colored matches as possible. Levels in which the frog can hop between lily pads, move along a slider, or battle boastful bosses keep the game fresh and challenging.
The mobile version of Zuma's Revenge is pretty much a straight port of the PC game. Adventure Mode gives players a limited number of lives and they must reach checkpoints every few levels in order to continue when those lives run out. So the Windows Phone game ends up a bit harder than the Xbox 360 version. Beating levels unlocks them for free play in Challenge Mode, at least.
PopCap pretty much makes nothing but great games (most recently Peggle 2 on Xbox One), and Zuma's Revenge is no exception. Read our full review to learn more.
Need for Speed: Hot Pursuit (Windows Phone 7 or 8)
Regular price: $4.99 Sale price: $2.99 Download size: 113 MB Store Link
Need for Speed: Rivals might be one of the better Xbox One launch games, but not every Need for Speed is a winner. Take the Windows Phone version of Hot Pursuit, for example. Sure, it looks pretty for a Windows Phone 7 game and has the slick menus and licensed music you'd expect from this series. It even lets players choose between controlling a cop or a street racer, just like Rivals.
Presentation isn't everything though; a game needs to be fun to play. Hot Pursuit starts out fun but gets insanely difficult and grindy before too long. You'll need to do the same races over and over again in order to unlock the cars needed to compete in higher level events. Even then, some events simply require perfection from the player – not easy or fun given the phone game's naturally less precise controls. See our review for more proof of frustration.
Get them while they're hot
Nokia and EA haven't advertised when this sale will end. Maybe it will last a week, maybe less. If you're interested in a sale game, better to download them now rather than waiting.
What do you think of this sale selection, dear readers? Did you grab Zuma's Revenge or any of the other games?
Thanks to Diego Magnani for the tip!
Paul Acevedo is the Games Editor at Windows Central. A lifelong gamer, he has written about videogames for over 15 years and reviewed over 350 games for our site. Follow him on Twitter @PaulRAcevedo. Don't hate. Appreciate!
On this special occasion tr2 is the only left puzzle

Why are you so much behind TR2?
Enjoy the other titles till then... And have some patience! :)

Pretty bored since tats the only one left over

And the christmas season begins......Gud to see the slashes in price by EA..I guess many would grab NFS : Hot persuit. I think this is the first time the price is coming down isn't it ? I hope Rovio Entertainment Ltd makes Angry Birds become free for Christmas. :P

In the header for Contre Jour it says the sales price is $1.99, although you mention the correct sale price in the article text above (99c). I picked up Contre Jour as soon as the sale hit. Already had Zuma's Revenge--and I highly recommend it at 99 cents. Thinking about getting Spy Mouse too. Also, aren't Sims: Medieval and Millionaire Monopoly, both at $2.99 on sale? I thought they were usually $4.99.

Mirror's Edge is on sale for 99 cents too.

NFS: HP really sucks. Impossible to have fun with it.

my 3 yr old is hooked on spy mouse, he completed the game by himself... too bad this ver does not have the extra worlds the iOS version has

This version has Xbox achievements = much better than any other version. Anyway, hmm, I was thinking of getting Spy Mouse, but perhaps it's too easy if a 3-year-old can complete the game (or maybe your son is just a gaming prodigy). What is your opinion of the game, for adults?

Having Xbox achievements doesn't make it greater. It can't be used as a excuse. We have a poor version of the game and that's it.

I would describe it as poorly updated, not poor overall.

I liked the game a lot... its one of those games that's not super difficult to complete a level (like where's my water, cut the rope, etc. where you don't HAVE to get the stars to move on) but is difficult if you're trying to complete all the objectives on the level. Worth the .99 for sure.

Sweet, I picked up Spy Mouse as well as Contre Jour. Tried both trials and they both look pretty fun for 99 cents. Already have Zuma's Revenge and highly recommend that. Mirror's Edge is on sale for 99 cents too,and that's a must-buy at that price.

The Sims Medieval is also showing as $2.99.

Zuma's Revenge was put on sale some time ago so I would assume this sale ins't a weekly one. But that's based on it alone. I got myself Vampire Rush, I got Zuma's Revenge last week and I've had the wonderful Contre-Jour for a while. But will probably get the others I don't already have (with the exception of NFS which I didn't enjoyed) specially now that Xbox-Games seem to have ended for the forseeable future.

Contre Jour for me. NFS still too pricy and i just picked up Asphalt8.

I picked up Contre Jour too. A very cool game for 99 cents. You should've gotten Asphalt 7 instead of 8. #SaveXboxWP

Just heard some inside info indicating that Xbox WP is essentially dead for good. Have to research more before reporting on it though.

Say it ain't so. Though process is archaic, ms shouldn't dump it. They should freeze it until they can make it better. But to remove it completely is just stupid. Im hoping they mean that the current set up will be removed and another introduced that will support self publishing and more streamlined.

Figures. Honestly, it doesn't make any difference for me since I don't own an Xbox but for people who do that sucks. Another good selling point for WP down the drain.

It makes sense for Xbox WP, as we know it, to go away. Every other platform allows all developers to incorporate their gaming network and things like achievements. With things like ID@Xbox coming next year, Windows and Windows Phone should be the same way.
If Microsoft completely drops XBL from WP, though, then that's a complete mess.

That really really sucks, Paul. If that turns out to be the case, when you write your article (which I look forward to reading), if at all possible, let us know what the rationale is behind Microsoft's decision to throw in the towel. Also, what would this mean for current Xbox games? Should we snatch up games we've been waiting to go on sale (like N.O.V.A 3, Order & Chaos, Babel Rising 3D) soon for fear they'll get de-listed? Will Microsoft remove the Xbox sections of the store? This is all so mind boggling since they seemed to make Xbox Gaming a significant part of Windows Phone and Windows 8 (e.g. the Games hub, releasing Halo: Spartan Assault, etc.) that it is odd they don't go the ID@Xbox route like they're doing on Xbox One and simply revamping the certification process rather than killing it.

Only thing I can say for now is current games wouldn't disappear. Will letcha know if the lead pans out.

Thanks. I sure hope at least a few more Xbox games still trickle out (been waiting forever for FIFA 14). Also, don't mind me in other threads (like your new Minion Rush article) as I will, until all hope is lost, continue encouraging others to join the #SaveXboxWP movement.

Paul - I have heard exactly the same thing from a couple of people I know as well, and who seem to have good sources for such info. Suffice to say there are some very serious issues in the "Xbox/Live enabled" area of WP right now. The results are increasingly plain to see too - Angry Birds Go has no Xbox Live enabling. Despicable Me Minion Rush the same. Unless there is a big shift in direction or some changes, we might be staring down the barrel here. I don't know what 2014 might hold, but right now it seems rather ordinary.

I have Asphalt7 also. Took ages to get the free spin update though. I guess that's shows the good and bad parts of xbl certification.

Or you could do the sensible thing and buy both. #SupportWindowsPhoneInGeneralBecauseWeDontWantDevsToDitchThePlatformEntirely

Ill happily support devs but EA is another story. Bring me NFS:MW and ill buy that in a heartbeat. If they update the broken Tetris Blitz id show them more support. I for one will happily throw money/support the of devs like Hexage because they back their work irrespective of the platform its on. Shout out to mingle games for Dark Lands. Now that's support.

EA updated Tetris Blitz recently. It runs a lot better and they added some features.

It takes me on average 4/5 attempts to get past the 0.3mb download screen, i have to close the app and reopen it just to play. The power-up of the week is out of sync with my partners iOS version and don't get me started on features that are missing. So thanks EA but please do better. Though i cant lay all the blame on them as i suspect that the xbl cert process for updates has something to do with the disparity between the versions. Come on MS, fix this s**t and do it fast or lose one of the key pillars of WP.

Trying to make room for SPY Mouse and FC Rocket. I didn't enjoy Storm in a Teacup too much, thought it was way too hard. I have a hard time with platformers on my 520 since there's not enough room for my hands to sit on either side of it. Contre Jour was one of the first games I bought. Got it in a Humble Bundle for Android in the past, and wanted it again for this phone. The vibrant screen just makes it so much better.

FYI: you have two links for vampire rush (none of which are 137mbs rather 99mbs) and none for Zuma

Right... the link for Zuma actually goes to Vampire Rush. I understand copy/paste mistakes. :)

I'll take a new Final Fantasy or Shining Force for my Phone. Not a big fan of these current ones.

When i talk about android in front my friends they praise about their devices a lot but when i look into their phones they hardly download any games on their shit devices. Sometimes they say android is best for games and sometimes they say android has crappy games and same they sometimes speak about i shit. I guess people download games on WP a lot as it has more discount offers dan android. And about ios paying for any app is useless as one has bought such an expensive piece of shit. So more games on wp more,more buyers. The game performance,graphics and its vibrant screen makes gameplay better than other stupid os devices

That's your opinion. Most of my favorite games on iOS were free. Wait a month or so and it always happens. And the ad-free ones at that. Open your eyes a bit more, it costs as much to get a Lumia on contract as it does an iPhone.

Here in India people don't buy phones on contract basis. People buy iPhone here for just status symbol and about games few people just buy ios for good games as they have forgotten tht they can play best games on pc or gaming console if they can afford it. IPhone 5s costs ₹71,500

iPhone 5S here is only $64.01 more than the 1520 off-contract.

The Lumia 1520 has a 6" screen versus the overpriced iPhone 5S's puny 4" one. The 1520 is a much better deal.

Other than storage space! You can get an iPhone with up to 64 GB. The 1520's storage is downright puny in comparison - especially since we can't back up games and apps and need 4x the space a game or app requires free in order to install it.

I agree that 16GB is too small, especially given how the Windows Phone OS does things (e.g. game installs). I don't get why AT&T keeps nerfing these phones. The 925 at 16GB and now the 1520 at 16GB. Such a wasted opportunity! At least Verizon did it right with the 928 at 32GB for $99 at launch on contract (what a deal that was). And I'm all for different models with different storage options like the 32GB and 64GB iPhone 5S options, but let's not kid ourselves: the 32GB 5S off contract is $900. The 64GB is $1,000. Crazy.

Yep, they do get expensive! And yeah, AT & T is dropping the ball with their small storage and limited storage options for WP devices lately. Hopefully a 32 GB Lumia 1520 variant really does come out soon.

Angry Gran Run is so much better than TR 2...

Thanks for the article. I'll probably pick up Vampire Rush and Zuma. Wish EA would put the Dead Space mobile game out for us, as well as PvZ2.

Dead space got canned ages ago, not gonna happen...

Are they all as broken as Tetris Blitz?

I bought my Lumia 920 new unlocked without contract for 299€ ($330 +-) in Portugal. The cheapest unlocked no contract comparable iPhone (16GB) costs 599€ ($660). I guess that's one of the reasons why windows phones are beating iPhone in almost every major European market.

At least for Christmas they could give free games ? At least those games availlable for free download on Android or IOS. Come on Mirosoft is not hard to do it :)

No link for Zuma's Revenge in WPCentral app

ADD Mirrors Edge to the list!

Yes! Mirror's Edge is seriously one of the best mobile games I've ever played. Loved it so much that I've already decided I'll be getting the Xbox One version of Mirror's Edge!

I bought a bunch, only because I know Xbox on WP is ending and these will hold me over for a while. :)

I'm curious why so many of these games require photo, video, and music library access. I have a couple other games which require it but I can find no features in the games that actually make use of that access. Any ideas?
Windows Central Newsletter
Get the best of Windows Central in in your inbox, every day!
Thank you for signing up to Windows Central. You will receive a verification email shortly.
There was a problem. Please refresh the page and try again.