Video: Chillingo announces Contre Jour and more Xbox games coming to Windows 8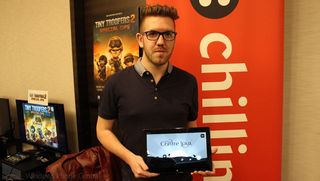 Of all the offsite meetings we engaged in during GDC, the most pleasant place to visit was probably Electronic Arts' suite at the St. Regis Hotel. Within that cozy location, Android Central's Simon Sage and I met with Dan Tausney, PR Manager of Chillingo. As you might remember from our article about their most recent Windows Phone releases, Chillingo is the arm of EA responsible for publishing indie games from all over the world. They've been a major Windows Phone supporter and will soon be doing the same for Windows 8 as well.
Check out our hands-on footage with Contre Jour for Windows 8, see your favorite mobile Games Editor in action on video, and learn about Chillingo's future Windows 8 plans after the break!
Contre Jour
As folks who've played the Xbox Windows Phone version know, Contre Jour is a physics puzzle game that boasts a stark and Limbo-esque art style. Contre Jour has always been a beautiful game, and it looks better than ever on Windows 8. On top of the pretty colors, a haunting soundtrack from David Ari Leon (which we couldn't hear at GDC but remains identical to the phone game's) makes the game even more beautiful.
The object of the game is to direct the Tentacles-looking protagonist Petit to the safety of each level's exit. The catch is players don't control the creature directly. To help the little guy avoid a little death, you'll tap to drag and reshape the landscape, rolling him around. Use pulleys and other environmental gadgets (slingshots, tentacles, portals, blows, and more) to move Petit past a variety of environmental puzzles.
Being a physics puzzle game of sorts, beating the levels isn't the only goal. Nope, each stage also has three lights for Petit to collect. Whether or not you want to grab them all for the Achievements, you'll still need to acquire certain numbers in order to unlock more levels.
WIndows Phone gamers can get Contre Jour right now for $2.99. Store Link
More tablet games on the way
Contre Jour will be Chillingo's first Xbox-enabled Windows 8 game, but it certainly won't be the last.
Feed Me Oil for Windows Phone
Their follow-up release Feed Me Oil will again be familiar to Windows Phone gamers. Feed Me Oil is another physics puzzle game in which players help get rid of streams of oil by feeding the black liquid to giant creatures (to whom oil is presumably not poisonous). You do this by placing a variety of gadgets on the screen in order to direct the oil's flow. Like Contre Jour, Feed Me Oil has a fetching art style that should really come to life on larger screens.
Windows Phone gamers can grab Feed Me Oil right now for 99 cents. Store link
The final Windows 8 game Chillingo announced at GDC hasn't landed on Windows Phone yet: Be Together. Like its two brethren, Be Together is another physics puzzler. Hey, the genre goes with touch screens like ice cream and apple pie. In each level of this title, you'll need to help a couple of round creatures meet each other. The gameplay is sort of like Amazing Alex, iBlast Moki, and ilomilo all mixed together. Did I mention it's super cute as well?
Chillingo hasn't confirmed whether Be Together will be coming to Windows Phone yet, but given the steady stream of titles the publisher continues to give us, it's only a matter of time. Now if you'll excuse me, I'm off to make an apple pie a la mode...
Paul Acevedo is the Games Editor at Windows Central. A lifelong gamer, he has written about videogames for over 15 years and reviewed over 350 games for our site. Follow him on Twitter @PaulRAcevedo. Don't hate. Appreciate!
I wonder if EA themselves have an exclusivity deal with Nokia for Windows 8/RT too?

They don't. Since Nokia doesn't even make Windows 8 and RT devices, it wouldn't make any sense.

I know they don't now but they've hinted a few times at making one and so far EA doesnt have one app on the store.

We can sort of think of Chillingo's games and PopCap's Bejeweled Live as being EA games on the Windows 8 Store. But I know what you mean. I think EA's just slow to embrace new platforms, but they'll probably join PopCap and Chillingo on Windows 8 later this year.

Contre Jour is one of my favorite games on my phone! I wish Windows Phone had more games like that.

Beautiful game! I love that the Windows 8 version takes up the whole screen, rather than just a part of it (as on the contrejour.ie website).

Side note: Does anyone know the status of Instagraph?

Chillingo should release NOVA and Modern Combat already.

You're thinking of Gameloft.

And Pudding Monsters? I wanna this game! Is amazing!

+1! My daughter loves this on Android ;)

I own Contre Jour and Feed Me Oil already and I can say that these games are worthy of five stars, unlike some of the Xbox Live Windows phone offerings they have. (DoDonPachi Maximum is an exception although it doesn't work on WP8, but that's just my addiction to shmup games. I'm not going to go further into the subject of which games don't work on WP8...)

Here's to Chillingo for providing us with great games. Let's hope they continue to support WP.

I'm still waiting for cs-portable..

I thought I was the only one, lol.
C'mon Valve, bring us CS for mobile devices!

Its actually kongregate I think that made cs , but still we want it!!!! lol

Great. I think there has been a shortage of Xbox physics puzzlers on Windows 8. There are two solid titles, but I wish there were more unique and different ones from Windows Phone. Regardless, I will probably buy them if the prices are not absurd.

Thanks Chillingo and Paul!

Wow this game looks AMAZING!

Not gonna buy anything more from Chillingo unless Dream Track Nation is fixed.

It will be fixed for sure. But the responsibility in that situation comes down to the developer. Chilling just publishes. None of these games comes from the same developer as DTN.

Feed Me Oil is my favorite Windows Phone game ever.

The mention of apple pie a la mode made me hungry. Now I need to go find a dessert to tame my raging sweet tooth.

Cool! Been playing Adera; Royal Envoy 2: SE and Rocket Riot 3D (all DLC), and just bought A World of Keflings. Would like to have some serious RPGs, but Chillingo does quality games. Happy.

OUTSTANDING! These devs get my support and my money. Keep em coming.

They should bring that tiny troopers 2 game to wp7/8 and w8 as well :P

I wish they would fix Extraction.....been months with no update

Did I hear the developer mention "the Nokia device"? Hmmm...

No disrespect to the developers but do we really need more games like this? We are the first person shooters and platforming games?

Ty the Tasmanian Tiger is a platformer that's coming to Windows 8. I don't know if Win8 will ever get many FPS games, but platformers will surely come. I think Chillingo just realized that Win8 barely has any physics games and so they're trying to provide some early on. Physics games are some of the easiest to developer and port, which is another reason we see so many of them on mobile platforms.

FPS on a phone ?! Sounds uncomfortable. (and the article is about W8/RT, as far as I understood).

We were talking about tablets (Windows 8 and RT). But I'm curious. Have you actually played any FPS games on a phone? If so, which ones?

That's my point is that I haven't played any FPS on mobile but if WP was the first OS to do so imagine how cool that would be to say we started the genre on our OS.

This site already announced 2 fps's that are coming but they are ports from ios games (the 2 most popular ones and should be out in the next 3 months)

I haven't, nor want to. I have virtual analog (a paradox) stick fobia, I need to feel comfortable while playing, I need controls to feel organically in pace with me. Not sure how to put into words, in a nutshell, touch screens games and first person 3d spaces don't go together.

Well, of course you're free to dislike what you dislike. But it's better to try for yourself and see. ;)

I really like chillingo and look forward to more releases.
I always look forward to their wp8 releases!
Windows Central Newsletter
Get the best of Windows Central in in your inbox, every day!
Thank you for signing up to Windows Central. You will receive a verification email shortly.
There was a problem. Please refresh the page and try again.