Glass half full: Nokia brings Xbox games Vampire Rush and Storm in a Teacup to Windows Phone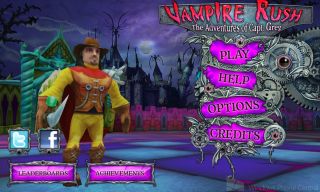 Ah, Chillingo. Where would Lumia owning gamers be without you? Just a couple of weeks ago, the indie-focused arm of Electronic Arts published a pair of new Nokia exclusive Xbox games: Dream Track Nation and Tiny Plane. Those ports are a little rough, but the developer PowPowGames already has patches on the way. Besides, more Xbox games is always a good thing, especially after that drought we suffered at the beginning of the year.
Now Chillingo is back with two new Nokia exclusives for Windows Phone 7 and 8, each coming from a different developer. First up is the creatively named Storm in a Teacup from Cobra (makers of iBomber Defense), followed by Vampire Rush from Lithuanian developer A-Steroids. One game will be a hit, while the other seriously needs some work. Make your guesses about which is which and then head past the break to find out the answer!
Hot tea, frosty frame rate
With a name and concept like Storm in a Teacup, how could you go wrong? The game stars a little boy named Storm who hops around in a teacup through fanciful levels dreamed up by his brother Cloud. The childlike innocence and charming visuals should appeal to youngsters and even cranky old men like me who have long since lost their hearts to the blizzards and soot storms of life.
At least, the aesthetics would be appealing, if not for the frame rate. Remember how iBomber Defense was a pretty decent tower defense game, but the frame rate chugged like a frat boy on New Year's Eve? Well, apparently Scottish developer/email ignorer Cobra Mobile has a less than perfect grasp on developing Windows Phone 7 software.
Storm in a Teacup is graphically extremely simplistic – the backgrounds don't even use parallax scrolling, which they sorely need. And yet the frame rate is somewhere in the 10-15 FPS range. It's like Gameloft's Amazing Spider-Man and Dark Knight Rises games, only nothing complex is even going on under the hood.
If you can get past the stuttering frame rate, Storm in a Teacup actually has good touch screen controls (much like Little Acorns) and seems to be an easy game overall. Storm in a Teacup costs $2.99 and is a 40 MB download on WP7/32 MB download on WP8. You can view its Store page here, but it can only be purchased from a Nokia phone.
It's raining vampires
Vampire Rush (which we all really want to type as Vampire Rain for some reason) from A-Steroids is a much more competent port. Players take on the role of Captain Greg, a foppish British swashbuckler. Only Greg can stand between the gates of the city and armies of the undead! If you ask me, games like this and Samurai vs. Zombies Defense are way too tough on the unholy forces of evil. Can't we give peace a chance?
Nope, I guess not. And so the gameplay here mixes tower defense with hack-and-slash action. You run around as Greg, hunting down vampires and their kin on the map and swording them into oblivion. Sometimes they drop gold, which can then be used to build and upgrade turrets or purchase character upgrades.
Each level brings 10 waves of enemies for players to endure, making them kind of longish for mobile play. But the gameplay seems really strong so far (annoying bat enemies notwithstanding), so you probably won't mind the time investment. Think of Vampire Rush as a much more exciting and polished version of Zombie Attack 2.
Vampire Rush costs $2.99 and is a 137 MB download on WP7/99 MB download on WP8. You can view its Store page here, but it can only be purchased from a Nokia phone.
Update: Both games are now available to all Windows Phone users.
Thanks to Captain Jey Si and First Officer Dario for the tip!
Get the Windows Central Newsletter
All the latest news, reviews, and guides for Windows and Xbox diehards.
Paul Acevedo is the Games Editor at Windows Central. A lifelong gamer, he has written about videogames for over 15 years and reviewed over 350 games for our site. Follow him on Twitter @PaulRAcevedo. Don't hate. Appreciate!