7-Eleven brings back support for Windows Phone with latest update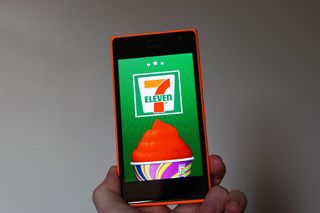 The official app for convenience store chain 7-Eleven on Windows Phone is an odd listing, simply because the company confirmed it would be dropping support for the mobile platform. Four months later and it appears as though this decision has been reversed with a new 7-Eleven update hitting the Windows Phone Store.
According to one of our readers, the official app now functions are one would expect, enabling users to once again create accounts and receive coupons (previously broken). It's a neat turnaround if 7-Eleven has opted to support Microsoft's mobile platform once again. So give the app a download and see how you get on.
For those who are unaware 7-Eleven is a chain of small convenience stores located throughout the US, mostly in specific regions. If you have ever seen The Simpsons, think Kwik-E-Mart and you will have an idea.
Thanks, David, for the tip!
Windows Central Newsletter
Get the best of Windows Central in your inbox, every day!
Rich Edmonds was formerly a Senior Editor of PC hardware at Windows Central, covering everything related to PC components and NAS. He's been involved in technology for more than a decade and knows a thing or two about the magic inside a PC chassis. You can follow him on Twitter at @RichEdmonds.
Man, any features added or bugs fixed? If not, it should not be said 'seems faster', right?

Just to tip you, there is official 7 eleven app for Indonesia 'Sevelin'. It seems they goes local, as app US made will have hard time working outside US.

Seams I can't tell I'm in Canada

Try the coke freestyle app lol

Well seems faster simply means no changes in the new update or version or. Anything

A coworker said they used the coupon feature a month ago.. Also the app was never removed from the store.

And what kind of app is this exactly? No description here whatsoever

It's an app for 7-Eleven, hence the name?

Well that explains it all.

Yeah no sh*t -__- but what is it?

it's a convenience store. I hope that the app will be available in Indonesia too.

They already have, try 'Sevelin' it is official app from 7 eleven Indonesia!

thanks for the tip, dude! :)

A strip club, where I live.

Good comment as I'm in south Texas and would have to drive 4 hours to Austin just to go to a 7 Eleven convenience store. They left my area more than 10 years ago. I used to me a hotspot to play arcade games like Pac-man, Mrs. Pac-man, and Defender in the little arcade section the store used to have.

They're spreading in Texas. They've taken over San Antonio!

What's Bing or Google, for that matter.

Always wanted to visit 7-Eleven, but I've never seen them in the UK. Are they not over here?

Don't believe so, but - http://www.thegrocer.co.uk/convenience-store/7-eleven-considers-uk-convenience-market-entry/355962.article :-)

Ah that's nice to hear! Maybe that'll compete with these Tesco Express stops I keep seeing on every corner lol. Hopefully they'll bring in some unique foreign products to swing over consumer interest too.

Not sure what's "unique" about gross gas station food like pizza, hot dogs, doughnuts, etc. Only like 7-11 because they have awesome Slurpies. That's it, really. Oh, and decent prices on fountain soft drinks.

Agreed, but 7 Eleven must realize the Valero gas stations have the same products you mentioned. 7 Eleven was also its own worst enemy having a king of the hill mentality like blackberry and Nokia had.......look at each of them now.

We had 7-Eleven years ago in London and a couple in Ealing. One changed to a Budgens, I think, and the other one was next to Ealing Broadway station. It might still be there. There were loads in central London but I guess the UK business didn't do well.

They are huge in Japan. They have super 7-Elevens there. What I also found interesting is that it is a Japanese based company. Who knew?

Actually 7-Eleven world headquarters is in Dallas, Texas where the company began in 1927. Beyond that each country where they exist has its own 7-Eleven head office for their country, although the Japan office may oversee the operations in several other Asian countries. 7-Eleven is in 16 countries worldwide. From their website: The company operates, franchises and licenses close to 8,700 convenience stores in the U.S. and Canada. Of the more than 7,800 stores the company operates and franchises in the United States, more than 6,200 are franchised. Outside of the U.S. and Canada, there are more than 44,800 7‑Eleven and other convenience stores in Japan, Taiwan, Thailand, South Korea, China, Malaysia, Mexico, Singapore, Australia, Philippines, Indonesia, Norway, Sweden and Denmark

Had one in Hornsey, north London years ago.

7-eleven is a convenient store, it belongs to the same group as starbucks, and is very popular in some countries. When i was in taiwan, there was a 7-eleven literally every mile or so... But taiwan is the coutry with the highest convenient store density of the world, so that kind of explains it...

It is most definitely not in same group as Starbucks. 7-eleven sells some groceries, drinks, odds and ends, lotto tickets, cigarettes, magazines, gas, booze depending on what state you live in etc. Starbucks does not sell any of that..

The same group owns them that don't mean they have to sell the same stuif look at little ceaser's it a family owned pizza joint but they also own detriot red wings there's nothing the same about the two but the both owned by the same company

7 Eleven is nothing like starbuck's.

Does this "belong to the same group" as if they have the same owner or at least within one big company group?

Yep. In India we don't have it, but I went to Hong Kong in the summer. There's a 7-Eleven every few metres there.

http://en.m.wikipedia.org/wiki/7-Eleven Hope that helps

1. i can't give comment by wpcentral app
2. i want to change my username please

Tap multiple times on reply arrow. I am facing same problem. But try it.

Long press the comment you want to reply :)

See, you done it anyways !!!

I just need to tap it once, though, maybe you tapped it in a wrong spot.

so you think that i tapped my girls bla bla.. lol

My girlfriend always says I'm tapping the wrong spot

seriously? how useless.. lmao ✌

lol, so what spot did you tap on your girlfriend? :P

top secret, i don't wanna let her go :D

hopefully NBA GAME TIME APP is next to be back and with a much better feature

Hope so, season is about to start and no official app... that sucks

Sad that this is American only....

Guess who's come crawling back lol

It may have been dropped because Windows Phone 8 has essentially not been launched in Japan yet, so Japanese executives probably never heard of it. That said windows phone 7 was lanuched here and some people do have windows phone 8 devices bought off contract. And Windows Phone 8 does support Japanese fine.

Are there many 7-11s in Japan? EDIT. Wow, I just looked on Wikipedia, there are twice as many as in the US.

Ya! When I was in Tokyo, 711s everywhere!

I just don't know what happened with the deal between Microsoft Japan and NTT DoCoMo to release Windows Phone 8 handsets? They were supposed to launch 3 phones, namely the Nokia Lumia NK-01E, Samsung WP Omnia and the Toshiba-Fujitsu T-01E. Since Nokia is now under Microsoft, I guess they should have their presence back in Japan especially that the Surface series of tablets have a good presence there.

It's everywhere in Thailand, Cambodia, etc.

Try official 7 eleven app for Indonesia 'Sevelin'. The US made will have different result of promotions, as it is mostly US only.

Agreed it's everywhere in Bangkok most especially

That's a good indicator of things looking up. Someone at 7-11 HQ must have been convinced there is a future in WP.

They seen windows 10 coming and didn't wanna get left behind

So this app is only for the U.S.? There's literally like 5 7eleven stores within a few minutes from my home.. It's everywhere in Malaysia

It's everywhere here as well.

Well, looks like I'm going to 7-Eleven today. See, that's how a sale is made.

Hmmm, maybe the potential of a little something called Windows 10 convinced them?

Yeah, maybe they're working on a universal app?

Not available for Australian region??

Change the location of phone to US, restart and then download. Next revert back to Australia settings. That's what I tried for this app when I was in Australia

Does the app support Australian 7 11's though?

It's actually a very cool app from a UI standpoint. It's different than most WP apps and unique in that respect.

711 is just a gas station here in the US and honestly there often a little junky, if not convenient

None of the 7-11 stores near me are gas stations. And there are a lot of them

There's one out here in Panorama City, California

Im on the other end of the country in Buffalo NY. We have 7-11's everywhere and I cant think of any I have ever seen that are gas stations.

The one in West Seneca at Southwestern blvd. And Angle rd. Has a gas station.

Does it? Im not usually not over that way. The one I usually go to is on Harlem Rd in Cheektowaga

Any news about 'kik messenger ' yet?

Who designed this? Because its very unusual but looks great. It's obvious its designed by people familiar with either coding and or design.
Love it, I may just start ordering my morning Latte here.

Still doesnt work for me. I tried to sign up and it says that my email address is not available in their system.

Can we make payment with the app? if not, what's so great about it?

Just tried another email to see what would happen and still I cant make an account or sign in. So I am going to say that it was a quick mistake on 7-11's part and this app is still junk, EDIT: Deleted the app, reinstalled it and rebooted my phone now it lets me log in! Way to go 7-11! I am going to buy a 4pk of red bull and get a free pizza tonight

Only problem with 7-11 is that i have to be in a seedy part of town to find one.

I'm pretty sure 7-Eleven is headquartered in Dallas not Japan.

Why does no one comment random things.
We can comment random things like
- A floating panda
- A cinnamon Olive Bun
- An update for Kik messenger.
Anyone?

It says not available for my device when I go in the store????? Nokia Lumia 1020

If you have issue with login or failure to start up. You need to uninstall the app and reinstall it.

Still not available in Canada! Although the iOS and Android version are. ARGGGG

Maybe they are bringing it back to prepare for the official release of W10. Then they will have a more polished app that could be installed by a much larger group of people rather than phone users exclusively. I can't imagine that it is used by the masses.

Funny, I emailed them the other day, the rep said they were discontinuing support. Maybe enough of us complained??

Yep, just rebooted and it works. I'll take partial credit for that lol

I personally don't care for this, but this is a big win for Windows Phone's relevance.

I emailed 7-11 and they told me they were considering bringing it back, but only if the user base improved, they didn't see WP as a viable market to support the app. Eventually I got the support worker to spill the beans. I'm glad they brought support back.

I hope next update could support 7Bank (7-Eleven's own banking arm), lel.