7 reasons to play Forza Motorsport 7
By Richard Devine last updated
Need some reasons to play Forza Motorsport 7? We've got seven of them.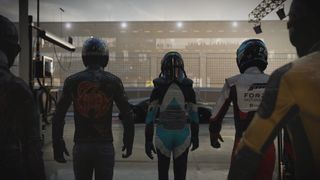 Forza Motorsport 7 is one of Microsoft's biggest releases of 2017. The series rarely fails to impress and this year's is no exception.
If you were looking for some quick hits on why you should play it, look no further.
1. Over 700 cars (and trucks!)
If you want the largest collection of licensed vehicles in a racing game, then you want to be playing Forza 7. The tally for this year's game is over 700, and it's not just cars, either.
Racing trucks, buggies, special Forza Editions all join the lineup of the real-life road and race cars that never leaves a dull race. And if you're really brave, why not collect them all?!
2. Tons of real-life circuits, and some awesome ones that aren't
Forza 7 doesn't just have some of the best race tracks in the world, scanned and recreated meticulously in the digital world. It also has some that the developers have created themselves.
Take Rio, for example. It's based on real-world locations, but the circuit itself doesn't exist. But that doesn't mean it's not both spectacular and a stunning setting. And many tracks have multiple layouts, so there are lots to take on.
3. Xbox One X enhanced
Forza 7 is one of the flagship titles to show off the capabilities of the forthcoming Xbox One X. It'll be patched for a day-one experience that not only delivers 4K gaming but also improved textures.
And we're told it still plays at 60 FPS. Mouthwatering.
4. Xbox Play Anywhere
Xbox Play Anywhere is a truly remarkable program from Microsoft that allows supported games to be bought once and played across Xbox One and Windows 10 PCs.
Not only that, thanks to Xbox Live your saves will transfer across, too, so you can always pick up where you left, whichever you choose to play on.
5. Packed single player career mode
The single-player mode is now called the Forza Drivers Cup and is a little more involved than previous years. You'll get points now for winning races. Races mean championships and with that comes your progression through the game.
In true Forza style, in each section of the Forza Drivers Cup, there is a whole range of championships and showcase events to win in all kinds of different cars.
6. Multiplayer madness
It wouldn't be Forza without an opportunity to show off your skills against your friends, family and the world at large.
Forza's multiplayer hoppers contain something for everyone. It's not just a case of jump in and off you go. There are different types of races for various vehicles and abilities to ensure that everyone has a good time. Novice or a seasoned pro.
7. Support for a whole host of racing wheels
On both Xbox One and Windows 10, Forza 7 supports a host of racing wheels and pedals for that ultimate experience.
The selection on PC is a little broader, but if you have an Xbox One certified wheel, you can use it in Forza 7. Just plug it in and off you go.
Richard Devine is an Editor at Windows Central. A former Project Manager and long-term tech addict, he joined Mobile Nations in 2011 and has been found on Android Central and iMore as well as Windows Central. Currently you'll find him covering all manner of PC hardware and gaming, and you can follow him on Twitter and Instagram.
While I'm extremely tempted to grab this game once I have my hands on my One X, I just know that I'll lose interest after a day or two. This is only because I've come to prefer the open-world Horizon series instead. I seem to prefer arcade style racing games these days. And as beautiful as Forza 7 looks.. I'd like to think Forza Horizon 4 will be just as stunning whenever that comes out.

Horizon 3 will be one of the enhanced games so it should be an improvement over the 1080p version.

One reason not to: 1. Stupid amount of IAP - Microtransations/Loot boxes

They really don't hurt the game. If anything they make the Career more enjoyable. I normally hate loot. But in this there's no buying for real money. And buying Boxes stops you having millions of money just sat there. I have 9.6 million on Forza 6. The most I've had on Forza 7 is 350k. It makes the game more involving. And fun to progress. One of the best things about the game. It's nothing like lootboxes in MMos or Overwatch etc. Nothing like it at all.

There's no buying for real money... Yet. Removing bonus when adjusting the difficulty or removing assists ruin the game.

1. Has single Player Career 2. Isn't Always Online only. 3. Has Single player career mode 4. Isn't always online only 5. Has single player career mode 6. Isn't always online only. 7. Has single player career mode. Sorry I couldn't resist taking a dig at the mess that is GT Sport. Sorry. It's just unbelieveable how they messed up so bad.

The problem with GT Sport isn't it's online only, it's a side version just like the Prologue and Concept editions (released in Japan), and it's designed to be a competitive tournament racer where the racing and times are scrutinized for fair play. The actual problem lies with Sony trying to market this as a full fledged sequel and pricing it as such. It's almost as if Sony Corp was embarrassed by what Polyphony Digital made compared number of releases Turn 10 cranks out in between GT releases. Not to mention the technical and graphical leaps T10 seems to make in the meantime.

I do always prefer Gran turismo, the only reason I have PS, like I do have Xbox only for Halo.

I've had every Forza Motorsport game but after trying the demo I'll pass for now. I wasn't impressed with the driving dynamics, forced off the road as the AI cars wanted to maintain their line, had an arcade feel to it compared to previous releases. I'll wait for a price drop perhaps.

Having played both the demo and the actual game (as well as every Forza release) I can say the demo is hot garbage. I hated the demo myself, something just wasn't right. I will say I haven't run into any issue with the full game like I did with the demo.

Awesome, that's good to know thanks.
Windows Central Newsletter
Get the best of Windows Central in in your inbox, every day!
Thank you for signing up to Windows Central. You will receive a verification email shortly.
There was a problem. Please refresh the page and try again.