It's getting hotter with 94 Degrees, a popular puzzle game now on Windows Phone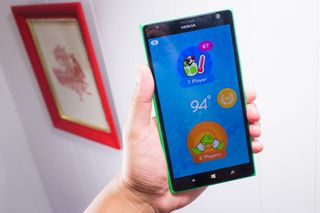 With a game title like 94 degrees (94-degrees.com), you'd think we're talking about another weather app. Instead, we are playing a hot new game for Windows Phone that has been popular on iOS and Android devices.
94 degrees is an addicting game that's very easy to learn. You are tasked to find a certain item or area within an image. The closer you get, the hotter you get. Want to see it in action? Watch our gameplay video with the Lumia 1520.
Each level provides an image with a caption on top with the target. A couple examples are maps that require you to find certain countries or ropes asking you to find the half point. Tap the area where you think the answer is and a crosshair appears. Tap the green button at the lower right corner to confirm. If you get it right, you go to the next level. If you get it wrong, check the thermometer at the bottom to see how hot or cold you are. If you see the thermometer gets colder than your previous guess, go towards the opposite direction.
Players have a limited amount of pins to use. Watch the green pin number on top to see how much you have left. Next to the pin number are the amounts of coins. You earn coins when you guess right. You can use these coins for perks, which are also known as dice.
One perk turns the image into a multiple-choice test. Guess from one of the pins placed on the image. Another perk shows the direction of the correct answer in addition to how warm or cold you are.
94 degrees is a free download from the Windows Phone Store with in-app purchases. The premium in-app option seems to be available for free right now. It adds exact temperature, gives you extra pins on correct answer at first try, removes ads, and more.
We're having a lot of fun with 94 degrees and we think you will like it. Go download it now and leave some feedback in the comments!
Wc is getting hotter wz news .. Mark is back too
#welcome_again ;))

Looks good / seems faster :p

Hope this doesn't get pulled. Haha

I'm the developer, be sure it will not ;)

Off topic Rudy! Hows that live lock doing? Love your work

Live lock screen beta forever :-*

That's the question I've been looking forward to hearing the answer!

I don't manage this app, Microsoft does. I've an update ready since months but I'm powerless

Rudy I just want to say YOU ARE A GREAT DEVELOPER. Keep it up. And I hope someday I will hear that you are working for Microsoft :)

So is your new strategy to port existing apps over to help the ecosystem? Or is it just coincidence you've released two official apps recently?

If I can do it, I prefer to work directly with service owner

Why is 6tag isn't available for my lumia 530? Can you please fix it?

I thought your name was Rudy Hyun for some reason, no offense.

Nice game ...finally available on windows phone ..still waiting for Clash Of Clans though .. :(

Never played Clash of Clans. So, is it a good game?

I read that clash of clans will not be coming for windows, a supercell developer confirmed it, don't know if it was true, but the game has bn on android for 2 years, so I don't think it'll b coming!

I might download this game. However, I wish Quiz Up and Threes was available for Windows Phone.

Is this developed by Rudy?

Yes. He announced on Twitter this week,

Never heard of it. Just installed. It's fu***** amazing.....:D

Bugs everywhere in two player. Can hardly see the picture in Portrait.

You can use two fingers gestures to zoom in the image. =D

First off, I'm not 'much-of-gaming person' on the phone...However, I just needed to try this out, especially being ported over to Windows Phone platform by Rudy H. On a L920, with Cyan firmware and 8.1 AT&T OS (no developer preview)....the game is quite neat, and absolutely no issues...my device is @24GB free...lol Purchased it $1.99 within 1/2 hr of playing from weekend boredom...lol Thanks Rudy H!

Rudy Huyn deserves credit for another successful port. Dude is a beast! I'm not sure why Microsoft hasn't offered this guy a job in developer relations or something similar. I know it's not so easy as I put it but the dude knows his shit. He's done a great job with the official Dropbox app, now this, and nobody needs to be reminded of his own great apps. Posted via the Windows Central App for Android

How about we start a movement on social media to push MS into offering Rudy a post

Rudy is already with Microsoft on a project, not full time though.

Yeah. I know about the project. But wouldn't it be great to have him full time, heading the app development team

Nope the premium version is not free for me, it costs Rs 110( $ 1.99)

It says the app is not available in the store

Does it get any harder? I'm on level 50 and it's been a piece of piss so far. Bit of a kids game.

Really tired of these games that only give you a limited amount of gameplay before cutting you off for a period of time, unless you buy something. Either charge or don't. Would rather have an ad every couple levels cool game other than that "feature".
Windows Central Newsletter
Get the best of Windows Central in in your inbox, every day!
Thank you for signing up to Windows Central. You will receive a verification email shortly.
There was a problem. Please refresh the page and try again.