About 200 Insiders installed Windows 10 Mobile build 10536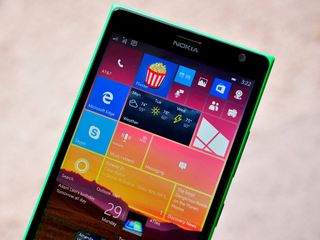 Despite pulling the release of the new build 10536 of the Windows 10 Mobile Insider Preview, a few folks started reporting they'd installed it anyway.
Now, Microsoft's Gabe Aul has cleared up what actually happened and how widespread it was:
Certainly not a widespread thing but it also shows just how late in the day Microsoft decided to stop the process. Those who installed will have to revert back to Windows Phone 8,1 before being able to install any future Windows 10 Mobile builds. The very reason the build was pulled.
The actual build will be pushed out in the coming days.
via Thurrott
Richard Devine is an Editor at Windows Central. A former Project Manager and long-term tech addict, he joined Mobile Nations in 2011 and has been found on Android Central and iMore as well as Windows Central. Currently you'll find him covering all manner of PC hardware and gaming, and you can follow him on Twitter and Instagram.
-1 .. I better don't experiment this build on my daily Driver.. Let them,fix the update bug first.. Den,will install 10536.1004

If I were you, I wouldn't install ANY of these preview builds on your daily driver. But that's just me...

Been using them on my daily driver and I have little issues aside from performance. I suggest people do what they feel is best for them.

What he said. It works well on my HTC One. The problem comes when people with one phone try it and get into trouble. Then they scream about not knowing any better, features missing and flat out whining.

As long as you have at least 1GB RAM and a Quad-Core CPU, you can upgrade without noticing many performance problems. Best devices to try it out on are the Lumia 640 / 640XL / 930 / 1020 / 1320 / 1520

Lumia 1320 is Dual-core 1.7 GHz Krait 300

Yep same for me. I wanted to try out the Windows 10 experience and see the connection of services between Laptop and Phone

While some would say not to use W10 on you primary phone / daily driver, in my opinion that's the only way to fully test the functionality and usability of the experience to understand what things need to addressed the most. Testing on a secondary phone makes you focus on specific things you are looking for but this makes you often miss the little nuances of every day use. You might find one or two bugs then report them, or often enough you will come across a tiny bug that doesn't really phase you but you think will be fixed quickly anyways..... But try dealing with that bug or missing feature every single day and multiple times a day. You then start to understand how some missing feature or some bug turns out to be very important to address. Either way, this bug isn't really that big of a deal anyways since every build so far has required a roll back or hard reset / wipe to work properly.

I agree and I find that since a few builds ago when I switched to running W10M on my daily phone I've given more feedback that when I just used a test phone every now and again.

I'm with Praxius on this one. At least at this stage in the life of the Tech Preview. I've had the last two builds on my daily driver and feel I wouldn't get nearly as deep into the OS without it being my main device.

This. Even Microsoft tells us it's not wise to install those previews on daily drivers but some people just don't get it.

Or maybe some people try to install on daily drivers and have no problems with it so they keep it, otherwise they could roll back. So there really is no point in the "do not install on daily drivers".... Had only minor issues on my 930.

Agree. 10512 works fine on my 930 as well.

I would adjust the statement to, "Don't install on your daily driver if you don't have a backup phone." Running on a daily driver will help you identify more problems and give better feedback to Microsoft. Just make sure you have a backup in case there are issues you can't handle. That way, you can swap your SIM card to your backup if you have to.

I wouldn't suggest the average person do it either... but I did.
Of course I've had previous builds on other phones since the beginning, I only installed the most recent build on my "daily driver" after testing it on my other phones.

Yeah you have to understand the program and that there will be bugs. You see some people who don't understand the point of the program, they are also the people who treat it like its main purpose is to give them updates to play with, or that they are owed something. It is, however the only way to get Cortana working across Windows Phones and Windows 10 PC. They dropped the ball a little bit keeping most of the WP 8.1 Cortana data separate. You can't set reminders in Windows 10 PC and have them appear in WP 8.1 Cortana for example

Agreed. Unless you have two daily driver devices. You can mess with one of them and keep the other clean.

Better to wait until an official release then mess up your main phone with unfinished Alpha/Beta software, even Microsoft warn's about installing on your main device you can't be without.

What? Been using preview builds for months now on my 1520 daily driver. Little to no issues so far.

Impossible! It has to seem faster ;P

No it's not. Even folks with 520 have reported smooth experience.

I constantly get Maps, Here Maps and the Store crashing on my 1520.

This same here, I've had it om my 1520 for months and it's been good to.

I've used the last build on my daily driver L930. Works like a charm. Of course there are minor annoyances, but nothing to get upset about.

Just curious since I also have the last build installed on a 930, did you not expeirence any start screen loading issues? Aside from that, everything works better than expected from a TP but that Start Screen Loading issue is mind bogglingly annoying.

I get that loading issue very rarely since factory resetting my 1020. On the Lumia 930 (Currently in for repair) I don't think I've hardly seen any loading or resuming screens at all. Before hard resetting the 1020 I had perf issues in all sorts of places. Last build very stable though on my devices

Yes, - that's the worst of the annoyances. However it is better than it was on the build before. Still a minor problem because if I use Cortana to open apps and play around for a couple of minutes, then the start screen will be there, and I'm ready to go. If I just leave the phone unattended on the other hand, the start screen will not come up at all. I got 106 tiles on my start screen which I have not had the heart to remove, so I don't know wether fewer tiles would fix the issue. But it's a minor problem, since the workaround is so easy, But I do admit that I am a bit reluctant to restart my phone to often...

Been using it for my daily driver Lumia 920 (and only phone that I have) for most of the program. Reverted two times after getting degraded performances on some of the earlier builds. Now it is mostly tolerable. The only thing that I miss is the speed of the camera app on 8.1.

and I am 201 :) everything is now better, but still can't download slovak keyboard :/

When you go back to 8.1, get the keyboard before you update, and don't do a hard reset after the update is done.

Downloading keyboards works but it's still quite convoluted, I think. If I recall correctly, I installed the German keyboard on mine by adding the keyboard, then searching for updates and rebooting and letting it install as needed (keyboard packages are still merged with the system partition).

After you're at latest build, opt in to WindowsInsider again and then download keyboards...

What I had to do to download the keyboard I wanted.
Change everything. Region, date time zone, language, etc
The keyboard will download. Then you change back real annoying

Yeh, my 532 got it but 2x 930, 1020 and 920 I have on 10512 did not... Which im glad. This is an unprecedented program that we should feel privileged to be involved in.... Not bitching about every build like its RTM. Anyway im only pissed about the loss of all Nokias powerhouse imaging apps and their signature purple tiles, 3 great cameras have now turned to basic shooters. Leave imaging purple and xbox green on respective tiles just like keeping red on your news tile. MS needs to keep and nurture ALL the great nokia products they acquired especially the apps that came out of the preview program/ beta labs.

I got all Lumia apps on 1520, even after a hard reset in windows 10 mobile, not sure why you have issues.

I'm still laughing at the fact I was notified of an update and got excited only to discover it was 10512 and this whole time I was on 10166 and didn't know it.

What he didn't say was he was using IOS9 and forgot. lol

So , when is the new build coming. I really think it will be less buggy. It will be more or less equal to windows phone 8.1

Other than everything that is vastly different already...

I think he meant in stability, not quality/features.

I wouldn't say poor, us that signed up for the preview program knew stuff like this could happen. Part of software development and beta software

Nah, I consider them lucky. People on the Insider Program should be fine with re-flashing their OS.

Microsoft need to do something to fasten up the OS.. Because it's buggy since wp8.1

It's beta software. You should expect bugs.

Actually I was excited to test out the new build before everyone else. It's so much better than 10512 which by the way is way less stable than 10166....I installed it on my 830 so I have no problems going back to 8.1 before going into the next build. Posted via the Windows Central App for Android

Those 200 insiders must have been spamming the "check for updates" button!

Lol I was on twitter when I saw a couple of guys tweet Gabe on why they received a notification to install 10536...after that I thought they had fixed the update and decided to push it out to us at 12pm...so I DID spam my update button to get it. Wasn't disappointed though to find out it is still the build they didn't fix. I quite like this build compared to 10512. -MUCH BETTER! Posted via the Windows Central App for Android

Nope! Just got the update notification and installed it right away. Much better than 516 :)

I can back to 8.1 on my 920 why?

Because you can downgrade.. Why is that a problem...... Posted via the Windows Central App for Android

can you tell me Alarms "Vibrate Only" added ?

Probably not. I wonder what happens if you use a silent mp3 as the alarm. Is that a workaround for now?

I can set the sound to None, not sure if it vibrates though as I haven't tested it.

Stuff like that HAS to be in the final consumer release, right? They wouldn't, in their right minds, release a modern smartphone without ring and alarm profiles, right? Things like this were on Symbian Nokia phones with T9 number pads almost a decade ago.

& we thought them canceling the s mini was the only thing they did last minute

I just wish I was one of those 200 people

I was one of the few that got the update. I was prompted to restart to finish update, so it will pretty much prevent me from installing any new builds anyways. No word from Microsoft whether the bug will always or sometimes prevent future updating. Either way, I doubt they will enable an update path from 10536.1003 to future builds. I'm prepared to roll back for future builds past 10536.

Bingo. Lucky man ;) said previous post

Yah, when I heard the news, I immediately switched to the slow ring... I didn't want to deal with rollback. I will switch back on Monday.

What about mix view tiles feature for windows mobile 10

Why was the comment which read "That tweet was 1 day ago..." something deleted ? Like the original comment said, it showed the low standards of people here at WCentral who will immidiately take a factual information upon themselves. Note to the author, just cos the comment said the tweet was old in no way is questioning your capability of why it was not reported earlier, but the fact that you write a sarcastic response in the form of an appology to show off (and other commenters stupidly saying words like "HeadSHot" , "Fatality" etc...) shows how much defensive you are. Please try to be a bit less ignorant and arrogant and develop some humility and humbleness. Its a very good human quality to have. (Which unfortunately every so called tech journalist/experts except a few good ones)..lack.

1) how do you know who deleted the comment? The original poster could have deleted it themselves, ever think of that? 2) what kind of "low standards" are you talking about? Is it low standards to give employees the weekend off? 3) if windows central has such "low standards", why bother commenting? Just go find a different Microsoft news site to follow

Do not comment if you haven't read the original thread. 1. Nowhere have i said who deleted the comment. Once again you read something and jumped to a conclusion immidiately. Bravo. Point proven again. Regardless if the original poster deleted or not or whosoever did it, doesnt justify the arrogant bashing replies it go which of cos you will never understand or get to see. 2. Totally out of context 3. You have no clue as to what the original matter is, yet you chose to comment. Prove it again.

1) The only thing you say that makes sense
2) Low standards of not following journalism ethics
3) I do follow other sites more than this/ I do not follow other sites more than this. Either way, I'll read whatever I want, so it doesn't make any sense to push people off if you are always getting butt hurt by things people do not even say to you..

Finally someone sensible enough.

This website and its writers love to grab all the limelight. In their opinion, a sarcasm sounds fine, while in journalism ethics you never should go beyond official bounds. Sadly, they are temperamental and desperately seek attention. Anything anyone says, people here are like, oh, please keep your opinion to yourself, while the people here will go all limits to defend themselves with, oh that's my opinion and you should respect that. Arrogant, self proclaimed tech writers.

Instead of crying about the writers here, why don't you scamper off to some other bridge you can live under?

Oh, I don't need to live under any bridge. I have a home, Thank You, and that's called, take your whiny mouth and sass them who need it.. :)

Go ahead and bash me for saying that :)

They delete shit all the time... Can't stand behind the own words....

So are they fucked now? Do they have to roll back to 8.1 for further updates?

Yes. Again, fast ring is risky! So everybody should deal with that or switch to the slow ring. Or just stay on 8.1. Ps. I am not saying this for you. It is just that everybody expect the insider program to churn out perfect builds these days!

Have that added quiet hours when busy in calendar yet? Most useful feature and is missing

Using it on both my 1520 & 640 xl. No problems. I wish they would bring back linked email unified box.

Watched the video on Winbeta

Hello all.I have a 920 which is my daily driver. I know it's risky to install builds in that case, but I was wondering: since Microsoft will apparently close the insider program on 1st October, shouldn't I install the next build (so probably this week). I don't want to be "stuck" with 8.1 after when they'll have closed the insider program, since the 920 will not be in the first devices to get win 10. If I wait for the official W10M I'm afraid I'll have to wait for a long time. What do you think? Thanks. ​ ​ ​ ​ ​

I'd go for the build that should come this week. You can always rollback to 8.1 if you don't like it.

I'd say go for it, hopefully you have better luck than I did. Bricked my phone (L920) with one of the earlier builds, nothing worked. Would go into an infinite boot/reboot loop. Tried soft/hard reset but still didn't work, eventually sent it away to have it rolled back to 8 (no internet on my home pc). Let me know if it works for you, I might be willing to try it again if it works fine enough.

Ok I'll tell you. I think I will wait for the next build in slow mode though...we will see if the one due this week comes to slow ring or fast ring only. Well it gives me some time to save everything ! I think I'll hard reset the phone after going to Insider. However do you think it's useful to hard reset it before, or I should just update and hard reset after only?

So I registered to Insider fast then updated to current build, for my good old Lumia 920 - which is my daily driver. No hard reset. It was working quite fine on my 920, even if the performance was not great overall (not that bad I must say, but not great). A few irritaging bugs though. For exemple I thought that the start screen bug (charging indefinitely) was fixed. Well..not on my phone. Sometimes it works, sometimes it doesn't. Sometimes it will charge and charge and charge for a while...and suddenly when I unlock the phone it goes to the start screen. I have always to wait a few seconds for the start screen to load though, despite having reduced the pinned apps to a very reasonable number. Luckyly, even when the start screen doesn't load, all apps still work. So I can use Cortana to launch app, and I can use multitasking, notification center, etc (it's really just the start screen that doesn't load). Also a few app crashes, but just a few so, quite satisfying on that part. I am currently hard resetting the phone (with restoration - I mean it's a hard reset but I am using the restoration option to get my settings/start screen/in app seetings back). It is currently restoring. I can tell more on the performances and different bugs when it's done and I had time to use it.

Where have they started that they're shutting down the insider program?

http://winsupersite.com/windows-10/microsoft-clarifies-windows-10-mobile... http://forums.windowscentral.com/windows-10-mobile-insider-preview/37966... You also had an article on Windows Central but I can't find it now. As I said, there might be a significant gap between the end of the insider program (at least end of new enrollment to insider program) and the release of W10M for my 920. I want to avoid that.

I've yet to try insider builds on my phone but I just don't think I have the patience for it, I see I can get a build in my spare laptop in a few minutes thanks to ssd and a half decent cpu but on my 928 I'm sure it will take maybe an hour or more for each build, and a 1520 for example I don't think will be that much faster, they use the same storage afaik, that and we cant dual boot or anything

They better release it tomorrow >_

They'll release it when it's ready.

It did not bother them before. We already had a build that one had to rollback to 8.1 and we had another one that could only be reached from 8.1 when going via W10M build before the latest one, not directly. Why a sudden worry ? :D

Because it has already happened before and they fixed it... Now the same problem is back?...

I meant it had been good enough for insiders then, it is not now? That it happened again is another story. Could be the same bug, could be something else that manifests itself the same way.

As we are approaching towards the Final build, these things must be taken care of.

When is gonna be the official release of W10 for mobile? This is so annoying, Microsoft should had this ready along with the W10 for PC.

Somebody with the twitter account should ask Gabe Aul if they have any deadlines set and if they intend to keep them. Luckily/unfortunately one cannot fix a bug in W10M with a simple (and hectic) update as they are doing with the big W10.

It's still on development, and should not be instilled on ur primary device and also Microsoft will not be responsible for with happens to ur devices because you sign up for it. It like an experiment, and any thing can happen during test. Insider, be patient

How exactly would we find bugs if it won't be used on a device you're always using?... Yes, you'll still find bugs on secondary devices, but won't be as much compared to a primary device...

Am i the only one who find people, that complain about Win 10 beta being buggy , stupid ? Do they even comprehend what this program is all about ?

If the bugs are mediocre then yes, Insiders do have the right to complain... IIRC, they already had this issue before and it happened again?...

Adventure is not without risk.

Just shows how dedicated the team is in finding bugs...

Dam... I am one of those 200:/ Lucky me it's not on my daily device

I'm pretty sure my phone updated not long after it released and it's made my phone usuable, so laggy and buggy. I must say I am less than impressed that I will now be forced to revert my phone to WP 8.1 to move it forward, this was an unacceptale mistake on MSFT's part. The more I see what MSFT is doing with WP the more I question their direction. Things seem to be taking so many steps backward and it's taking an eternity to move even a small step forward.

I love it when people use expressions like "unacceptable" for totally understandable errors. Or are you saying they should've kept it live? I would've preferred that but I understand their reasoning behind pulling it.

I just installed this build it has some improvements but also still have some defects the best thing is when I open the windows central app instead of the annoying loading screen I get the logo hanging until the app load the performance is better now but I'm having issues with my network signal and I will report back if the 3g still drain the battery fast cz it stays like 3times longer on wifi

yea this build is much better

I don't get either anymore. Screen just flashes black for less than a second and the app is loaded

What is the last update build of slow ring? And is safe to download? I'm installed one month ago the build 10166, with some lags. Now the latest build of slow round what is and they have more lags or lower lags? It's safe?

Strange, I have build 10512..

i got the update on my 635 and it is really good this is the 1GB version of the phone lock screen time shows up right away now resume screen has gone most loading screens have gone quiet hours work the toggle mobile hotspot working this build is ready for your daily driver really

I've come across a scrolling lag when scrolling vertically and horizontally on my L925 in build 10512, and the battery drain. Has anyone else had that problem? Its like there's a speed hump on my screen!

today we are getting this build minus the no upgrade bug, right?

Man, I am glad I didn't get this... We have another one coming in days and who ever downloaded this build HAS NO CHOICE but, to nuke back to 8.1 to take it... God knows how many times I have done that with W10m now....ugh

is this a new low for windowscentral? making articles about every post in twitter?

Failed to download even 10512 build....well have to wait for the new build I guess!!!! Phone freezes many times a day....annoying!!!!

So that : 1. ) I still do not work HOTSPOT devices are connected but do not have access to the Internet. 2. ) During charging, the icon disappears store in the lower right corner of the screen 3 ) After entering Settings - > System -> zStorage : moves to the start screen 4. ) after giving "back" does not close the application only if the dumps tray 5. ) inability entry into hours of silence 6. ) every application each time gets a license from the store 7. ) when downloading applications from bad shows data for download. 8. ) very often hangs watch on the lock screen ( not showing up ) Many probably still but for now I find it so much :)

"About 200 Insiders Installed Windows 10 Mobile Build 10536" I absolutely do not believe that. Just my opinion.

Hi, I am using as of today 10.0.10536.1004 and all is nice and snappy aside SKYPE. That's right Skype does not do any of the following on my phone: appear on the list of apps, appear on search results, pin to start, open when clicked on message from notifications. Does any of that happen on other phones as well? I am using Lumia 630. Could it be that any of that is due to poor memory? I for one do not think that.
Windows Central Newsletter
Thank you for signing up to Windows Central. You will receive a verification email shortly.
There was a problem. Please refresh the page and try again.