About those companies you thought were environmentally friendly ...
Here's where some of your favorite tech companies really land on being friendly to the environment.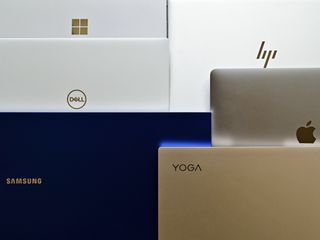 (Image credit: Daniel Rubino/Windows Central)
Last week, as part of our Earth Day 2020 coverage, we asked you which tech companies you thought were the most environmentally. We gave you a list of ten to choose from, including some heavy-hitting tech giants and a mix of PC manufacturers. We asked you to weigh in not only on who has a proven track record of sustainability, but who is perceived as having some of the best environmentally-conscious practices.
At the time of writing this, our poll has garnered more than 1,200 votes, and there are three clear standouts: Microsoft, Apple, and Tesla. Others, like Google, Dell, and HP, lagged far behind the top three by a margin of hundreds of votes. With that in mind, we're going to take a closer look at the top dogs and see how perception matches up to reality.
Microsoft
Microsoft has been an outspoken voice in the push to go green for several years. The company launched the AI for Earth initiative, an offshoot of its larger AI for Good program, in 2017, aiming to tackle some of the worlds biggest environmental problems. The program provides funding, training, and tools to solve issues around water, agriculture, biodiversity, and climate change.
In early 2020, Microsoft stepped up its efforts to combat climate change by pledging to be carbon neutral by 2030. Going beyond that, by 2050, the company hopes to have eliminated enough excess carbon to erase all of the emissions created by Microsoft since its founding in 1975. "While the world will need to reach net-zero, those of us who can afford to move faster and go further should do so," Microsoft president Brad Smith said in a blog post announcing the move.
Alongside its move to go carbon neutral, Microsoft also created a $1 billion climate innovation fund. The stated goal of the fund is to accelerate the development of new technologies and invest in innovations that address the climate change problems presented by carbon emissions around the world.
When it comes to its operations and hardware, Microsoft is currently making strides in reducing its environmental impact through recycling and refurbishing programs, reducing waste and water use, and working with supply chain partners to reduce their environmental impact.
However, one major point of contention is the repairability of Microsoft's Surface devices, which have historically been notoriously difficult to repair or upgrade, reducing their potential longevity. Microsoft has made strides in this area, offering easily replaceable SSD drives on its latest batch of Surface devices from 2019, and the Surface Pro X actually scored a decent six out of 10 for repairability in iFixit's teardown.
Verdict
Microsoft has one of the more robust sustainability programs in the tech sector. The company provides an annual report on steps it's taking to reduce its impact and where it stands on its overall goals. Microsoft often ranks among the top companies in America for its environmental initiatives among independent groups as well.
While striking a balance between easy repairability and design is always difficult, it would be laudable for Microsoft to continue pushing to give Surface users more of an ability to repair and upgrade aspects of their devices. Microsoft offers its own repair program that's fairly easy to use, but can be expensive. Giving users the ability to swap out things like storage and RAM as needed would go a long way to encouraging a longer life for Surface devices in the wild.
Apple
When you talk about environmental responsibility among tech companies, Apple is probably one of the first names that comes up. And that's for a good reason. The company isn't shy about promoting its sustainability efforts, often dedicated a portion of its product launches entirely to updates on new technologies and processes it implements to get the most out of the materials that go into everything it makes.
Like Microsoft, Apple provides a yearly report on its environmental initiatives, showing its current progress on several fronts and areas it intends to address in the future. Currently, Apple says that 100 percent of its own facilities — including retail stores, offices, and data centers — run on renewable energy. "Most of that energy comes from our own projects," Apple says. "When we need more, we buy renewable energy from nearby markets or local utility companies."
Where Apple has garnered a lot of attention is in its moves to reclaim much of the material used to create iPhones and the like after they're recycled. Most notably, Apple created a specialized robot, named Daisy, designed to retrieve rare earth elements, tungsten, and aluminum alloys from iPhones. Daisy can currently disassemble 15 different iPhone models.
Apple also operates an easy-to-use trade-in program that encourages people to return their devices for recycling once they've upgraded. Through the trade-in program, Apple offers an amount of money for your old iPhone to put towards the cost of a new one. If the device you're trading in has no trade-in value, Apple will still take it for recycling its components.
In packaging, Apple touts that it uses 100 percent recycled fiber in its packaging. Further, the company has pledged to continue to drastically reduce its carbon footprint through continuing to work with its suppliers.
Verdict
As one of the most valuable companies across the globe, Apple has publicly embraced its responsibility to make its products and operations more sustainable. Like Microsoft, Apple is ranked high on lists of most environmentally friendly companies because of its efforts to go green.
A bold step for Apple to take would be to follow in Microsoft's footsteps with a pledge to go carbon negative in the coming decades. The jury is still out on whether Microsoft can achieve its stated goals in the timeframes given. However, if Microsoft can do it, it stands to reason Apple has the resources and brainpower to make it happen, too.
Tesla
Tesla is an obvious choice for many when ranking the environmental impact of companies on our list. The automobile company churns out electric cars, so its effect on emissions is easy to see. However, beyond its cars, Tesla has made some steps in improving its carbon footprint across its production line and beyond.
In its latest sustainability report, Tesla states that its mission is to "accelerate the world's transition to sustainable energy." In that same report, Tesla says that the more than 550,000 Tesla vehicles sold so far have saved more than four billion metric tons of CO2 over 10 billion miles driven.
Tesla also emphasizes its push towards solar energy, touting its generation of 13 TWhs of renewable energy from solar panels. That far exceeds the 5.26 TWhs of energy consumption by Model S, X, and 3 vehicles on the road.
Tesla has stated its goal to move all of its operations, manufacturing, and vehicle charging to 100 percent renewable energy. Tesla is making strides in this goal for its operations and manufacturing facilities by making heavy use of solar panels and hydropower. However, its Supercharger network is highly dependent on the mix of energy generation practices within a given state.
Still, Tesla says that, in 2019, 85 percent of power delivered by its Superchargers was produced by "clean, low-carbon energy sources, including solar, wind and hydropower."
Rounding things out, Tesla recorded a nine percent drop in water usage per vehicle manufactured in 2019, and it recycled 2,900 tons of plastic. Currently, Tesla is working on a battery recycling system at its Gigafactory 1 location that critical minerals and metals are salvaged and "optimized for new battery material production."
Where things get a little less clear is in Tesla's supply chain, which the company says is a mix of automotive and high-tech industries. The company says it is committed to working with its supply chain partners to ensure materials used are sourced in a responsible and sustainable way with a zero-tolerance policy for conflict minerals.
Verdict
Tesla's stated goal of helping to accelerate the move to sustainable energy production is laudable, and it's indeed a significant reason for why the company formed in the first place. Tesla's impact on making electric cars more "mainstream" is undeniable.
The challenge for Tesla will be ensuring that all of its operations, including its Supercharger network, can be supported by 100 percent renewable energy in the future. The company is already on its way there, but a portion of that effort depends on how the states it operates in plan to make the transition to cleaner energy generation in the coming years.
Wrapping up
This is in no way meant to be a comprehensive overview of the practices and policies of the top contenders in our poll. Still, hopefully, it sheds some light on why these companies are perceived as leading the pack in terms of environmental friendliness.
It's also worth mentioning that the other companies listed in our poll have respectable environmental initiatives of their own. Manufacturers like HP, Dell, Samsung, and Lenovo have all established sustainability targets and leverage renewables and recycling in their operations.
There's certainly a long way to go in the journey to cut carbon emissions and ensure sustainable manufacturing processes and operations across the tech industry. While companies may be able to ensure that their own operations are as sustainable as possible, extending those policies to partners and entire supply chains can be a difficult task. Avoiding conflict minerals alone will continue to be a thorny issue for several companies, as a recent lawsuit against Microsoft, Apple, Google, Tesla, and others illustrates.
Embrace Earth Day with more tips to make your tech more efficient!
Windows Central
Android Central
iMore
CordCutters
Get the Windows Central Newsletter
All the latest news, reviews, and guides for Windows and Xbox diehards.
Dan Thorp-Lancaster is the former Editor-in-Chief of Windows Central. He began working with Windows Central, Android Central, and iMore as a news writer in 2014 and is obsessed with tech of all sorts. You can follow Dan on Twitter @DthorpL and Instagram @heyitsdtl.