Acer launches new laptop families with the ridiculously thin Swift 7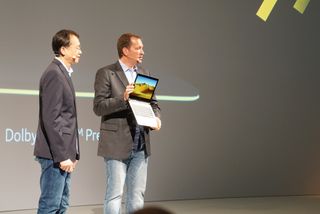 Acer announced new laptop families during the company's IFA event in Germany. The Swift and Spin product lines offer premium Windows-powered laptops with some interesting features. The Swift 7 leads the way being just 9.98mm thick with a gorgeous design and speedy specifications. It's billed as the first laptop to be less than 1cm thick, which still blows the mind of many who can't fathom how the company has managed to pack components inside.
The Swift 7 sports an aluminum body, a 13.3-inch HD IPS display with Gorilla Glass, Dolby Audio, a 9-hour battery life and comes with Intel's brand new 7th-gen ("Kaby Lake") Core i5 processor. Not only will you be purchasing the laptop for its looks and portability, but also the amount of power that will be under the hood in such a thin design. We're excited to get our dirty paws on one to see just how Acer has managed to nail its latest high-end laptop. It'll hit the U.S. and Europe in October for $999.
Next up is the Acer Swift 1, which is just 17.9mm thick and weighs in at only 1.68 kg. This laptop offers improved battery life with up to 14 hours, ideal for those who find themselves without power outlets for extended durations. The Swift 3 comes with a 14-inch HD display and alongside its Swift 1 and 5 siblings, feature slower processors than the Swift 7. Acer has managed to include a fingerprint reader for Windows Hello in the Swift 3 and 5, however.
Prices for the Swift line commence at $249, bumping up to $499 and $749 for the Swift 3 and 5, respectively. They will launch around the same time as the Swift 7.
Should you desire something a little different, the company's new Spin laptops will be just that as convertible Windows PCs. The Spin 7 leads the pack with its 8-hour battery life, measuring in at just 10.98mm thick, sports a 14-inch HD IPS display with Gorilla Glass 4, and features Intel's 7th-gen processors. Spin 1, 3, and 5 are laptops with lower specifications and more affordable price points, much like the new Acer Swift family of products.
Prices for the Spin family start off at $249 and top $1,199 for the Spin 7. The laptops will — again — launch in October.
Windows Central Newsletter
Get the best of Windows Central in in your inbox, every day!
Rich Edmonds was formerly a Senior Editor of PC hardware at Windows Central, covering everything related to PC components and NAS. He's been involved in technology for more than a decade and knows a thing or two about the magic inside a PC chassis. You can follow him on Twitter at @RichEdmonds.
OMGGGGGG... Lovely machines and people still yell Microsoft is dead? :|

People say anything to get atention. Just ignore them.
On topic: If I didn't need a I7, 16GB laptop for School, this was the perfect thing Posted via the Windows Central App for Android

The Verge only cares about (same old) new Chromebooks and reviewing the pink versions of already-reviewed MacBooks.

No-one's yelling Microsoft is dead...

Ineed. It's quite the opposite. Share price this year has been saying Microsoft is very alive.

Alivve..! share prices are highest in the last 3 years.

Microsoft isn't dead, It's just pining for the fjords

Microsoft is retrenching.

You might be confused with the ppl's statement on msft's phone market. Msft is still a king in the pc market (as well as Console Gaming and Business Solutions to name a few) for quite a long time and it is slowly catching up with it's W10M software and hardware development.

Sony would not agree that MS is king of console gaming.

It's like they share 50/50 market share isn't it? Personally, I prefer the xbox over the ps.

Microsoft's stock prices, whilst still being a huge risk, look very optimistic. The company is undergoing huge transformation at the moment but as a result of high investment in innovation and cloud computing Microsoft has broadened their offering and are potentially gearing towards large growth.
The mobile market is shrinking with consumers opting for midrange phones over high end because with advances in technology midrange phones have become highly capable yet affordable. Microsoft knows this and as said before is diversifying and broadening their offering.
Economists are much more pessimistic with regards to Apple at the minute. Apple's cash cow, the iPhone, has experienced a slow down in sales for reasons noted above. Apple's net worth relies heavily on the iPhone, and to a much lesser extent mac. Unless Apples new iPhone 7 curtails some new, much have features consumers will be reluctant to purchase or upgrade to such an expensive phone. Apple must find 'the next big thing' in order for the company to continue to grow and with such little investment in innovation, or product diversification this may be a struggle Posted via the Windows Central App for Android

Actually, what's your point, exactly? What are you trying to tell us about these laptop, exactly? They are good , bad ? Showing promise or what?

He's responding to the very first poster.

No use with this laptop and it is dangerous to hold

What the heck!! What you saying? Too thin you mean?

Of course no USB 3.0, always carry some adaptor for USB 3.0, Ethernet. And it is tough to hold it,there is lot of chance of dropping it

Too thin that it could just break like a cookie in the hulk hand of yours?

Do any of these models have a pen/touchscreen? Really would love a cheaper Surface Book option. Huawei's Matebooks are available limited in the UK but no accessories anywhere months on!

maybe look at the acer switch alpha 12

The Swift 7 also doubles as a knife.

"Not only will you be purchasing the laptop for its looks and portability, but also the amount of power that will be under the hood in such a thin design." Let me add to that... Not only will you be totally disappointed by Acers total lack of support (at least in Sweden). Earlier top models have after a couple of years not been able to upgrade to the latest OS - and Acer does not care a bit. I will never buy or recommend Acer again!

What's stopping people from upgrading to the newer Windows OS? Do the laptops explode if you try?

That might be your experience but I have an old Acer laptop that came with Vista about 9 years ago and is now happily running Windows 10 Anniversary edition. It is big and clunky but still eminently usable and serves as a media centre in the bedroom - so they're not all bad.

Thin is the new computing experience, and light in weight. I hope sometime in the near future, custom rig level hardware would become a fashion accessory. To not worry over updates (solving issues) and stuff

These look amazing. I can't wait to see some in Best Buy. Posted via the Windows Central App for Android

I will be curious to see if Acer has solved the two niggles that have plagued it's low end and mid range laptops -- dim touchscreens and crappy touchpads....
Windows Central Newsletter
Thank you for signing up to Windows Central. You will receive a verification email shortly.
There was a problem. Please refresh the page and try again.