Acer Liquid Jade Primo goes on sale at the Microsoft Store UK for £449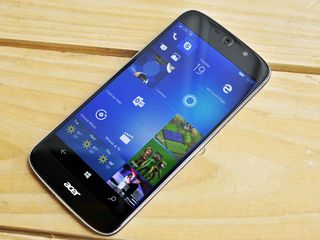 The UK Microsoft Store is now selling the Acer Liquid Jade Primo smartphone with Windows 10 Mobile. The Continuum-supported phone is priced at £449 (opens in new tab) and is bundled with a docking station, mouse and keyboard.
This is the same phone bundle (via Neowin) that has been available for sale in the U.S. Microsoft Store since July, and is currently priced at $649 (opens in new tab). The Acer Liquid Jade Primo itself has a Qualcomm Snapdragon 808 processor, 3GB of RAM, 32GB of internal storage, a 5.5-inch display, a 21 megapixel rear camera, an 8MP front-facing camera and a 2870 mAh battery.
Acer previously announced plans to offer the Liquid Extend accessory for the phone, which would have connected the Liquid Jade Primo to an 11.6-inch laptop shell so it could be used like a notebook. The Liquid Extend was supposed to be released by the end of September but so far the company has not offered an update on that accessory.
Check out our unboxing and first impressions of the Acer Liquid Jade Primo
See at Microsoft Store (opens in new tab)
I do like the looks of this phone, although I know it's not to everyones taste. The 950 on sale at £250 w/ Docking Station is definitely diluting the value for money of this phone though - Unless you prefer the build and looks of this there's not really much it does better than the 950. Certainly not £200 worth of better. I just hope Acer are realistic in their sales goals for their first flagship W10M device and continue to invest in new models. If there isn't anything direct from MS when it comes time to upgrade my 950 I think they could have something quite compelling, their design at this stage feels slightly old school but I'd consider buying this if there wasn't a 950. I hope they release the laptop dock at some point and it connects via normal USB-C, I would love to get one for my 950. The concencus on the lapdocks from various companies is it's essentially a standard USB-C connection/dock so works with any phone that supports it.

Overpriced for an old processor

The general public don't really take this into account tbh. Yes I know the general public aren't generally interested in Windows 10 Mobile anyway, but the point still stands...

Question, does a Windows phone need that powerful of a processor?

Yes. Especially when you are paying that much. Posted via the Windows Central App for Android

Agree with bleached!
If it doesn't needs that high processor then it should be cheaper which means more sales
And the 808 processor is quite old so it shouldn't cost more to manufacturers Posted via the Windows Central App for Android

Actually, windows 10 is kind of needy... They say it's the futures inside. I say it's the lak of interest from ms. To pay more and stabilize/optimize it's mobile system. Android has way more futures and posibilities and as we can all see: It is now faster then windows on the same hardware. Which is not bad, is very bad...in my opinion. Just cause, if speed is not their anymore, camera is not that superior, battery is also nothing to brag about. Then why windows? Me, i like the system, but think about the mass. Well, ms needs to really step up their game if they even remotely want to do something with this system.

While I wish it was the future inside every Windows Mobile, I believe it is spelled "feature", sir :)

I believe the "Retrenchment" which is aimed at encouraging OEMs to produce Windows Phones is actually hurting at this moment because there is no way another OEM can make a phone the quality of the 950 and it's current price tag.

Yep, the 950 massively dilutes the ability of this phone to sell at full price. You would have to REALLY love the physical design of the phone to spend an extra £200 for it. It's a shame it won't sell well as it's a nice device! They could have kept the 950 and XL priced higher since they aren't really going to make a ton of money on the last remaining devices anyway, they may as well have kept the price up and helped the Jade Primo look like a better deal. I know the 950/XL will go soon and not be available, but for this short period you'd be hard pushed to justify an extra £200 for the Acer.

It is over priced no matter what the 950 is at. The price needs to be cut in half at least. There is nothing about this phone that demands a premium price. Posted via the Windows Central App for Android

I paid 200 for my 950, but I prefer my 650 quick only cost me 50.00 on Cricket wireless

Yeah, the 650 is really nice for $50. Posted via the Windows Central App for Android

Yea I jumped on it, I actually got it for my wife but I really wanted it, she didn't like it so I got hear an lg phone and kept the 650.. Lol

It'll probably drop very quickly IMO, the 950 and XL did too in most parts of the world. I do agree it's only considered "Premium" in the W10M world because it supports Continuum which in most parts of the world is only supported by the top W10M handsets. I wouldn't buy it just for that of course.

Honestly if they wanted partners on board they should have upped the price of the 950 to say £50K (and the XL to £75K). Yes, fifty thousand pounds. Because then the OEMs would get free reign to do as they please. And those that absolutely want a Lumia 950/XL would have to part with a ton of cash. Basically only the most diehard would get the Lumia.

The mobile strategy is a complete disaster. No leadership. Maybe this is really why Joe Belfiore had to take time out of there.

I totally agree that mobile woes has nothing to do with technology, OS, or even the app gap. It has everything to do with direction and leadership.

No, he tried selling Cortana .....and then his hair turned White.

What's Belfiore's current role or did he go back just to clean the desk?

Good question. Maybe a source for Windows Central knows what's going on.

Nothing on Twitter since May. Yet some MS people tweeted seeing him on the campus recently. Kinda strange that nothing official.

If only the 820 was in this. Very nice phone. Posted via the Windows Central App for Android

Looks like very old Samsung design. Meh..

I guess the value isn't too bad when you account for the dock, but it still feels overpriced for what could've come to market over a year ago.
Indeed, what's the USP that'd make me go for this over the vastly cheaper 950.
This is why relying on partners is doomed to failure.
It's a good strategy when you control the defacto OS for the device category, but when you're a bit player you'd have to be mental to think you'd get anything other than scraps from third parties. Why can't the MS exec see this?

All very well and nice as it is, what's left on the shelves for contract? Precious little. These are great for people who have cash to go and buy outright, I do this as I don't want tied into a 2 year contract, but as I say not everyone can do this for obvious reasons. As it stands we've got 2 choices, either chug along with what we've got and hope that someday sorry, year, this whole Windows 10 thing actually works the way its intended. In the interim we'll just grow old gracefully, or jump ship and go apple or android!

I'm almost rdy to sell my 950 even though I still use my 650... I'm just not happy with the product.

Why ain't you happy with the 950 I got one best windows phone I ever had best phone I've ever had for that matter and I've had iphone and galaxies in the past the 950 a like the most that's just my opinion but I was jw what the 650 does better that the 950 don't don't blow out of the water are you that vain that a phone with the horses power of the 950 ain't as good as its much cheaper and way less powerful cousin just because of looks

The phone gets hot and it's annoying. My 1520 got hot but not like this. Heck even my 650 can get hot. For
get horsepower for a second, cause I don't need a 808 to handle the apps that I use. The 650 is lighter, the screen while it doesn't have the sharpness or Clarity of the 950 the 650 colors look more vibrant. Now since I'm on Cricket wireless the 650 reception is great and the AT&T 950 is not so great. I done Feild Test and I noticed the 950 while having more bands is missing one band that the 650 has and that is LTE Band 28. I'm not quite sure if this is the reason. But after different test and using different setting still had Sams results. So I hope this has given you insight as to why I choose my 650 over my 950. To note I do enjoy the looks of the 650 , it is what the 950 Should have looked like. Also the 1520 is the best Windows Phone I ever had and still the 950 can't come close to it's battery life.

The 650 W10M is more consistant it does everything you expect, I wouldn't be without mine. Posted from Windows Central W10M 650.

I started to notice that when I got the 650 for my wife and I was setting it up. I started to want the 650... I was glad when she wanted an android, anyways I really can't find much to complain about with this phone. Camera is great, I use it at work for reading faded serial numbers and it works like a charm every time. I do wish the battery was a bit bigger though.

I agree about the 650. I had a 950 for about 6 months before I passed it along. Took many updates to get the 950 to perform decently for me . I have had a 650 for 6 months now and i can say it is by far my favorite phone running win 10. Excellent reception and call quality. Notification alerts that work. Cortana works very well on my 650 also. This phone offers soo much for the price. As many have said regarding the looks of the 650 , this is
what the Lumia 950/XL flagships should have looked like.. and I agree for the prices Microsoft originally charged for the 950/XL.

Acer regret that it was not supported by Microsoft in a same way as hp elite x3 which is selling nice.

How well is it selling? I have seen confirmed sale of 1 unit so far (big retailer that publishes sales)

You still haven't managed to give actual proof of what you've 'seen'.

If link to retailer page that lists the sales is not enough not sure what is.

It's got just as good of a sales page on the store to be fair. A lot of the pushing of the X3 was down to HP themselves too. They produced a number of videos about the phone - I just wish they could have showed off a Skype for Business experience. They can run S4B virtualised but that's not a good experience unless docked.

I want it but the no nfc support kill me

The real problem is the low quality of the accessories Acer send in the bundle. Terrible keyboard and dock

Everything is perfect but the price and acer logo at the front sucks

The problem of the Acer Liquid Jade Primo is the missing of a new firmware for more stability. It is still the first firmware. Unfortunately the Acer restarts up to 5 times in 7 days. To correct this Acer must publish a new firmware.

:))) I can only imagine what the people, that will eventualy buy this phone, will say when their new device restarts so badly on it's own :))) Microsoft FAIL again with their dump OS
Windows Central Newsletter
Thank you for signing up to Windows Central. You will receive a verification email shortly.
There was a problem. Please refresh the page and try again.