Adidas miCoach update improves design and adds SensorCore integration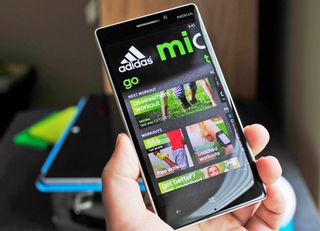 Adidas miCoach for Windows Phone has been updated. Today's update to the popular running app adds some SensorCore integration and mixes up the UI a bit.
Head into the Windows Phone Store and you'll find version 1.2.3.332 of miCoach. Here's what you're getting in today's update:
Design improvements on main panorama
New voice package with Andrea Petkovic
Many bug-fixes & improvements
SensorCore SDK integration to retrieve stride rate during your run
You'll off course need a Lumia handset with the right hardware and the Lumia Cyan update to take advantage of the new SensorCore integration. Look for handsets with either a Snapdragon 400 or 800 processor, plus Cyan, in order to take use the feature.
The rest of you will notice some design improvements with the app on the main panorama, new voice package and various bug fixes.
How far did you run today? If you haven't gone yet, grab your favorite running app and hit the pavement.
Thanks for the tip Diego
Windows Central Newsletter
Get the best of Windows Central in your inbox, every day!
Adidas 4 life.
#1stcomment

Can't wait to try all these new SensorCore apps when Cyan is released. Wonder if Microsoft are going to say anything about their smartwatch anytime soon. Seems like it'd be a great companion to some of these apps.

Yeah I dying for a smart watch already especially if its good!

Me too! I'm expecting a fancy Microsoft smartwatch to expand my L520 capabilities:)

Me too! I'm expecting a fancy Microsoft smartwatch to expand my L520 capabilities:)

Got this update this morning. I'm really surprised that Adidas decided to include sensorcore into the app since it cannibalizes some sales of its stride sensor. But this also makes me uneasy since sensorcore is only a Lumia tech and not open for other OEMs. I would love to have this work on the HTC M8 and honestly it restricts me to only buying Lumias until it is opened up.

I picked up a iCoach HR monitor, but I have so far been unable to pair it with my 630.

Only turned on my motion data today and seen that I walk 11 km in my job, ya'd be surprised how much you walk when you're on your feet all day in work!!

The distance travelled is approximated from the steps you've taken. Take it with a (pretty substanial) grain of salt.

Yeah but still it's 16000 steps, I walk a lot in my workshop

I wonder if FitBit will offer SensorCore tracking so that I don't have to buy a FitBit.......wait....maybe I just ansered my own question. ;) Anyway, I have download miCoach for the first time. I was never interest in using my 1520 with SensorCore apps because the device is huge but the 635 has been perfect! I LOVE Run Rabbit Run!!!! My rabbit has abs!

Fitbit has step tracking on the iPhone 5s and HTC One M8 (Android). So.. take that for what you will. :)

I'd be more excited about myfitnesspal starting with SensorCore functions... that way they'd be even more useful even without the Fitbit integration.

Wish you could share your stuff to Twitter.

Been waiting for this particular update for a long time.

Anyone try Bing Health & Fitness SensorCore Integration? How reliable is it?

Only used it for a couple of days on my 635. It was very reliable - compared it to my Fitbit and it was just a couple of percent difference in steps (and GPS worked great). I would trust it.

I use it all the time. It is simple and the live tile is great. I cannot vouch for it's accuracy as I do not keep track of my steps, have a workout plan or even excercise. There is around a 10 second delay in detecting motion but it is intentional to prevent "noise" as Nokia calls it or accidental counting of steps. The counted steps seem to adjust to that 10 second motion data lapse. I just look at it to see how much a walk at work and the days that I don't walk much. I don't have an external pedometer to compare the data to so everything looks accurate to me since my 1520 and 635 are the only step counting devices that I have. I like Bing Health & Fitness for its simplicy and clean interface plus being able to sign in with my Microsoft account is a major plus for me. I just created an account for FitBit and miCoach just to try them out but I would have rather used my existing Microsoft account instead of creating 2 new accounts. Technically speaking, that'd be Bill Gates. No big deal. aka in the end, I don't mind creating the 2 new accounts but it would have been nice to have the option to "Sign in with a Microsoft Account".

I use it with Bing Health & Fitness on my 930 all the time. It is very reliable. The best part about SensorCore is you do not have to remember to start the app before you go for a walk or run, it just always works. How ever, if you use Bing Health & Fitness to track your walk or run with GPS, it will use that data to more acuratly calculate distance based on the number of steps. So if the GPS says you traveled 2 KM and you did x amount of steps, it now has a pretty acurate steps per KM value that it will then use to calculate your distance when you are not using GPS.

Adidas miCoach is the best running app out there, that is by a mile. No other app comes even close. Well done Adidas for bringing up best miCoach experience to Windows Phone!

I totally disagree...Adidas miCoach does not run under the lockscreen, and drops the GPS signal. Their recommendation - disable battery saver while using the app!!! While I liked using Adidas miCoach on my Symbian OS device, I had to uninstall it from my Lumia. Caledos Runner is my staple.

I've never had an issue with it running under a lock screen that's how I always use it. Try uninstalling and reinstalling it.

I have absolutely no issues with miCoach on 930. Takes 3 seconds to find satellites and never loses signal.

+920 for Caledos Runner! I now also have a FitBit Flex, have linked CR to RunKeeper, RunKeeper to MyFitnessPal and MFP to FitBit. Crazy, really.

SensorCore: Another feature I did not see mentioned with the 730/830 announcement today.

SensorCore & Qi Charging are he two things holding me back upgrading to HTC M8 ... hope to see 83x make its way to the US.

Wow, fast time to News item from tip....

So what apps got support for SensorCore now?

Okay whos facing a problem of downloading voices i was using johan blake bt after this update had to start all over and it cant dowload any voices my wifi is working fine and my net work is LTE but still not dowloading it fails at 24%

Which phone is that on the cover photo? The new 830?? It looks AMAZINGLY GORGEOUS!