Adobe gets its docs ducks in a row with Document Cloud
Acrobat DC apps for Android and iOS (and with easy syncing for Windows access)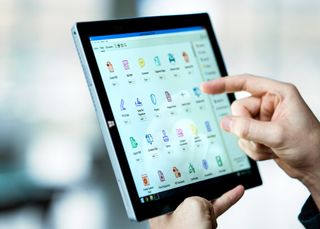 Adobe may have invented the portable document format — that'd the venerable PDF, boys and girls — but for whatever reason its "Acrobat" suite never really had much to do with consumers, and even for biz types it often was easier just to print, sign, scan and send. That ends today with the announcement of Document Cloud, which brings forth Google Drive-like syncing capabilities and the mobile document power we've seen from Samsung.
The broad strokes:
Acrobat becomes Acrobat DC, with "an intuitive, touch-enabled interface." (Because mobile, of course.) The really cool feature is that it leverages some Photoshop tech to let you take a picture of a document, enhance it so it's less like a picture, and then manipulate it like you might a natively digital doc, including with fillable fields.
Document signing gets easier and more powerful across all mobile devices.
Proper mobile syncing means you can start from a mobile device and pick up where you left off on a desktop.
And document management and control services let you manage and control the entire process for sensitive docs.
All of this is expected to be available in another month. Adobe Document Cloud will be available through Acrobat DC for Creative Cloud subscribers. There's also a $14.99-a-month standalone subscription option, as well as the option for a perpetual license.
More at Adobe (opens in new tab)
Windows Central Newsletter
Get the best of Windows Central in your inbox, every day!
Phil is the father of two beautiful girls and is the Dad behind Modern Dad. Before that he spent seven years at the helm of Android Central. Before that he spent a decade in a newsroom of a two-time Pulitzer Prize-finalist newspaper. Before that — well, we don't talk much about those days. Subscribe to the Modern Dad newsletter!
For WP10 later this year...

Is s\he holding that Surface wrong?
On more serious note, I think most of these features are already available on Office\OneNote... (except the last one)

The vents and kickstand are in the correct orientation, but the Windows Logo is on the wrong side. Must be a mockup device, and it just isn't laid out quite right.

Or it's the SP4, and the way they've fixed the button being pressed accidentally by artists is to move it to the left :D

Since Windows rotates regardless of what way you hold your Surface, technically it's not wrong. Maybe they are left handed and prefer it on the left? I'm not sure lol. I agree... I don't see how this is any better than OneNote and just storing my Word and PDF docs on OneDrive.

That's an SP3 and for some reason they've Photoshopped the Windows button onto the wrong side.

Of the Logo was on the 'right' side, it might have been obscured by her hand - marketing at its best lol.

Yeah they are holding it upside down the same as i do cos otherwise I always touch the start button on accident

Yeah, I noticed that too. The headphone jack suggests it's being held normally, with the Windows button being on the right, but that obviously isn't the case. So poor render, I guess.

Btw, good to see you here Phil :)

Thought I was the only one who picked up on that lol.. Android Central in the building lol.. Posted via the Windows Central App for Android

You know, I have no idea what this article is telling me.

I'm glad I'm not the only one. I literally have no clue what this means for Adobe or the consumer :/

+1
And couldn't care less too.

Sounds like a sponsored ad from Adobe for their useless PDF cloud.

Whatever this is, it's not coming to WP.

Doesn't matter. Finance department still demand ink on paper or they won't process the documents. *sigh*

Unless I'm mistaken, legally you can't count that sort of digital signature as an actual signature, which makes it less of a headache for legal and finance departments to insist on paper.

Not to mention most don't even accept print outs of electronic statements... So you have to pay your bank to get paper statements for the months they need lol.

You might have to pay your bank.. I can walk right in my small credit union and they'll print up any statements I want ffor free. =)

I'm going to guess that they photoshopped the Windows logo onto the wrong side so it'd be obvious that it was a Windows Tablet. They shot it from the wrong side, saw the button waaaaay over the wrong way, and had to "fix" it.

Yes... but clearly time to fire that photographer.

14,for,a PDF,subscription no,thanx one drive is good,for,me and,plus I can,use word and save as PDF,

I never thought I'd hear myself asking this question - but.... if these are for Android and iOS only - why is the picture of someone holding a Surface Pro 3?

Thing that the cloud itself is accessible on windows. Just no app

well.. so just the way most apps are supposed to work. plattform independend in a browser

Yup, which is why I don't piss and moan when people complain an app isn't available for windows. Desktop class browser trumps apps 95% of the time........ There is the random chat app, or something else that you may not be able to use, but hardly an issue.

The docusign app for windows phone is decent. Not sure about this one because there is no windows phone app >.> lol.

Off topic : I use a Nokia Lumia 520 internal storage is fully occupied by system storage 4.1 gb how can I clear it help me soon.

Bang it against the wall 4.1 times.

Then immerse it in sulfuric acid for 4.1 second. Careful though!

Microwave it for 4 minutes 10 seconds.

The subscription model. Hmmm I'm thinking that for customer it will be more expensive in the long run, and for Adobe this won't make them,much money. And how insanely many accounts and subscriptions you need today? Beeing a Microsoft fan boy sure stacks up some services alone.

Typo in the 2nd sentence, couldn't take the rest of the article seriously.

Sounds useless for Windows and espeicaly Windows Phones users. Why is this posted here?

Posted here because if you read it carefully, you see that the iPhone and Android apps are made specfically to be able to sync with WINDOWS. This is, after all, Windows Central. Not everything is about your phone.

Adobe sucks... so much monopoly and money, yet, you can find better alternatives, of course they are nt a standard but they are better, Coreldraw is better at vector design, and I know raster alternatives that seem to improve and be on pair and in some ways better than photoshop. and nuance is really nice compared to acrobat, but with acrobat I can use pdf3d which is the only really advantage and this DC doesn't really seem like that important to almost everyone it seems somehwo useless and i don't know what is Adobe thinking by focusing in these non-important things.

I switched to https:\\xodo.com and never look back ! Ttyl Adobe!