Aeries Twitter client for Windows 10 gets new compose features and more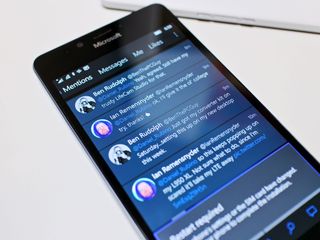 Aeries, the popular third-party Twitter client for Windows 10 on PC and Mobile, has just received a big update that includes a new compose experience for desktop users and much more.
The new compose experience will allow Aeries users to activate it via the Ctrl+N keyboard shortcut on the desktop, along with sending posts with the Ctrl+Enter shortcut. It also allows users to easily paste images into tweets and to create and manage draft messages. Here's the partial change log of what's new and improved in Aeries 2.3:
Pull to refresh!
New compose experience for desktop (Ctrl + Click to pop out compose window).
Crash logging improvements.
Added animations for opening and closing images with the image viewer.
Images now slightly fade in when lazy loaded within the timeline.
Unread count now displays over each timeline, creating more space in the headers.
Unread count now hides when yous croll down.
Pin users as sections
Fewer appearance settings require restart of application.
Quick actions displayed on mosue over now have hover states and animations for appearing / disappearing.
Lots of diagnostic improvements to fix future bugs quicker.
Fixed some issues with streaming stability.
Fixed an issue where retweet notification may not fire if receieved via streaming.
Updated colour pallet in some places.
Navigation performance improvements.
Fixed an issue where the bottom of a tweet detail view was hidden on PC.
Fixed some issues where custom tint colour would not apply.
Fixed a potential crash when deleting accounts whilst streaming.
Fixed an issue where battery drain and performance issues could occur on a poor performant Wi-Fi connection.
Fixed bug where sometimes reply text wouldn't display in tweet detail view.
Improved scrolling performance.
Massively improved navigation performance for quickly viewing user profiles and tweet details.
Fixed an issue where the command bar could stop working after switching sections on mobile.
Accounts page and login page now adopt a slightly gradient background.
Improvements in how sections are managed behind the scenes for more stability and easier future extensions
The Aeries Twitter app is priced at $2.99 in the Windows Store
Download Aeries from the Windows Store (opens in new tab)
Windows Central Newsletter
Get the best of Windows Central in your inbox, every day!
Stopped using all these third party apps after Twitter updated their app.

As a power user no Twitter client fully satisfies me, but the official one is the worst. No polls, no gif button, no photo tagging (the older 8.1 app had this), user profile doesn't show if that user follows you... Until it's feature-complete I'll stick with Tweetium. Sent from my laptop on Windows 10 Pro Insider Preview

Tweetium is a glitch fest.

It works better for me than other clients, once again including the official app. It's the only app I've tried with decent notifications and an *extended* notifications tab (Connect+). Totally worth the Pro subscription despite its UI being a bit outdated and some weird issues/glitches on the Redstone builds. My 2nd favorite would be Fenice but I don't like some UI decisions (full-screen composer on PC/tablets, really)? Gonna give Aeries another try. Sent from my laptop on Windows 10 Pro Insider Preview

If one is only a very light Twitter user, would the official one be ok IYHO versus all the others?

The official one is pretty good so you'd be fine with it. You might not even use the missing features at all. :) Sent from my Lumia 830 on Windows 10 Mobile Insider Preview

Back button doesn't close it now :/ but, it doesn't refresh when I get to the top anymore! #firstworldproblems

Which is better? Third party or official

Official app is more stable and reliable with notifications, but Aeries has cool stuff like better list viewing, landscape mode and an excellent Continuum experience.

I tried almost all 3rd party. So far I am switching between Tweetium and Aeries. I would like Fenice but cant stand that links are always shown compleatly.

Have you tried Aristea? Among all others, it's the prettiest.