Afterglow's Xbox One controller lights up the real world in style
By Rich Edmonds published
Afterglow's Xbox One controller with prismatic lighting is the gamepad I've always wanted for the console and my gaming PC.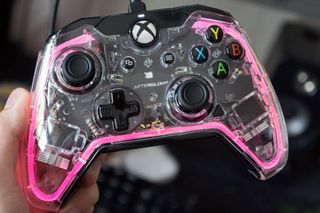 I'm really not sure how this controller managed to pass under our radar, but spotting the attractive packaging in GAME, I just had to make the investment to see what the show is all about. Afterglow's Xbox One controller with its signature "Prismatic" lighting system brings the gamepad to life when you're all set to get stuck into your favorite console or PC title.
The controller itself is completely transparent, aside from the edges and triggers, buttons, etc. You can essentially see the underbelly and all components that transform your physical inputs into electronic signals. It looks the part. There's just something about it that screams "LOOK AT ME!" without feeling at all tacky or cheap. And it's by no means a cheap alternative to the official controller from Microsoft.
So, the lighting. Is it good? How does one alter the effects and can you simply turn it off if you don't wish to have a distraction below while focusing on punching trees in Minecraft? Good questions! The lighting effects can be customized using the command button located on the rear of the gamepad. Pressing once, twice or three times will allow you to configure the prismatic lighting, multi-function wheels and rumble LEDs, respectively.
Lighting
Press the command button. Central LED will show blue.
Use the left analog stick to control brightness.
Set hue color by swivelling the right analog stick.
Hold the analog sticks in position and press the command button to set.
Multi-wheels
there are a total of six inputs in the two multi-wheels. The two wheels can scroll up or down, and can be pushed in. This opens up room to map up to six commands to each action using the method below:
Press the command button twice. Central LED will show green.
Activate one of the two multi-function wheels in the direction of choice.
LED will commence flashing.
Press any of the controller buttons you wish to be mapped.
Rumbling
Press the command button three times. Central LED will show yellow.
Press up on d-pad to enable rumble LEDs.
Press down on d-pad to disable rumble LEDs.
Overall, it feels comfortable to use, much like the Microsoft Xbox One gamepad, which I am already a massive fan of. Here are some more photos of Afterglow's controller in action. It's worth noting that this is indeed a wired-only gamepad.
There are a few subtle differences, like how the buttons themselves seem to travel downwards further than those on the official gamepads (I actually like this), and how there's no USB connection for official controller attachments. It does have a built-in stereo adapter, however. There's a small button just below the right analog stick that can manipulate chat volume and mute microphones.
It appears to be sturdy and I almost forget I'm holding a controller not built by Microsoft. I'll have to see just how long this particular controller lasts for under some intense sessions in Terraria, but for now Afterglow's gamepad is lighting up my life. Quite literally.
Rich Edmonds is Senior Editor of PC hardware at Windows Central, covering everything related to PC components and NAS. He's been involved in technology for more than a decade and knows a thing or two about the magic inside a PC chassis. You can follow him over on Twitter at @RichEdmonds.
I use one of these going between my PC and Xbox. Pretty decent third party controller.

It looks like one of those controllers that your friend always gave you when you played together. Not saying this one is bad but those always were worse.

Worst idea ever! Had a similar controller for my ps4 and the light is the most annoying thing. Bright, obnoxious and try relaxing with a good game in the dark. Lights up the whole room.

Rich is from Essex, he can't settle without neon

I hear you... What is with the bright ass white Xbox button on the XB1 anyway? I sometimes feel like I'm blinding myself if I catch the wrong angle on the middle of the night.

Hahahaha! I actually agree here. :-P

Surely it couldn't be any worse than the flashlight mounted to the PS4 controllers (as far as disturbing a good game in the dark, hehe).

In a dark room the PS4 controller will reflect back off your TV and is very annoying.

Luckily you can control the brightness, so it can be as subtle (or off) as you wish. Even at max brightness, it's not like those old neon controllers that can cause planes to land in your backyard.

it lost me at wired-only.

Yeah, when I was a kid with a sub-30" CRT TV, wired controllers weren't a huge deal. But now that I have a nice flatscreen, I don't like to be 6' max from the TV. I also have toddlers that will easily snag those cords, resulting in either: 1. Tripping on the cords, getting hurt and having to stop playing, 2. Tripping on the cord, pulling the system down with it, or 3. Finding the cord and proceeding to chew on it. Though the 4 yr old doesn't do that one anymore. I found all of these issues out, in one session, when my brother and sister came over to play Goldeneye 64 a few years ago. It's a pain.

Had one of these and the headphone socket was crap so I returned it. Shame really, it looked amazing

Huh, will keep an eye on that through use. Going to start using a headset with it, so we'll see how we go. Cheers for the heads up!

Hey Rich, I work for this company (PDP). Just to let you know there's an App for Xbox One with tons of customization options for the controller. Check it out :) Posted via the Windows Central App for Android

Looks and seems to function way better than their 360 controllers. might be worth the buy.

I had a afterglow on the 360 and it worked very well.

I used afterglow controllers for years on my 360 and they're very good. Posted via the Windows Central App for Android

I've been using this controller since March as my main controller, and I really like it! My TV is not too large so I like the wired cord and no more batteries. Compared to my Microsoft Xbox One controllers, which have each developed some kind of issue like sticky buttons or drifts, and yet this one is still working perfectly fine. The app allows you to change the rumble, and for night, dim the lights so they don't bother you. The lack of official Xbox One headsets is a minor drawback, but I use a stereo headset now so no worries!

My wife uses it as her controller. It's a great controller for beginners and I myself use it when I am too lazy to go to my car and pick up my original controller. Compared to the original, this one has a different feeling but is not bad, it's just different. The heft is good and the little wheels are useful. Maybe not as useful as the Elite Controller pads but they do the job pretty nicely. I highly recomend this controller. It's pretty good bang for the buck (I plan to get one for myself somewhere in the future once my original controler stops working... or just to have a third controller in case my sister visits us and wants to play something like Diablo or Castle Crashers)
Windows Central Newsletter
Get the best of Windows Central in in your inbox, every day!
Thank you for signing up to Windows Central. You will receive a verification email shortly.
There was a problem. Please refresh the page and try again.