Age of Empires 2 may hit Xbox if Microsoft can 'figure out' the controls
We're getting closer to confirmation.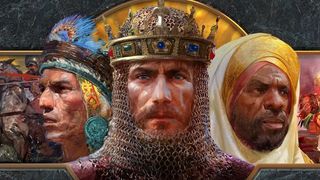 (Image credit: Microsoft )
What you need to know
Age of Empires is a cult classic series that has enthralled gamers for years.
Age of Empires 2: Definitive Edition is coming to PC on November 14.
It looks like Microsoft wants to port the game to Xbox One.
The game will be part of Xbox Game Pass at launch just other Microsoft Exclusives.
Age of Empires 2: Definitive Edition is a remastered version of the cult classic that launched all those years ago. It's coming out on November 14 for PC, the same day X019 takes place in London. It features a lot of behind-the-scenes refinements that should make it a treat to play on modern machines.
According to a report by Twinfinite, Age of Empires 2 may be coming to Xbox down the line. At Gamescom 2019, the team managed to speak with the game's Creative Director Adam Isgreen. When asked about whether the title could come to consoles, he said the following.
Hopefully, Isgreen and his team will be able to figure out a control scheme for consoles. Games like Ancestors Legacy and Cities: Skylines work really well on consoles, so emulating them would serve the project well. Age of Empires needs to come to Xbox because console gamers have been demanding it for years!
Best of the best
(opens in new tab)
3-month subscription

Xbox Game Pass gives you access to over 200 games for one monthly fee. Xbox Game Pass Ultimate also adds Xbox Live Gold to the package so you can play online with your friends.
Jump into digital
(opens in new tab)
Xbox One S: All-Digital Edition
Ditch the discs

Secure your Xbox One S All-Digital Edition, Microsoft's new and ambitious disc-less console. It's the cheapest Xbox One ever made, bundled with a trio of downloadable games.
Xbox accessories you'll love
Every one of these quality accessories is guaranteed to enhance your Xbox experience.
PowerA Enhanced Wired Controller for Xbox One (opens in new tab) ($20 at Amazon)
PowerA's take on the Xbox One controller is an attractive pickup for budget-conscious gamers that nails all the basics.
Talon PDP Xbox media remote (opens in new tab) ($20 at Amazon)
The Talon PDP Xbox media remote is great for watching shows on your console.
Xbox One S vertical stand (opens in new tab) ($10 at Amazon)
Stand your console upright with this accessory.
Windows Central Newsletter
Get the best of Windows Central in in your inbox, every day!
Asher Madan handles gaming news for Windows Central. Before joining Windows Central in 2017, Asher worked for a number of different gaming outlets. He has a background in medical science and is passionate about all forms of entertainment, cooking, and antiquing.
I love RTS games. I have since the original C&C. But playing them on console is a nightmare. These are PC games. The only real way to play them on console is with mouse and keyboard support.

I once said the same about fps games.... I didn't quit the kb/m business until Halo showed me the right path

That would be an easy solution, though I'm sure they don't want to do that because of the confusion it would add. What if someone bought it and then realized they can't play it? Will the Xbox do a check for proper hardware before allowing a purchase? It gets a bit messy when you get about to put this kind of restriction into place. There needs to be some more mouse & keyboard solutions designed for Xbox. The Razer Turret is a poor solution that requires dongles, the mouse and keyboard use different charging connectors, etc. Someone needs to release a set that has Xbox Wireless built in and they both charge with USB-C. Until we have proper hardware, this isn't realistic.

I find it hard to believe that gamers have become less intelligent as times gone on.
They never had trouble, with understanding that peripherals was required in the past. That singing game with mic, guitar hero, light gun games.
Sure some could be played with controllers but was pretty clear to anyone who bought it, what they was getting and required. Pretty sure most people who wanted to play this on Xbox would be more than happy to use a bog standard kb/m (preferably wireless) if it meant they could get to actually play it. Don't need to use the razor.

First, put on X1 with M/K support only. That way we can play! I really want this. After that, u can try to put "joystick support". I just want to play it and I don't have a Windows PC . I have MAC for work and X1 for entertainment

Well, why not release it even if it's just for Mouse and Keyboard. Every person interested in this gane would absolutely play with M&K. They added this feature. Just release that version and figure out controller issues later.

"Every person interested in this game would absolutely play with M&K." This is a completely false statement, especially if released on GP. You may be correct in saying that even most people who are serious about playing this game will, but stop with the blanket statements. I have no intention of plugging a M&K on my XBOX, and I would probably try it on the console, especially if it's 'free'.

You wouldn't try it if it said kb&m required.

Nope, at least not on Xbox, and isn't that the point of putting it on the device?

One of the points of putting it on there. One of the other points is to let people play it who would like to, even if it's via m and k only. If you don't want to, that's fine also.

You are missing the point. The original post stated that everyone who wanted to play it would do it via M&K anyway, that was incorrect. Regardless, the point of putting it on Xbox is so casual gamers or others who wouldn't normally be exposed to it can play it. These people more than likely aren't going to have a M&K on their box or even know that that option exists.

Sorry. It didn't realize it snowed today. I'll rephrase as you wish, my master. The majority of people. Is that more to your liking? I said work out controller later. Why make all of us who would play it now with M&K on Xbox wait, because you have an issue with using your PC M&K with your Xbox. Seems like a silly reason to make me wait, when M&K controls already exist for the title.

Windows Central, if you can ask MS however you can that fans want it to come to Console with just mouse and keyboard that would be awesome. Surely the reason they added this support is for PC games like RTS to migrate over with controls unchanged?

Just copy the controls from the Playstation 2 version.

Well they have Halo wars series to go off of. Sure they could figure something out.

I hope with this MS learns that Gyroscopes are important in controllers.

They did it great with Halo Wars 2. It'll happen.

AOE games are hugely micro management games even for the RTS genre. Go watch a video or Twitch stream. Trying to play with a controller...no thanks.
Windows Central Newsletter
Thank you for signing up to Windows Central. You will receive a verification email shortly.
There was a problem. Please refresh the page and try again.