Age of Empires: Castle Siege update improves connection errors and more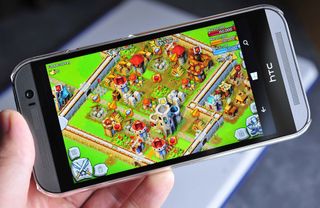 Age of Empires: Castle Siege has just picked up an update! Head to the Windows Phone Store and you'll find the game at version 1.0.2.2316. Today's update helps fix the dropped connection errors you might have seen while playing and more.
Here's the full changelog of fixes in today's update:
Bug fixes:
Made improvements to dropped connections during battle. This is an area where we are constantly monitoring and improving.
Fixed a crash caused on some devices by deploying many infantry at once at the opening of battle.
Fixed a crash during transitions in matchmaking
Fixed a crash involving soldiers leaving siege towers
Fixed other miscellaneous crashes.
Gameplay:
We've modified the way we award crowns for players in Ages 5-8.
Wall troops have undergone a strict training regimen against the wiles of the Wololo. As a result, Joan of Arc's Convert ability no longer affects troops on walls.
Keeps have bolstered their defenses against mounted troops.
Winrich von Kniprode has found a flaw in these new defenses and now has a damage boost against all Keeps.
Richard the Lionheart no longer feels it is an efficient use of his skills to boost mounted troops and will now only boost infantry as per his description.
Fixed various path finding bugs.
General:
Players will no longer gain achievements from visiting another player's castle.
Phone notifications improvements.
What do you think of today's improvements to Castle Siege? Grab the update from the Windows Phone Store and let us know what you think!
Windows Central Newsletter
Get the best of Windows Central in in your inbox, every day!
Seems like its causing connection errors

Servers are still down for maintenance.

Great timing? They should link to the downtime page instead of forums on the no connection screen.

Forums are getting overloaded now too!!!

This game is a failure. They could keep the servers down for some years

Lol because it is down right now!!!

Teutons, feel free to join our alliance 'Teutonic Order'!

Servers are up and running again.

i dun quite understand whats the point on alliance... since alliance doesnt help u defend ur town xD but flooding some stupid "X shared fight with u"

Fun game, but needs to get clan chat in there. Also ability to send troop support.

Yup! It just needs sponge sorry of chat feature, esp since its online play

Agree. And I would add also a way to have combats between clans!

finally they fix the BS cav rushes

Those were way out of balance, I still say they need to do more to strengthen fortifications at higher levels.

Well, ever since the update I no longer am able to enter the game. I really like it but these constant server problems really really annoy me. This is why I don't like games that require external servers or internet connections...

And I was so looking forward to getting Joan of Arc.... She was the one to have....

OH NO~~~ "Wall troops have undergone a strict training regimen against the wiles of the Wololo. As a result, Joan of Arc's Convert ability no longer affects troops on walls......" haha

All units should have reduced dmg vs walls.

And then the game would be pointless.

I think twice-born meant non-siege weapon units. Then siege towers would no longer be pointless. Right now one of the best ways to get through a stone wall is to have a bunch of knights chop it down with swords. That's stupid.

actaully it is long bow man which regularly ruin my castle anyways

But that was the whole point of Joan of Arc, you just made her ride around the keep converting the archers on the walls, so they would take down the towers and supplies for you. Lame, now she's not much better than elephant dude who scares them off.

Archers converted also attacks castle. I've seen it. Its very cheap of a move.

Now it even starts up on my phone!

I hope I can't be attacked until I can get wifi to update...........

I am hoping a future update adjusts the standard for defeat. If my walls aren't breached and my keep is still standing, it should not be considered a defeat no matter what the attackers looted.

The castle was tougher than before! I usually using castle rush with cavs but now 10 cavs is not enough to destroy the keep.. And my opponent was the same (revenge always) and my 1st time i lost in my attack with him

What % did u get the keep down to with 10 cav? And what lvl keep is it?

I'm glad the cav are nerfed... Got raided by cavs all the time!!!

They also got rid of viewing other peoples battles. This was sort of a loophole to view where hidden defenses are. So glad.

Great game, can't stop playing it. yeah was going to grab Joan of arc, oh well

Started to get into this game then deleted it. My wife still plays it.

Huh???? I can no longer see the replay of how my defenses lost??? Is anyone else facing the same problem. If i dont know where my defenses are weak how will i change them? Edit: Nevermind, the old replays generated in the previous versions can no longer be seen. The old replays are not supported by this version.

F@ck..reinstalled app from SD as I cannot connect to a decent WiFi, now it always says "sorry we can't sign you in".

My L930 is rapidly overheating when playing AoE (in about 10seconds). Is anyone having this problem, too?

I have Lumia 925 and there is no overheating issue.

Yeah me too mate...L930 definitely is!

game becomes really boring after upgrading to higher units, it takes 2-4 days to upgrade without spending coins and the IAPs are really expensive. I dont feel like playing the game anymore, bored with same stuff of attacking and upgrading the keep.

I'm just glad they fixed the achievements on Windows Phone. Had a crapload pop once I loaded the game.

Tried to update 4 times , shows error while installing, anyone facing this problem? Also uninstalled this game and tried to install again , still no luck!

Turn phone off and on, and stay on install page, I have that issue with twitter :D this made it work for me ;)

LOL! After update I got attacked by age 8 guys only with over 2000 crowns. And I'm age 7. I don't play that much but damn! Lost over 400 crowns since yesterday. :'(

Very grateful 2 u .ur tip worked for me Had to download a total of 1.05 gb , but its ok

The heck??! I've just uninstall this full of crap game and then the update came in??I hate it when constantly being raided by higher level opp when I'm at lvl 6 and the fact that my revenge fails miserably, really!! Y,,,Y

Something is wrong. After the update, I can't watch replays from the Defence Log. Is it part of the update? Please enable the feature back!!! I need it!

Can't update! Shows error 80004004

How does one get the cannon tower, only one guy has it( I guess) the no 1 on leaderboard! He has over 4800 crowns!

I can only play when I'm on WiFi and not when I'm on data network. Is this normal? Buy the way I have HTC 8x.

Stop calvery charges. Cannot defend against hoard of mounted riders

Did they make it offline yet?
Windows Central Newsletter
Thank you for signing up to Windows Central. You will receive a verification email shortly.
There was a problem. Please refresh the page and try again.