Age of Empires II HD: The African Kingdoms expansion to be released on Nov. 5 for PC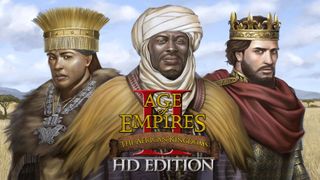 Age of Empires II HD, the graphically revamped version of the classic RTS game, first developed by the now defunct Ensemble Studios, will get its second expansion pack on November 5 for Windows desktop gamers. It's called Age of Empires II HD: The African Kingdoms, and it's being developed by the Forgotten Empires team, which previously released The Forgotten expansion for the same game.
As you might expect from the title, the expansion will include new campaigns, units and more that center on the African civilizations. It will also feature English voice acting for the campaigns. Pricing for the expansion has yet to be revealed. The Forgotten Empires team is already working on another project for Microsoft; Age of Mythology: Tale of the Dragon, an expansion for the recently launched Age of Mythology: Extended Edition revamp, again based on an old Ensemble Studios RTS title.
Source: Forgotten Empires
Windows Central Newsletter
Get the best of Windows Central in your inbox, every day!
I always prefered AoE3. Give me a HD remake of that.

Aoe3 can't compared to aoe2.. Both are different game..

I always prefered AoE2, it reminds me my years in college with LAN party's in the Computer labs. I purchased AoE2 HD Forgotten and it is not just a new aspect/ratio change, for HD monitors, you can increase units per empire from 200 to 500 and maps are now much bigger. Too bad I'm 36 today and there are no LAN party's anymore, it was very fun to play with my friends from College.

What year is it?! (voice included? With dlc??)

They better have shaka Zulu

Microsoft should do a reboot of this game (and preferably Age of Mythology as well) Now that they're doing Halo Wars 2 for the Xbox and PC, hopefully they have a killer new engine behind it as well, that they could use. Purr just do Age of Empires IV already.
As for this expansion: I'm 100% sure I'll be getting it

Me too, I'm getting this expansion, but the game could get a redo for 2017 with same awesome gameplay but better graphics that reflect DirectX12 state of the art improvements

It will be available on steam or on desktop

I don't know why they call this HD when from what I can see the graphics didn't change... Like others i would love to see AoE 4, or maybe in a few years they will just do AoE 2: 4k Edition lol

Because it has HD resolution now.

Because AoE had a 4:3 aspect ratio since it is a game from late 1990's decade. You could not play at 16:9 aspect ratio

You could with a free Mod; if they wanted to do an official HD remake, they should have done it right, not just make the old thing compatible with modern systems with close to no texture or graphic update.

Yeah, apart from resolution fix, the graphics look terrible, they did not even bother remaking the intro cinematic or producing better textures for the menus and tech tree. Rather then these expansion, I would like a proper HD remake, same for AOE1.

This is great... But a revamp world still be nice... I like castle siege, but of they could do ll like that with me places in lV, it'll be worth it

Meh, I would much rather see AOE 4 released, or a revival of AOEO.

Why cant any of these pc versions ever be released for windows phone and not that sorry excuse they released in the app store.

They should make AOE 4 or AOE : Age of Mythology 2. Posted via the Windows Central App for Android

At least bring back the old AOE to windows phone like they did in the old windows phones.

Why did Microsoft disband Ensemble Studios again?