Aio's new Group Save plan takes on Sprint's Framily Plan discounts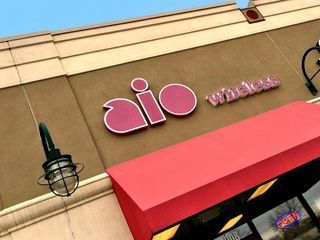 A few months back saw Sprint introduce their new Framily Plan discounts that allowed customers to see reduced per-line prices for each line added to their account, and now prepaid carrier Aio is firing back with their own version of the concept. They're calling it Group Save, and it could save Aio customers up to $90 when they have five lines on their account.
Aio's Group Save plan requires less math than Sprint's Framily plan, which comes as a great relief to those of use that struggle with simple arithmetic. The Framily plan offers Sprint customers a per-line discount equivalent to $5 off for each line on the account — 4 lines would equal $20 off per line. If you have several lines on your account, it can really add up to significant savings, though the Sprint Framily plan caps off at $30 off per line.
Group Save from Aio is a little more straight forward, offering a discount off the entire monthly charge based on how many lines you've added.
1 line: $0 off
2 lines: $10 off
3 lines: $30 off
4 lines: $60 off
5 lines: $90 off
Existing Aio customers in good standing will be automatically enrolled in the Group Save discounts.
Press release:
Aio Launches 'Group Save' Plan on Multiple Lines
Customers can save up to $90 in monthly discounts with new offer
Alpharetta, GA, April 16, 2014 –Aio Wireless announced today a new Group Save discount program for customers who want to combine multiple lines onto one account or add new lines to an existing one. The plan offers discounted monthly charges beginning with the second eligible line added.
"We created Aio to provide affordable options for value-conscious customers. Our new Group Save multi-line discount program is one more way we're giving customers options to save," said Andy Smoak, Aio's AVP, Product Development. "Whether it's combining several wireless lines of family members, business colleagues or friends, Group Save is delivering discounts our customers deserve."
Group Save is available for new and existing Aio customers in all Aio markets. Customers in good standing with at least two eligible lines of service on one account will be automatically enrolled to receive Group Save discounts. The first eligible line does not receive a monthly discount; only eligible lines two-five on the same account receive the monthly discount.
Customers can create their own Group Save accounts by combining wireless lines within the same family or grouping friends who want to save collectively on their wireless plans.* Group Save discounts are available on Aio's $40 and higher plans and customers may combine any mix of qualifying plans on the account. Discounts will increase incrementally with each eligible line on the account beginning with the second eligible line.
Windows Central Newsletter
Get the best of Windows Central in your inbox, every day!
Derek Kessler is Special Projects Manager for Mobile Nations. He's been writing about tech since 2009, has far more phones than is considered humane, still carries a torch for Palm, and got a Tesla because it was the biggest gadget he could find. You can follow him on Twitter at @derekakessler.
It's too bad they lowered the throttled speeds to 280kbps.

It's actually a bit slower (dial up speeds after using main data)

Id rather have slower speeds than get a nasty huge bill at the end of the month. I was on ATT, moved my 920 over to AIO, a month in, and so far i'm loving it. The new data sense helps a lot too. (win phone 8.1)

I can't find the actual release anywhere, do you have a link to the source?

Yeah i noticed that too. Pretty hilarious considering that the error was in the damn title.

Not an error, that's sprint marketing. Friends/Family plan

Where've you been? It's not an error at all. "Friends" + "Family" = "Framily." Have you really never seen any Sprint commercials advertising the plan? I've been seeing them daily, including that freaking weird one with the hamster.

Breakfast + Lunch = Brunch, and dad likes brunch.

No spelling error there. That is how sprint calls the plan.

Yikes it's actually 128kbps
https://www.aiowireless.com/legal-info/Data-Speeds.html

I still find this preferable to being charged when I go over. Plus you can add a gig anytime you want on the website, if you choose.

I totally agree. I'm much happier than when I was on att.

Haven't been close to hitting my limit. It is a little funny how when I was with AT&T I was going over 2GB every month (my limit was 3GB) but since I switched to AIO I haven't even been close to 1GB. Not even close, and saving about $60 a month.

All I know is that I couldn't stream pandora when throttled on T-Mobile. I can on AIO. FWIW. Edit: According to some posts on howardforums, T-Mobile's throttled speed is actually 60kbps. I guess that explains it.

Last month I took a trip to Vegas on throttled data and I was streaming Pandora the whole time.i don't think I'll be able to do that anymore:(

Ok so lets say you did their $40 plan which is $35 after auto pay discount. 5 lined at $35 = 175. Minus the $90 discount for 5 lines it comes out to $85, or $17 per line. Is my math right here? If so I'm switching from T-Mobile. That seems to good to be true though.

it doesn't look like the autopay discount stacks with the group discount

you are correct, it does not. still an awesome deal though.

Setting this up now for my wife and I and you're right becomes just one auto pay discount. Still not bad!

Ah okay. Well damn then, I'll probably stick with T-Mobile since I'll only be paying a little bit more and they now give 1GB of data at high speed.

This means you don't save anything with 2 lines from before... Since if you have two seperate lines with autopay discount, you'd have $10 off. But I guess this unifies accounts.

No, auto pay discount will only be applicable once, as this is done per bill to be paid. In case of a group discount you'll need to pay one bill only, thus only one auto pay discount. I had this conversation yesterday, and that's what I was told.

So I guess everyone does not get a separate bill, ala sprint?

Yes and that's exactly why I switched from T-Mobile. The reception was horrible, nowhere near what I'm getting right now. So far pretty happy, and a good saving as well comparing to what I was paying at&t before switching to T-Mobile, like $70 for two lines.

Just did the same thing myself. So far no issues with AIO. My only wish is that they would support secure SIM's for NFC payment solutions... Also the Lumia 620 is a lot nicer then the Lumia 520/521. Sadly it doesn't have Lumia Black, but I am rocking WP 8.1 on it!

If there is Country Varient 620 somewhere in the world, flash the 620 with it. I've done this with my Lumias (920 and 520) and it's so much better than having carrier version on.

Me too! I personally wish the new 6xx series devices were just like the 620 but bigger screen and more RAM. Everything but those two points on the 620 is great!

Which in itself makes them totally not worth it.

unless you want the ATT network coverage at a great price. There's no contract so if they do something stupid you can leave whenever you want.

From what I've read, although it is owned by ATT (and soon to become Cricket) the coverage is not EXACTLY the same as the standard/premium ATT coverage. It's close enough for me, so that is why I switched from Tmobile.

The way I understand it, is that it works on AT&T's Network. However, if you go out of their network, Data will not work. Whereas in their premium postpaid plans, they'll include Data Roaming even if you're using someone else's network. As a previous Post-paid subscriber, I really haven't noticed any difference in coverage.

You'll also be the first ones kicked off of an overloaded tower. This doesn't happen often but it's important to know.

FWIW, I was amazed today when I dropped off my cleaning that the AIO store near my house is promoting WP. There was a HUGE display in the window. It looked like a big decal of some kind in the shape of a phone with live tiles. There was NO other phone on display in the window. I was so shocked I took a picture and posted it to reddit.

Cool cool...makes me proud to be an AIO customer.

Too bad it's only lip service. They were the last in the US to release Amber. They're now the last in the US to release Black (still not out). If that pattern holds, Cyan will be sometime in 2015, if not later.

Better to be late (AIO 620) than never (T-Mobile 810). But one can always use AT&T phones with AIO, My Lumia 1020 got the update when AT&T rolled it out.

At this point, I'm assuming AIO will be never with Black. Why can't I buy an unbranded 620 direct from Microsoft or Nokia for $150? or even $200? I've considered flashing mine to an unbranded country version, maybe something like Finish or similar, and just changing the location/language.

Nice. Before AIO was cheaper than T-Mobile for 1-2 lines. It was break even with 3, and slightly more expensive with 4-5. Now AIO is cheaper across the board. Time to move my other lines off of T-Mobile. :)

Anyone with AIO gotten VVM to work? I have a 1520 that I had with ATT and my wife has a 925 and neither of us can get VVM. Rep with AIO says it should work but....

AIO only has VVM working with Android devices currently. No idea on an ETA for other platforms.

Pretty good prices. Maybe I'll switch my family over once our AT&T contracts are up. We're currently on the no-subsidy plan but some of our lines are still in contract.