Airbnb says it hopes to release a Windows 10 app 'sooner than later'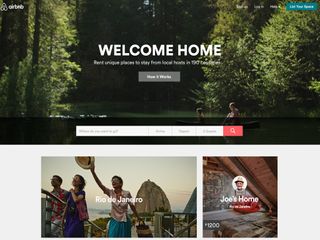 The popular home rental company Airbnb apparently has plans to release an app that supports Windows 10, but so far details about what it will be like have yet to be announced.
According to a response on the company's Help Twitter account from a person who asked if the company had plans for a universal Windows 10 app:
It's important to note that the response did not state the Windows 10 app would also work for Windows 10 Mobile as well. Airbnb did release an app of sorts for Windows 8.1, but it was really only a wrapper for its website. It has since been removed from the Windows Store. We will keep track of Airbnb's Windows 10 progress and will post updates if we get any more information.
Thanks to Daniel for the tip!
Source: Airbnb Help (Twitter)
Windows Central Newsletter
Get the best of Windows Central in your inbox, every day!
Are there currently apps already in the windows store that were produced with the help of a bridge - I mean especially ios or Android? Is there any indication? ​

The Bridges are not finished yet. So, no.

Just Candy Crush as far as we know from Islandwood. Westminster has released a few web apps. The thing about the bridges is that consumers aren't suppose to know the difference, so Microsoft isn't going to have a banner that says how it was made.

Ok - I thought so. But I hope they will have a banner! That should say: "look this complicated app was ported within one day. And it was improved with cortana and other things." Yes I know - but let me dream ;)

While that might not happen, Microsoft could do something of the sort in its Build event for developers. Emphasizing how easy it is and how some big partners did it
Another thing is it would be great if it took only a couple of minutes and Microsoft did it in front of developers in the event

I think they want devs to use it and will probably talk about some of the big named apps that have used it and are successful. But i doubt they want to advertise that people aren't ACTUALLY making native apps.. They probably would prefer the native apps and want people to just assume an app is native.

Yes - I agree. The target of advertising schould be the dev community. The normal user doesn't care.

I think other games have used Islandwood too, not sure though. Same for Westminster, just a few select apps and partners.

I don't think so, if there were sure there would be some articles about it. tools are there, hope developers make use of it and port their apps if not create new one from scratch.

Yet finally. Enough of this app fap crap. Equality creates more revenue

Build 2016 will fix our app problem.

Where did you buy the Optimist Cola you drank last night?

Nah man, Nuka Cola Quantum...now on sale at Target! ;D

I hope so. I have high hopes

Why developers may realse an app for windows 10 but skip the mobile version? Does building an UWP cost a lot that make them,to forget smartphones?

Uhmmm... Because Windows 10 mobile isn't available to the general public yet...

No its the same code. There's not two different apps. It's just one. They're probably just waiting for Windows 10 to officially launched on phones.

Well it takes a small manipulation to make it work great with phone from what I understand

I tried AirBnb Android app on my W10M and it worked fine. I think they should release it immediately like that and later update to native UWP.

We heard anything more about this one? Unfortunately the app gap is only growing...