Al Jazeera English launches official app for Windows Phone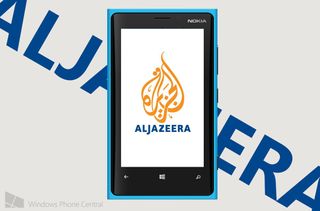 Al Jazeera English is a sister channel of the popular Arabic-language news network Al Jazeera. Al Jazeera English launched in 2006 and was aimed at broadening the portfolio and audience. So far it's been met with fairly good reviews from critics and viewers, picking up various awards since its inception a few years back. Here's an award from Al Jazeera English to its viewers and readers on Windows Phone, an official app.
This one slipped by our radar, as its been available in the Windows Phone Store for about a week, but it's always good seeing major companies release official apps for Windows Phone. This is an anecdotal observation, but the past few weeks seem really busy with either updated or new official apps – a good sign for the platform. This is what you get with the official Al Jazeera English app for Windows Phone:
All the latest news, features, spotlight, opinion and blogs from Al Jazeera English
Programmes videos and information for the latest shows
News video clips
24 hour free access to the live broadcast
Breaking news alerts
In Pictures gallery
Send your media to Al Jazeera
Search articles
Preload articles
While we'll always welcome official apps to the fold, this one is a little rough around the edges. Some video content requires you to have the 'official' YouTube app from Microsoft. A little odd, but they do offer live streaming of the news network which sort of makes up for it. Another niggle is the lack of 'fast resume' with the app and the lack of double wide tiles or lockscreen support. It makes me think this app was developed with Windows Phone 7.5 in mind and not Windows Phone 8. Those issues aside, fans of Al Jazeera English will probably like having the content available on their device.
Any readers of Al Jazeera English want to chime in with their opinions below? Go right ahead.
You can download Al Jazeera for your Windows Phone 7.x and 8 device here from the Windows Phone Store, use the QR code below, or swipe to the right in our app.
Thanks for the tip Matt S!
P.S. Play nice in the comments.
Windows Central Newsletter
Get the best of Windows Central in in your inbox, every day!
Please do not post discriminatory comments as it is against site rules. Now to the article at hand it's good to see these apps coming in, eventually instagram will show up.

Isn't this comment discriminatory in and of iteself? What makes you think we would say something discriminatory?!? For you to default to "discriminatory comments" as you did makes you appear predesposed to assuming the rest of world would offend this news channel. So Eric, thanks for your pious and dimwitting lesson in ethics. Common sense is our guide...not "Eric". Please ban me if it means "Eric" is the decider of what makes sense. Sheesh.

Wow people commenting here must be on crack.

a dead man typing actually. :)

If you don't like it, don't download it :) I on the other hand will get to try this beautiful looking app and all, while you guys sit on ur computer and argue about nonsense!

I love living in a world where anyone that disagrees with me is brain damaged, dumb or racist. So easy! I don't have to even think! Just throw a few insults and curse words, ignore what anybody says.
BTW, next time I scroll down to read the comments, please turn my computer off.

Guys....go launch the app and click on America. Then read some REAL news that your TV surprisingly didn't show you today and probably never will.

Al jazeera the most unbiased news in the US ; maybe except c-span.

It is true Al Jazzera does air news from an unbiased stand point. The reason most in the western world disagree is because they don't like what they see. So they call it terrorism or some other crap. The news, the real news, is aired on this channel. I cant say the same for most other channels aheemmm fox, cnn, abc, etc. There are few other respected channels but 90% of the time other channels will twist the news.

CNN Euro as far as I can see is still pretty decent but their American counterpart seems to be heading downhill quickly

Unbiased? News is inherently biased. Any news that paints the Muslim Brotherhood in a positive light is trash news. Al-Jazeera English is biased.

They haven't... take a look at their reporting on Egypt, it isn't flattering to the current Egyptian president! Again, before commenting, go watch it!

I agree. These guys commenting against Al Jazeera have probably never watched the channel for more than a few seconds. Some just don't have the balls to know the truth.

I am literally loving this! I love AlJazeera and suggested they build a Windows Phone app back in 2011. WOOOO!

I'm going to check it out. I want to see how opinions differ with those talking heads here in the states.

And that is the key point, overseas have their own set of biases, it is good to know what the world thinks of the states

Now they need Euronews...

Great app with no live tile? WHATTT??? Nnoooooooooooooooooooo.....

This is great. Al Jazeera actually has good international news. Now, my news needs are almost complete, don't have to use weave anymore. :)

Aljazeera is the best newsource in the world. I love it! and am really glad to see this app. Hopefully, they will polish it soon.



Well... another Al Jazeera app that you in the states might or not have access to is "Al Jazeera Sport" which comes pre installed on Lumias in the region (Saudi Arabia here). The app by far is the best I have seen. Streaming live matches (football i.e. soccer) in SD and HD. Watching all Al Jazeera Sport 12 subscription channels live. By far the best :D

its full of crap dont believe there news..


Don't believe the football score, they're lying. Hahaha...

low IQ... Keep it up buddy how lame

Comments removed. LOL. Looks like we chimed in a bit too much.

Al jazzera was great but now its full of bullsh!t especially in the issues in the middle east! I'll never listen to this crap channel even if they pay me! Al jazzera was honest but then during the issues in middle east they became part of the issues and took sides and made up full of lies and the channel lost many employees they quit when it started fabrication there news also watching rates drop down badly

Be careful....i posted the same thing, but summed up in one sentence and ny post was removed. You can only post on this subject if you support this crap.

who cares really, if they wanna delete it they can....

As a Canadian, I read CBC, CNN, Al Jazeera and RT every morning to take a good look at the world. Once you read the same news from different sources, you get a better picture.

Respect! I may try this out. I feel like our 'media' (it's not 'news' to me) is mush at this point so I may try out your setup just to get different points of view. I read a supposed news article this morning about a touchy subject here in the states and it was funny the blatent way the writer was leading the reader to a conclusion that was not yet proven fact. It will be interesting to see how other countries handle journalsim - hopefully journalism survives in the end.

This is a sensible thing to do for anyone in the world, as it will always offer you more viewpoints on the matter, regardless of country.

I find news boring full stop lol

Al jazeera is pretty good. Very unbiased and objective. Also love their documentaries. Looks like if BBC is not cooperating I might switch to Al Jazeera as my staple source of news.

I think the app looks very good too. Well done stuff.

About time the app is out!

Nice to see this app available. Unfortunately some people in the west have had too much hate and prejudice hammered into their minds from biased western media so they automatically assume any other viewpoint is not valid.

I truly don't know why ignoring something you don't like (when its something as trivial as app) is so hard to do.

Disregarding politics, biased opinions and whatever stupid shit people keeps bringing up, its a very well designed app with great features.

Make sure location services are off before using app. Do I hear the assassin drones above?

I have not been able to get the live feed to work.

This app is pretty well designed. What are you doing BBC, you lazy bunch of monkeys.

I watch Al Jazeera's English language channel all the time at home...tons of info on international sports, news, current events, technology, etc., all without any bias that I notice.

Anway, +1 to A.J. for developing a WP8 app!

Hi all I can't get the live tiles to update. Otherwise this i a great app.

Al Jazeera is no longer an impartial media house, its a spokeperson for Qatar, spreading their propaganda against Syria and arming Al Qaida in Syria.

so we should support syria's dictator? go back to your own planet moron!

He is not a 'dictator' you stupid mental fuck.

I have a Nokia Lumia 710 with windows phone 7.8 and my mobile provider is Mobilicity. Can someone advise me as to why I am barred from downloading this app?
Windows Central Newsletter
Thank you for signing up to Windows Central. You will receive a verification email shortly.
There was a problem. Please refresh the page and try again.