Alienware's new 13-inch OLED gaming laptop launches starting at $1,300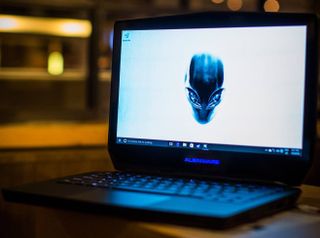 Dell's Alienware division is now selling the Alienware 13 OLED gaming notebook with a high contrast display. The notebook is priced starting at $1,299.99 (opens in new tab).
Consumers can get the notebook with either an Intel Core i5 or Core i7 processor, along with either 8GB or 16GB of RAM. There are also options for a NVIDIA GeForce GTX 960M graphics card with 2GB of GDDR5 RAM or a GeForce GTX 965M with 4GB of GDDR5 RAM.
See at Alienware (opens in new tab)
Windows Central Newsletter
Get the best of Windows Central in your inbox, every day!
Nice piece, I went for hp spectre

GPU is underpowered. GTX 960wont be enough for 2017/18. Waste of money

Don't see why not for majority of games at decent settings.

You can also get it with a GTX 965 and/or you can get the graphics amplifier with it so when you're at home you can plug it in and use whatever graphics card(s) you would like.

I'd be more interested in this if they didn't use a proprietary system for external graphics cards. I want something with a low power onboard GPU and versatility like a Surface - but with a 4K OLED screen and support for thunderbolt/usb 3 for external graphics (like for the Razer Core). Anything like that coming in the near future?

Well dont count on it being in a 13"

I am so waiting to buy another laptop for another year or two. Then we will be able to buy nice slick and (relatively) cheap ultrabooks that can dock to an external GPU for gaming. I just can't justify spending $800+ on a 'gaming' laptop that will only be 'meh' performance, and be totally out-dated in a year or two (or easily stolen/damaged).

I just found a Surface Book i5 / 256GB / 8GB/ dGPU for $1300 used, for only a month and in excellent condition. I am good for a few years :)

I like this idea of separate graphics. And I'd spend good money on this. But the standalone laptop should benefit of the separate graphics by being the slimmest and lightest possible. From what I see this laptop itself is a bulk! :-(

I don't know why the look of the Alienware pc's haven't changed by now. I would have expected something a little bit different from Dell but well, I guess its just for gaming so they don't bother.