All Liquid Daffodil apps now available for free through June 7th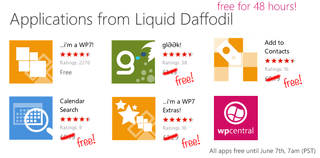 Attention all Windows Phone users! Liquid Daffodil, the developer brand behind the likes of glƏƏk!, ...I'm a WP7, among other popular apps, has made all apps available for free through June 7th. Starting today, you'll be able to make a saving of $6.96 (£5.36) should you download every app on offer. Why has this deal been applied? ...I'm a WP7! has been awarded 'Best Free App' in the 2012 WP App List Awards, as well as coming 2nd in 'App of the Year'.
A quick recap on what apps are now available for free from the developer:
As illustrated by the image above, this deal will end on June 7th at 7am (PST). Find the QR codes below (in order of appearance above).
Get the Windows Central Newsletter
All the latest news, reviews, and guides for Windows and Xbox diehards.
Rich Edmonds was formerly a Senior Editor of PC hardware at Windows Central, covering everything related to PC components and NAS. He's been involved in technology for more than a decade and knows a thing or two about the magic inside a PC chassis. You can follow him on Twitter at @RichEdmonds.
Not showing up free for me

Allow the changes to propagate, jeez.

Hey fans! The price changes to FREE for all Liquid Daffodil apps was submitted early this morning (June 4, 2012) and will take a few hours to be live in your Regions. We're running this 7-7-7 "Our Fans Rock" Special until Thursday, so you'll have plenty of time to get the apps you love. This is especially important for fans worldwide who are unable to purchase apps due to their circumstances...so take advantage, enjoy, and Thanks for loving what we do, because we do it for you! :)

Me either! Still says "try and buy" or "buy and share" - false advertising?

You got us. We were trying to trick you all into believing the headline. Really, give it time for the prices to alter on the Marketplace.

LMFAO!!! For real... It takes time for this change to take place.

awesome, what great devs.though its not showing-up as free for me quite yet either..

Not free yet. I want the Extras for I'm A WP7 :D

Yes, getting the ...i'm a WP7 Extras! app is a BIG deal! :) This has never been offered as a Trial, and at $3 it's a great deal...now everyone can Swap Hives and use Profile Pics! We love our fans for loving us!

Thank you!!!! Can't wait.

Will check again later as weren't showing as free yet.

These apps are not showing up for free

They should probably hold off on posting news like this if the market doesn't reflect it yet

Good God people, patience. Its still a virtue.

You rawk!! Thanks again for being one of best devs out there. =)

Thank you very much !!! All your apps rock :)

I'm as impatient as the rest of us geeks, but don't take it out on these guys. And I personally appreciate the sarcasm

Even on articles where the editor says the rollout will be tiered, people still whine about it. Just wait.

Picked up Gleek a few weeks ago with a Unlock code,
PIcked up I am WP7andExtras for free just a few days ago
Good to see they are extending the free offers once again..


Just be patient and wait until later tonight, to try and download the apps. It's already been stated the deal will last until the 7th, plenty of time to get them.

Hey thanks guys! Was thinking of getting add to contacts just today! I'll gladly accept the gift. Congrats for your well deserved rewards. And I'll show my appreciation by NOT being the 60th person to make a big freaking deal over the fact I might have to wait a few more minutes before the price switches over. Sheeesh, guys... You know it'll happen eventually, chill out.

Already bought all these applications worth the pennies don't know what to do with 28000 cutter points what they for really??

Lol @ everybody! (including MY impatient self!!)

Thanks for the plug to the awards (it's supposed to be WP7applist), it was great hosting them and I'm glad that outstanding apps like Liquid Daffodil's got rewarded for their hard work.
Anyone complaining about the deals not being in effect should wait 4 full days and actually buy their apps instead, they are well worth the money. Never forget that indie devs are the ones that make the marketplace shine ;)

Lighten Up People! If you understand how the World works you can expect this to take an unspecified amount of time to propagate thru the Marketplace.
If you're Noob, just understand that once a Developer submits a price change to the Microsoft Marketplace it takes a while for it to spread out across all of the Servers in the Marketplace, and until the one(s) your phone connects to have the new price, th o old one shows up. It doesn't usually take more than a day, sometimes much less, but the Developers who are giving us al this nice gift hav eno control over it at all.
Maybe WP Central would qualify their articles about these great delas a bit, as we see this same littany of frustration all the time. Perhaps there could be some kind of a marker on the Article to indicate when WPCentrallers begin to report availability in the major locales?

Anyway, Many Thanks to the Devs, and anyone's frustrations merely show how much your App is desired!

MadSci2

Sorry for the poor typing in my last post, but the Camel I'm riding on has arthritis!

MadSci2

Well, I purched before I read the post comments, so I am out $3

Well you supported the developers and should feel better about that. :) $3 is a very small price to pay for supporting Indy development :)

Will these free versions get updates in the future or will the market require us to purchase if we want to update? I don't know how the Windows Phone market works regarding this.

You will have the full version of all these apps forever, even after Thursday, and even though we put out tons of updates, you'll always own them. Our gift to you. :)

Thanks.. Can you code a SMS, user data backup util :D

Apps still does not appear for free in the marketplace :(

I think this is a bait and switch to get publicity o.0

In india dis is available?

Hmm, 12 hours later and still nothing? Weird... Microsoft is usually better about these things

Its not fake, its just taking a while. Its sort of odd though, things like this don't usually take this long...

When I changed one of my apps to free it took longer than 24 hours. From what we have seen, it can vary wildly.

Its not fake. i have just downloaded the Add to Contacts and Calendar Search. Its just taking time for the marketplace to get refreshed. Wait for some time and you will be able to downlaod.

Same here - Contacs & Calendar app is free to download now! Hurry up with Gleek!

Microsoft is sure doing it slow this time. 2/4 so far here also. Just waiting on extras.

Still not changed.....i'll probably forget about this by the time it changes...

Well, if it's not important enough for you to remember, its your loss Liquid Daffodil is giving $7 worth of the highest rated and most downloaded apps in the Marketplace to every single Windows Phone user in the world...they won't worry if folks don't take advantage of it. :)

50% of the apps now free....hope the other 50% come before 7th.

Yes, I wad confused by that...the only thing I can think of is that the other apps are in Social and maybe Marketplace hasn't updated that category yet...soon I'm sure!

Yea it usually take 12-24 Hours after announcing to kick in the free or same price...patience

Add to phone and Add to calendar are showing as free for me. The other two, gleek and extras, currently are not.

Not free in Canada at June 05, 10.45am. EST.

2/4 are. Gleek and Extras are not yet. At least in Ontario

Wonder what happens if free don't happen before the expiration lol. I'm just saying.

Yeah gleek and extras also not free over here. Wonder if this is nothing but a hoax.

No not a hoax just Microsoft taking their sweet time to roll it out.

Sorry fans, its now officially been 30 hours since we made these apps free. One thing we can PROMISE: EVERY FAN worldwide will have AT LEAST 48 hours to grab these free. We will make certain...because our fans rock. :)

You guys rawk too! You can't help red tape!! Hurry up ms

At this speed once they turn free you can immediately set them back to paid and you'll still give us 48 hours lol!

Highly doubt that. It's 3:05pm EST and still only 2/4... This stuff shouldn't be announced until it happens.

WP7 Extras! also free now.

At long last, the wait is over

Thank Liquid Daffodil and WPCentral for information

It is now 11.15 AM CEST in Germany and both gleek and I'm a WP7 Extras are not free.
I know the dev doesn't owe us anything, but still... If an offer is not made world-wide, it should be clearly communicated in which countries' marketplaces the freebie will be available. Just to adjust readers' expectations.

Just to let you know. After a restart of my phone the freebie is available here as well. Not sure why this would be necessary, as the rest became free on its own. But anyway, it worked so who am I to complain? :)
Thanks a bunch!